This slow cooker refried beans recipe is perfect if you wish to make your very own refried beans at home.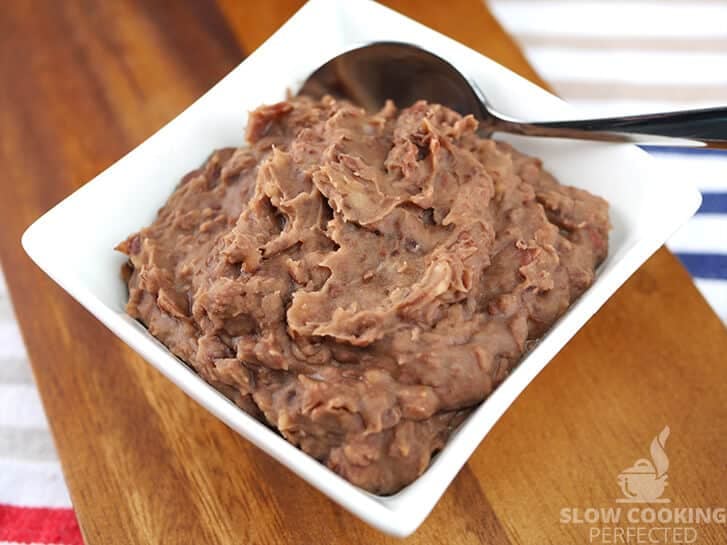 These beans are not the most appetizing looking food, but they're undoubtedly delicious and go great with Mexican food.
As you would expect, refried beans originated out of Mexico. Today, they're still hugely popular in Mexico and is used in Mexican cuisine throughout the entire world.
Typically refried beans are made with pinto beans, but other beans work nicely as well. The process of making the beans are super easy and can easily be done in the slow cooker.
This recipe is excellent if you love making your food from scratch rather than using cans bought from the supermarket.
You should find this recipe tastes very much like the version you will find at the supermarket. It is slightly less salty but still has that lovely hearty flavor we all love about refried beans.
Making Refried Beans at Home
One of the best things about making this dish at home is that you know what's gone into it. You can also alter the recipe to suit your tastes better.
You can always adjust the seasoning after you have mashed the beans. Alternatively, you can add more seasoning at the start with the rest of the ingredients. Just taste it and slowly adjust the seasonings to your liking.
If you find the bean mixture a little too thick, then you can add some more liquid to make it runnier. It's a delicate balance, but once you get the ideal consistency, you will be very happy.
What to Serve with this Recipe
There are plenty of ways that you can serve refried beans, and below are just a couple of examples.
These beans go absolutely great with some chicken taco meat in some soft taco shells. With that said, there is a lot of dishes that this tasty bean dish goes great with.
A popular dip that uses these beans is the seven-layer dip. It consists of refried beans, guacamole, sour cream, pico de gallo, cheddar cheese, black olives, and other optional ingredients. It's a super tasty dip that I highly recommend that you try.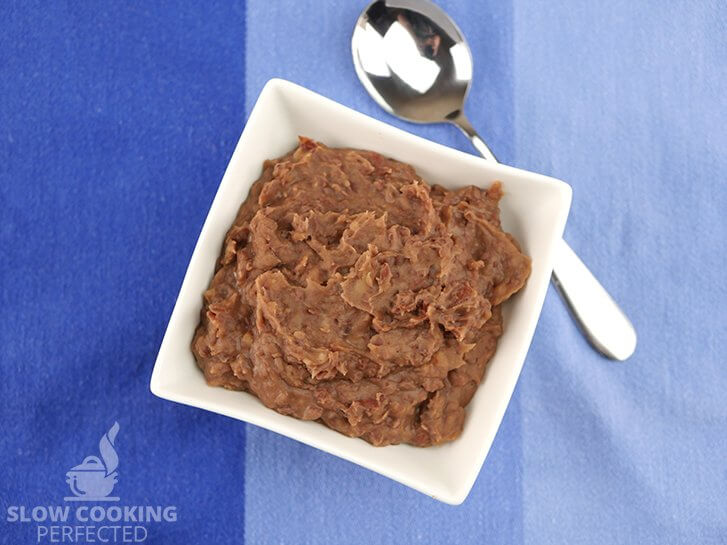 Refried beans come in handy for quite a few different dishes and are even great just as a dip. You can use this mix in some quesadillas, nachos, enchiladas, pizzas and so much more. It just comes down to what you prefer.
If I am setting up a taco bar, I love to have these beans as a condiment along with some homemade guacamole, sour cream, tomato salsa, and other delicious foods.
We love to hear different uses for this delicious dish, so be sure to share with us any of your ideas in the comments section at the bottom of this page.
How Long to Store Refried Beans
This recipe will make quite a bit of slow-cooked refried beans, so if you end up with any leftovers, then they will keep in the fridge for three to five days.
Alternatively, you can also freeze this dish and reheat it when you need it. Personally, I would avoid using this as a dip once it has been frozen and then reheated.
If you want to see how to make refried beans in the slow cooker, then I have put together a short and snappy video in the middle of this page. If you prefer a written recipe, then you can find one right underneath the video.
Slow Cooker Refried Beans Recipe
Adblock removing the video? Support us by going ad-free or whitelist us in your ad-blocker.
Ingredients
3 cups dry Pinto beans or red kidney beans, soaked and rinsed
1 onion, diced
1 jalapeno, seeded & diced
2 tsp garlic crushed
½ Tbsp cumin, ground
2 tsp salt
6 cups water
Instructions
If you're using dry red kidney beans, boil them over the stove for a minimum of ten minutes. Drain and rinse before adding them to the slow cooker.
Add all the ingredients into a slow cooker.
Cook on high for 8 hours.
Drain the cooking liquid into a spare bowl. (Don't discard)
Using a potato masher or immersion blender, mash the beans until smooth. Slowly add the cooking liquid back in to get to the consistency you like.
Season to your liking.
Serve & Enjoy.
Recipe Tips
If the mixture is too thick, then add some water to help thin it out a bit.
The pinto beans don't need to be soaked beforehand as we're cooking them for a long time. Just make sure you give them a good rinse before adding them to the slow cooker.
Dry red kidney beans can become toxic. So, ensure that you boil them for a minimum of ten minutes to remove any toxins before adding them to a slow cooker. I also only recommend cooking them on high.
You can use either pinto or red kidney beans to achieve pretty good results with this slow cooker refried beans recipe. I haven't tested it with any other type of bean, so keep this in mind if you want to use something else.
Note: I use a 5.5L (6 Quart) slow cooker for all the recipes that I have on this website unless specified. If you have a smaller or larger slow cooker, then you might need to adjust the ingredients.
Nutrition Information
Serving Size: 268g (9.5 oz)
Servings Per Recipe: 8
Calories Per Serving: 260
Saturated Fat: 0.2g
Trans Fat: 0g
Dietary Fiber: 12g
Sugars: 2g
Cholesterol: 0mg
Sodium: 595mg
Protein: 16g
The information above is an estimate generated by an online nutrition calculator.
More Slow Cooker Recipes
If you're looking for slow cooker recipes that uses some refried beans as part of the dish, then be sure to check out the chicken enchilada stack recipe. It doesn't have refried beans as an ingredient, but you can easily add it as another layer.
Another recipe that this condiment will work nicely with is the slow cooker beef tacos. The beef, along with the bean mixture, will create an incredibly delicious taco that will leave you wanting more and more.
I hope that you enjoy these slow cooker refried beans as much as I do and that you don't run into any issues. With that said, if you do run into problems or have some feedback, then be sure to leave a comment at the bottom of this page.