This slow cooker chili con queso is an excellent dip that is great as a side dish or as some party food.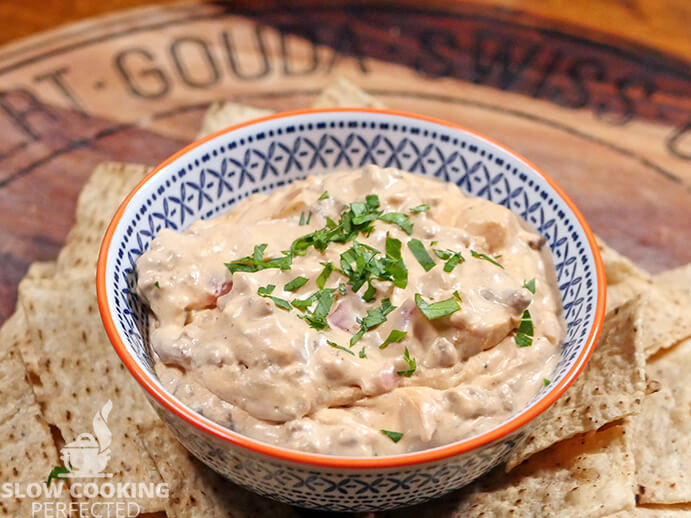 Chili con queso or sometimes spelled Chile con queso is part of the Tex-Mex cuisine. The name is Spanish and translates to chili with cheese. The dish should be cheesy and have a nice bit of heat and flavor to it.
This recipe is the perfect dip to have for the Super Bowl or just any regular game day. Switching to the keep warm setting on your slow cooker will ensure the dip will stay smooth and dippable throughout the game.
The number of people this dip will feed varies massively on how much more food you are going to have with it. If it is just the dip and some crackers, expect to feed up to ten people off a single batch of this recipe.
Any leftover chili con queso is great for use in another recipe. For example, it is a great topping for hot dogs or even a burrito. Make sure you keep any leftovers in the fridge until you need it.
There are hundreds of variations on this classic dish. I am biased, but I think this recipe is one of the best that I have tried. If you have something better, be sure to let us know in the comment section at the bottom of this page.
Recipe Variations
Below are a couple of tweaks that you can do to this recipe.
The cream cheese can be replaced with a different type of cheese, such as Velveeta, Monterey Jack, or even cheddar cheese. You could also do a combination of cheeses to get the perfect result.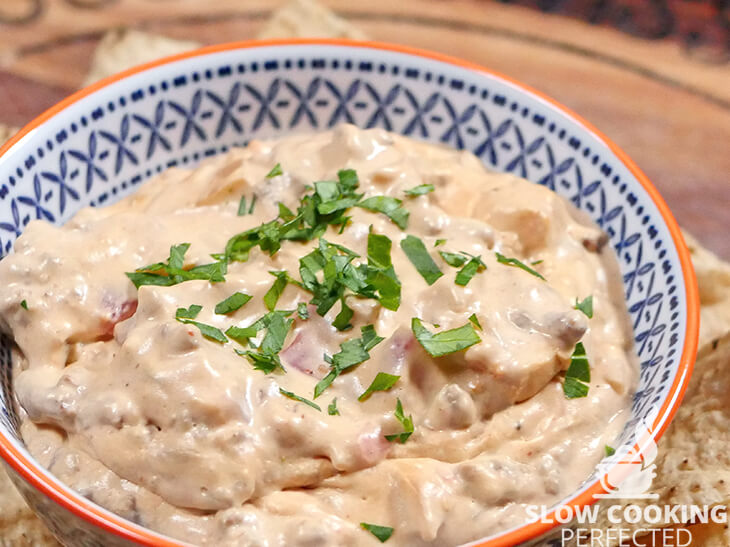 If you love spicy food, I highly recommend increasing the amount of jalapeno peppers or chili powder. I would only double the quantities; otherwise, it might get too spicy.
The ground beef can be replaced with different meat. For example, shredded chicken, ground pork, or even pulled beef will work nicely in this dip. Personally, I love it with the ground beef.
Serving Ideas for Chili Con Queso
I love to serve this dip alongside a range of other delicious dips and cheeses. You can make a variety of delicious warm dips to go on your platter of food if you have multiple slow cookers.
Some tortilla chips or corn chips are perfect for dipping into this delicious hot dip. I like plain chips, but seasoned chips will also work nicely with the flavors of this dip.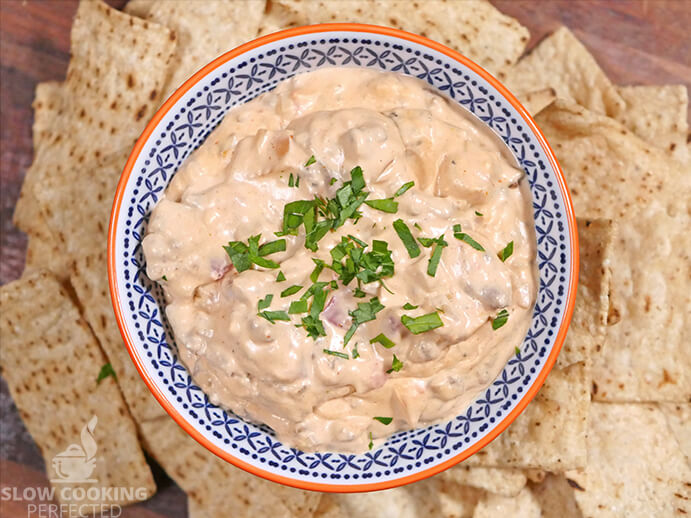 If you want to be a little healthier, then celery or carrot sticks are delicious. There are just so many options, but if I were to go with one, I would pick the tortilla chips.
I have put together a short video that takes you through all the steps to making this chili con queso dip in the slow cooker. If you prefer a written recipe, then you can find that immediately underneath the video.
Slow Cooker Chili Con Queso Recipe
Adblock removing the video? Support us by going ad-free or whitelist us in your ad-blocker.
Ingredients
500 g (1.1 lb) ground beef
1 onion, diced
2 tsp garlic, crushed
1 tsp chili powder
700 g (1.5 lb) cream cheese
425 g (15 oz) salsa, medium heat
1 Tbsp jalapeno peppers, diced
Instructions
In a frypan over high heat, add the ground beef, onion, garlic, and chili powder.
Cook until the ground beef is browned. Drain and transfer to a slow cooker.
In the slow cooker, add the cream cheese, salsa, and jalapeno peppers.
Cook on low for 4 hours and stir every 30 minutes for the best results.
Season to taste with salt and pepper.
Serve & Enjoy.
Recipe Tips
You can swap the ground beef, onion, and garlic for some leftover chili. If it is a super saucy chili, you might want to adjust the amount of salsa you add.
For the best results, I highly recommend that you brown the beef as it will help reduce the amount of oily liquid in your dip.
As I mentioned earlier, you can keep this dip warm in the slow cooker. This trick makes it great for parties or for when you will be eating over a long period.
Note: I use a 5.5L (6 Quart) slow cooker for all the recipes that I have on this website unless specified. If you have a smaller or larger slow cooker, then you might need to adjust the ingredients.
Nutrition Information
Serving Size: 176g (6.2 oz)
Servings Per Recipe: 10
Calories Per Serving: 365
Saturated Fat: 15.7g
Trans Fat: 0.2g
Dietary Fiber: 1g
Sugars: 4g
Cholesterol: 121mg
Sodium: 594mg
Protein: 18g
The information above is an estimate generated by an online nutrition calculator.
More Slow Cooker Mexican Inspired Recipes
I absolutely love Mexican food, and there is a surprising number of recipes that you can adapt to work in the slow cooker.
One of my absolute favorites is the beef enchilada stack. It is super easy and can easily feed a crowd.
Another recipe that I highly recommend that you try is a belly-warming beef chili. It is as good as it sounds and can feed quite a few people if required. Perfect if you love spicy food
I hope that you love this slow cooker chili con queso recipe as much as I do. If you have any thoughts, feedback, or anything else, then please do not hesitate to leave a comment below.