These slow cooker hot dogs are super easy to do, and you can cook a lot of them at once. It's great if you need to cater for a ton of people.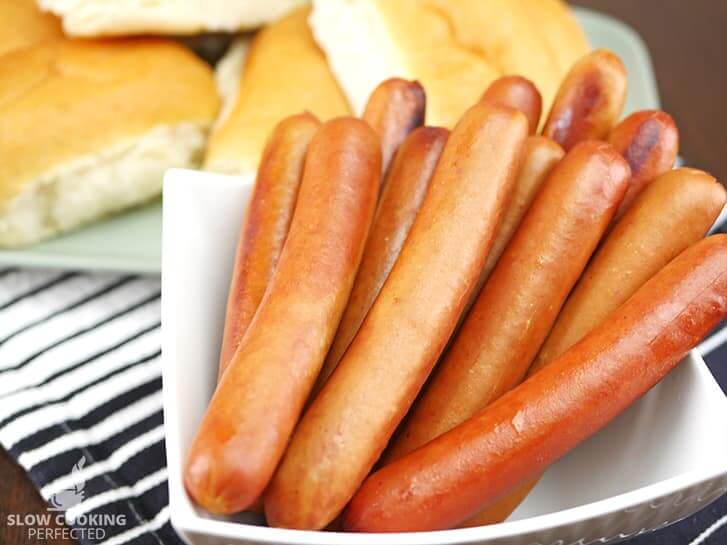 If you plan on having a party, then you should certainly consider setting up a hot dog bar. These setups have a ton of hot dogs, condiments, and hot dog buns. They're always a huge hit, so give it a try at your next event.
One of the best things about cooking hot dogs in a slow cooker is that you can switch the slow cooker to keep warm. This setting will keep everything warm until you're ready to eat. It's perfect if you plan on eating over a long period of time.
I have never experienced a split hot dog using the slow cooker. I believe this is mainly thanks to the gentle heat of the slow cooker.
Condiments & Side Dishes
Hot dogs go great with some delicious sauces and of course hot dog buns. Just some of the condiments that you can have with them include caramelized onion, tomato sauce, ketchup, guacamole, mustard, and so much more.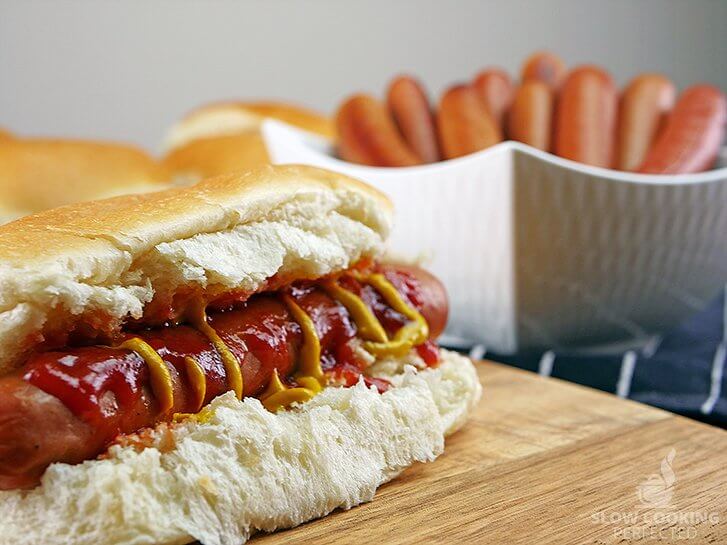 If you have a spare slow cooker or two, you can make some tomato relish or BBQ sauce to go with your hot dogs. Both of these sauces are absolutely delicious and worth the time and effort.
Using a homemade chili is excellent if you want to make some chili dogs. Just pour the chili over the top of the hot dogs and cook for a few hours. At the end of cooking, you will have delicious hot dogs in a hearty chili.
Feeding a Crowd
You can cook up to sixty hot dogs in the slow cooker and still have them turn out well. You can place them upright if you need to squeeze as many in as possible.
Cooking for a crowd is always tricky but having multiple slow cookers make it a lot easier. For example, you can have the hot dogs cooking in one and a side such as baby potatoes cooking in another slow cooker. There are a ton of great combinations that you're able to do.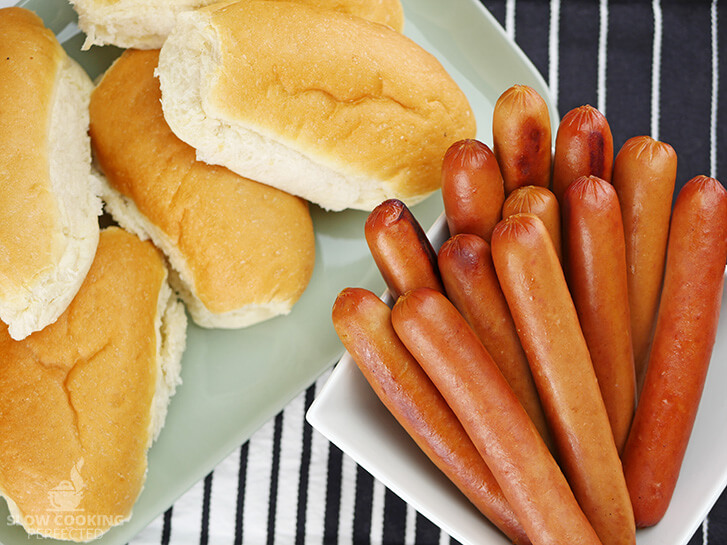 Any type of hot dog will work fine in this recipe. Some will fit better in the slow cooker than others. I just bought some classic American styled hot dogs from the nearby supermarket for this recipe.
These are so easy to make, but I put together a video anyway. The video will quickly show you how to prepare the hot dogs and what they should look like afterward. If you like the video, then please be sure to subscribe to our YouTube channel.
Slow Cooker Hot Dogs Recipe
Ingredients
Instructions
In a slow cooker, place the hot dogs with no water.
Cook on low for 3-4 hours or 1-2 hours on high.
Serve & Enjoy.
Recipe Tips
If you want the hot dogs to be cooking evenly, then I highly recommend that you rotate them halfway through cooking. This rotation will help the top ones cook at the same speed as the bottom.
Avoid adding water to the slow cooker as this may cause the hot dogs to split if they're cooked for too long.
Use tongs to remove the hot dogs as forks will piece the hot dogs and cause some of the juice to leak out. This leakage may cause the sausage to go a bit dry.
You don't need any water to have the hot dogs cook correctly. However, you can always rotate them if you're worried about some getting more cooked than others.
Note: I use a 5.5L (6 Quart) slow cooker for all the recipes that I have on this website unless specified. If you have a smaller or larger slow cooker, then you might need to adjust the ingredients.
Nutrition Information
Serving Size: 200g (7.1 oz)
Servings Per Recipe: 5
Calories Per Serving: 494
Amount Per Serving
Saturated Fat: 10.4g
Trans Fat: 0g
Dietary Fiber: 2g
Sugars: 0g
Cholesterol: 90mg
Sodium: 1368mg
Protein: 21g
The information above is an estimate generated by an online nutrition calculator.
More Slow Cooker Recipes
There are so many side dishes that go great with hot dogs. A tasty hash brown casserole is absolutely delicious and so easy to make. Typically, you won't have the casserole on the sausage but on the side instead.
Another slow cooker dish that will be delicious as a side is the cheese and bacon potatoes. They're super easy, but you will need to have a second slow cooker if you want to cook at the same time as the hot dogs.
I hope this slow cooker hot dogs recipe has helped you with your next party where you need to cook in bulk. If you have any feedback, tips or anything else that you would like to say, then please don't hesitate to leave a comment below.