This slow cooker hamburger soup is jam-packed with lots of delicious ingredients. It is the perfect hearty soup for any time of the year.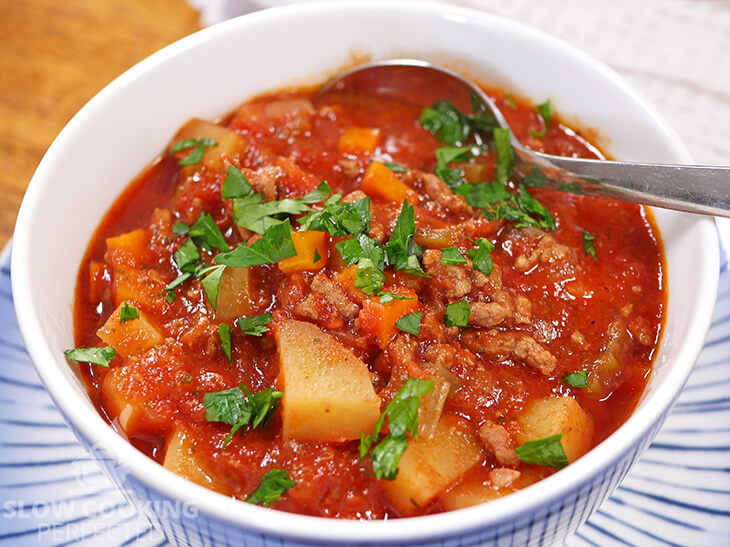 I love this soup as it is loaded with delicious rich flavors thanks to the wide range of ingredients. You will find plenty of tomatoes, potato, carrot, celery, and delicious ground beef in the soup. It is an excellent combination that will have you going back for seconds.
Another soup that might interest you is the cheeseburger soup. It is remarkably similar to this soup but instead features a cheesy creamy sauce. If you love comfort food, then you need to give the cheeseburger soup a try.
You should be able to feed roughly six to eight people from a single batch of this soup. To feed as many people as possible without needing to alter this recipe, I highly recommend making some side dishes to go with the soup. Alternatively, you can easily double or triple the recipe.
The leftovers of this soup will keep well in either the refrigerator or freezer. I recommend keeping it for a maximum of three days in the fridge or roughly three months in the freezer.
Serving Ideas for Hamburger Soup
I always love to serve a hamburger soup with a side dish. Below are a few ideas that might interest you.
This hearty soup will go great with a good loaf of fresh bread. I love to dip the bread into the soup to soak up all those beautiful flavors. Alternatively, some croutons go perfectly on top of the soup. I also love making homemade cornbread to go with the soup.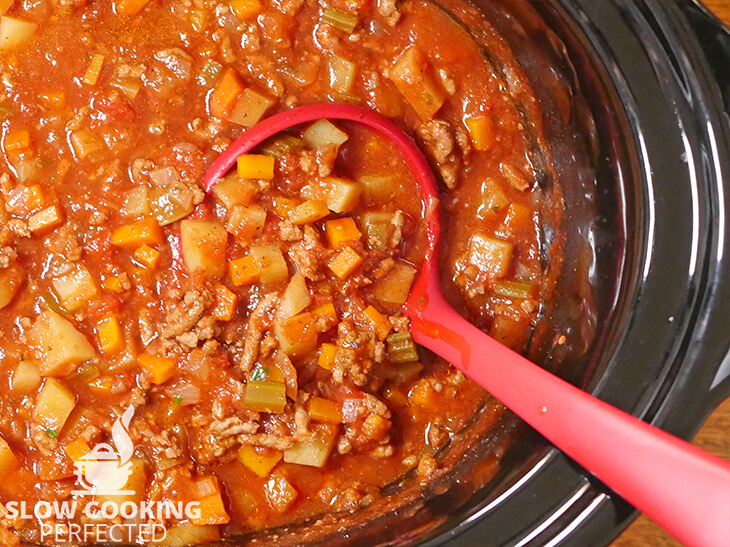 For something a little different, you can try making some puff pastry cheese sticks. These sticks are great to dip into the soup. They require a bit of extra time in the kitchen but are totally worth it.
There are loads of different ingredients that you can add to this soup. For example, shaved parmesan is a great way of adding an extra cheesy element to this dish. A great way to bulk out this soup is to add some precooked pasta at the end, similar to a minestrone.
Tweaking the Recipe
Below are some ideas on how you can tweak this recipe so that it is more to your liking. Personally, I love this soup without any changes.
You can change the type of stock that we use in this recipe. I make use of beef stock as it will match the best with ground beef. Adding some additional liquid such as red wine is also an option for adding more flavor.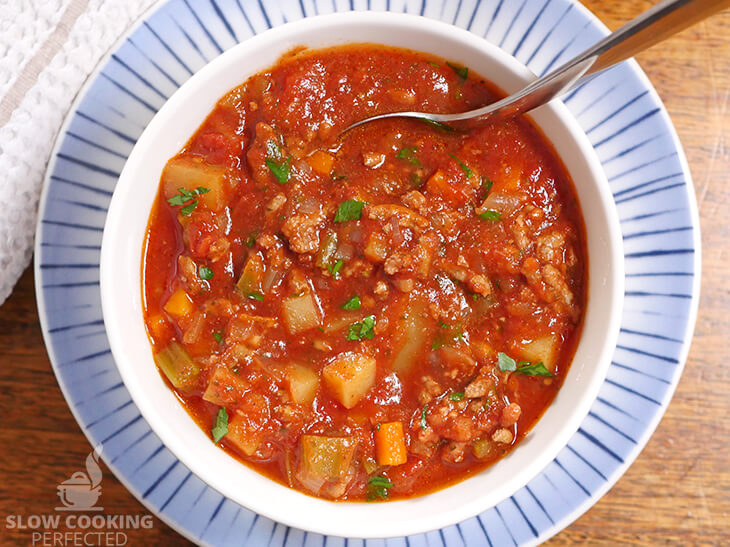 A good soup can never have too many vegetables in it, so do not be afraid to add some more. Vegetables such as mushrooms, sweet potato, or even green beans will work very nicely with this delicious soup's flavors.
I use ground beef, but technically any type of ground meat will work well. You could also use shredded meat instead, such as pulled pork or shredded chicken. There are just so many variations that you can do with just the meat.
I have put together a video that will take you through all the steps to making this hamburger soup. Alternatively, there is a full written recipe immediately below.
Slow Cooker Hamburger Soup Recipe
Ingredients
500 g (1.1 lb) ground beef
2 onions, chopped
2 tsp garlic, crushed
2 carrots, diced
2 stalks of celery, diced
4 potatoes, peeled and chopped
1 tsp parsley, dried
1 tsp oregano, dried
1 Tbsp Worcestershire sauce
1 bay leaf
350 ml (11.8 fl oz) beef stock
2 Tbsp tomato paste
800 g (1.8 lb) crushed tomatoes
Instructions
In a frypan over high heat, add the ground beef and cook until browned. Once browned, drain the excess fluid and transfer the beef to a slow cooker.
Next, add the onion, garlic, carrot, celery, potato, parsley, oregano, Worcestershire sauce, bay leaf, beef stock, tomato paste, and crushed tomatoes to the slow cooker.
Cook on low for 8 hours.
Season with salt and pepper.
Serve & Enjoy.
Recipe Tips
Ground beef is also known as beef mince or hamburger.
Other vegetables can be added for more flavor. For example, mushrooms or sweet potato will work very nicely in this soup.
You do not need to brown the ground beef, but it helps reduce the amount of fatty liquid in the soup.
Note: I use a 5.5L (6 Quart) slow cooker for all the recipes that I have on this website unless specified. If you have a smaller or larger slow cooker, then you might need to adjust the ingredients.
Nutrition Information
Serving Size: 594g (1.3 lb)
Servings Per Recipe: 8
Calories Per Serving: 361
Amount Per Serving
Saturated Fat: 2g
Trans Fat: 0.2g
Dietary Fiber: 8g
Sugars: 6g
Cholesterol: 52mg
Sodium: 294mg
Protein: 26g
The information above is an estimate generated by an online nutrition calculator.
More Ground Beef Recipes
There are lots of different ground beef recipes that you can make in the slow cooker. Below are a couple of my favorites that I highly recommend that you try.
The BBQ meatballs are one of my favorite slow cooker recipes. The recipe takes you through the steps of making some deliciously hearty meatballs that are then cooked in sweet BBQ sauce marinade. It is one incredible combination that will have you coming back for seconds.
You have also got to try making a pizza casserole in the slow cooker. It has all the flavors that you expect from a good pepperoni pizza. I love making it as it can easily feed a family and pleases even the fussiest of eaters.
I love this slow cooker hamburger soup and hope that you do too. If you have some feedback, please do not hesitate to leave a comment below.