A slow cooker minestrone is a fantastic dinner dish that you can get slowly cooking early in the morning and have it ready for dinner.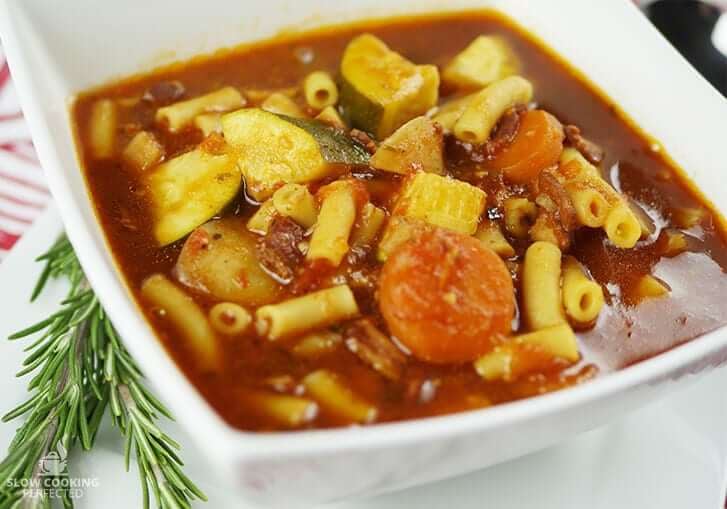 This dish is a rich tomato soup that is jam-packed full of amazing vegetables, pasta, and crispy bits of bacon. It is a great way to use up lots of different ingredients.
This slow cooker recipe is a fantastic soup for feeding a crowd. Without needing to adjust the recipe, you should get roughly six to eight serves out of this recipe. You can also make some delicious side dishes to help feed even more people.
You can easily store this soup in the fridge for a few days. It is a great dish to have ready if you are having a busy week and just want some food that you can quickly heat and eat.
Adjusting the Recipe
If there is a particular ingredient that you do not like, you can remove it without affecting the overall minestrone. Obviously, you will need the tomatoes and the pasta, but something like zucchini can be swapped out or removed.
The beef stock can be replaced with different stock or water. However, if you use water, you will find that there will not be as much flavor in the soup. So, I highly recommend that you use a beef stock.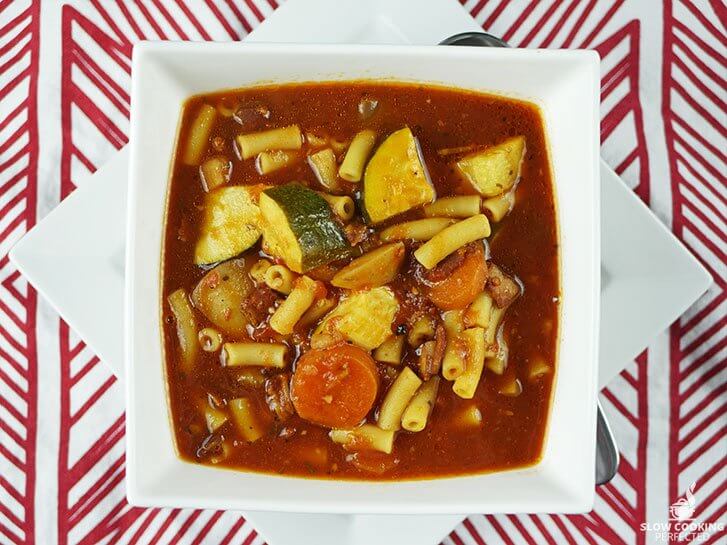 You can cut the vegetables into any size. However, remember the smaller the cut, the faster the vegetables will cook. I prefer to cut things chunkier so that you end up with tender chunks of vegetables.
When it comes to slow cooking, something like this soup, usually works every time. If you find that the vegetables are cooked too fast, you may want to cut them larger or turn your slow cooker to low heat.
What to Serve with the Minestrone Soup
There are plenty of side dishes that will work nicely with this soup. Below are a couple of ideas that I love.
I love having this minestrone with some crunchy garlic bread or sourdough on the side. Both are perfect for dipping into the soup and soaking up all those lovely flavors. However, with the pasta in the soup, you might find extra bread may be too many carbs for your liking.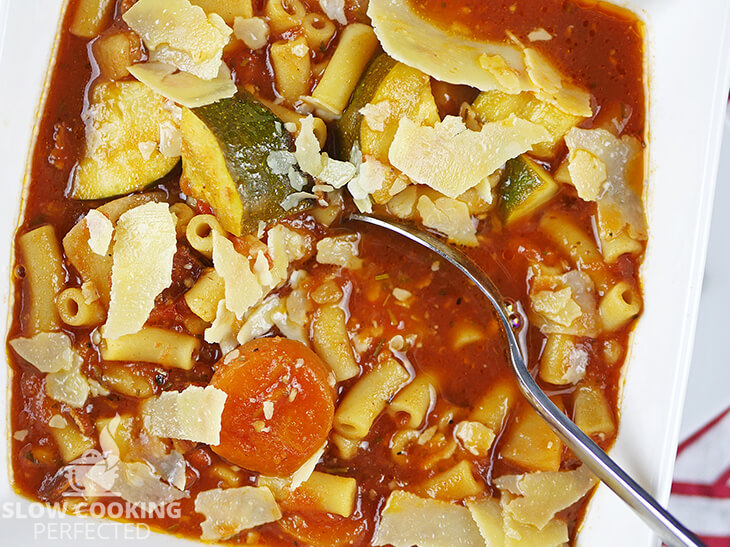 One little extra tweak that I love doing is topping the soup with a bit of shaved parmesan cheese. Parmesan really does go great with any kind of pasta dish.
If you love videos, then I made a quick video on how to make this minestrone soup in the slow cooker. If you like it, then be sure to subscribe to the YouTube channel so you are kept up to date. Alternatively, there is a full written recipe below the video.
Slow Cooker Minestrone Recipe
Ingredients
5 bacon rashers, diced
1 onion, cut into chunks
2 tsp garlic, crushed
2 carrots, cut into chunks
2 potatoes, cut into chunks
1 Tbsp tomato paste
400 g (14.1 oz) diced tomatoes
4 cups beef stock
2 bay leaves
1 tsp rosemary
1 tsp oregano
1 zucchini, cut into chunks
1 cup macaroni, small pasta tubes, or pasta shells
Instructions
In a pan over high heat, add the diced bacon. Cook the bacon until crispy.
Once the bacon is crispy, remove from the heat and drain the excess oil.
In the slow cooker, add the crispy bacon, onion, garlic, carrots, potatoes, tomato paste, tomatoes, beef stock, bay leaves, rosemary, and the oregano.
Cook on low for 6-8 hours.
In the last 30 minutes of cooking, add the zucchini and pasta.
Remove the bay leaves.
Season with salt and pepper.
Serve & Enjoy
Recipe Tips
It is important not to add the zucchini or pasta until the last thirty minutes as these cook relatively fast. Adding them too early will result in overcooked pasta or mushy zucchini.
Frying the bacon before adding it to the slow cooker is optional. However, frying does help add flavor and texture to the overall minestrone.
Assuming you are in a rush, you can turn the slow cooker up to high and cook it for just four hours instead of eight hours.
If you are on a vegan diet, then remove the bacon from the recipe and use vegetable stock instead of beef.
Note: I use a 5.5L (6 Quart) slow cooker for all the recipes that I have on this website unless specified. If you have a smaller or larger slow cooker, then you might need to adjust the ingredients.
Nutrition Information
Serving Size: 328g (11.6 oz)
Servings Per Recipe: 8
Calories Per Serving: 282
Amount Per Serving
Saturated Fat: 4.5g
Trans Fat: 0g
Total Carbohydrate: 23.1g
Dietary Fiber: 3.4g
Sugars: 4.2g
Cholesterol: 34mg
Sodium: 1157mg
Protein: 16.5g
The information above is an estimate generated by an online nutrition calculator.
More Slow Cooker Soup Recipes
Lots more soup recipes work great in a slow cooker. Below are a couple of my favorites that I recommend giving a try.
For something healthy, I have to recommend the slow-cooked chicken soup. It has a beautiful chicken broth that is loaded with shredded chicken and lots of vegetables.
On the flip side, for something not so healthy, I have to recommend the cheeseburger soup. It has loads of cheese, ground beef, and some vegetables. It is the best soup if you feel like eating some comfort food.
I hope you enjoy this tasty slow cooker minestrone. If you have anything that you would like to say in regards to this recipe, then be sure to leave a comment below.