This slow cooker lasagna is perfect if you want to make a very delicious lasagna ahead of time so that you can have it ready for when you get home.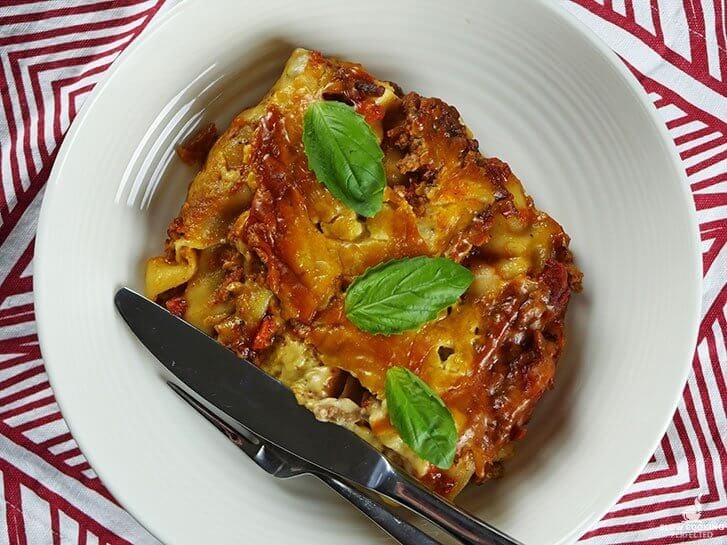 At the end of cooking, you should have a delicious lasagna that has even layers of bolognese, cheese sauce, and pasta sheets. It's topped off with a generous amount of cheese that helps gives its golden brown color.
This lasagna is pretty easy to make but does require a bit of time to prepare when compared to most other slow cooker recipes.
You will find that this dish is great if you need to cook for a crowd as it should feed about six people and maybe more if you have some side dishes.
What to Serve with Lasagna
There are quite a few different side dishes that you're able to serve with lasagna. I will quickly mention some of my favorites.
As with any lasagna, this goes great alongside some freshly baked garlic bread. You can bake this in the oven, or use a toaster.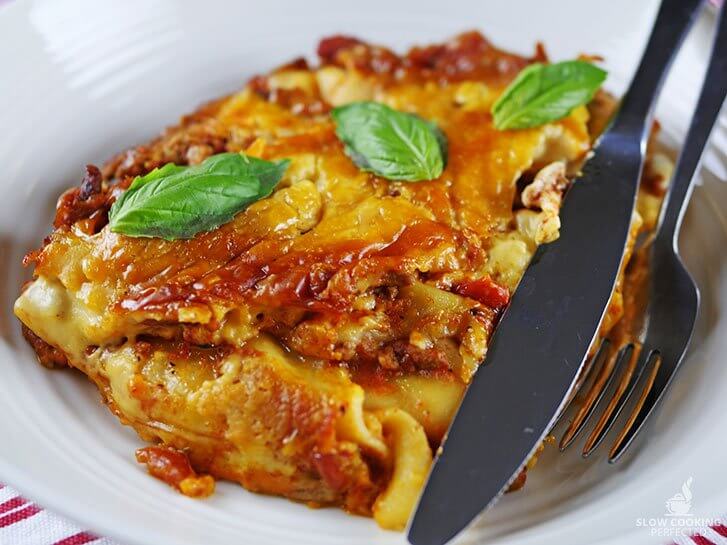 A broad range of salads will work perfectly as a side dish, but I recommend trying to keep to the lighter salads since the lasagna is quite a heavy dish.
You could also do a variety of steamed vegetables to go on the side. Something like broccoli, cauliflower, and snow peas will be delicious alongside this tasty dish.
Of course, there are lots more that go great with this recipe, so if you have a suggestion, be sure to share it with us by leaving a comment below.
Tweaking the Recipe
There are a few changes that you can make to this recipe to make it more to your liking. Below is just a couple of suggestions.
For this recipe, I make a cheese sauce that can be difficult to get right. If you prefer an easier cheesy layer, then I recommend making a mix of two cups shredded cheese, one cup ricotta or cottage cheese, and finally one cup of grated Parmesan. Use this cheese mix instead of the cheese sauce.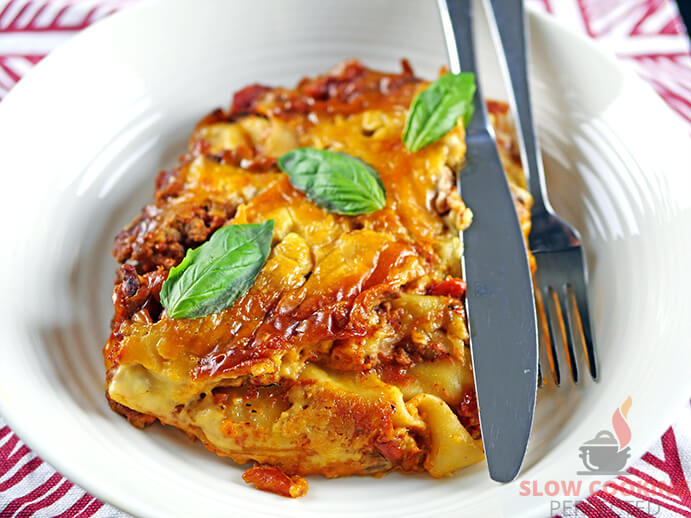 You can add more vegetables into the bolognese sauce for extra flavor and also bulk it out a little. I sometimes like to add some mushrooms and bell peppers, but feel free to add any of your favorites.
If you come across a change to the recipe that you think is awesome and you would like to share, then please be sure to let us know.
Keep the Leftovers for Lunch
If you have leftovers, then wrap them up and either freeze or keep them in the fridge.
The leftovers taste pretty good, even reheated. I recommend reheating the lasagna in a microwave or oven rather than in the slow cooker.
If you want to see a video that takes you through everything you need to know and do for this recipe, then please check out the video below.
Slow Cooker Lasagna Recipe
Ingredients
Bolognese Sauce
2 Tbsp oil
500 g (1.1 lb) ground beef
1 onion, diced
2 tsp garlic, crushed
4 Tbsp tomato paste
1 kg (2.2 lb) crushed tomatoes
1 Tbsp sugar
2 tsp oregano
2 tsp basil
500 g (1.1 lb) lasagna sheets (Oven Ready)
Cheese Sauce
2 Tbsp butter
2 Tbsp plain flour
2 cups milk
1 tsp Dijon mustard
1 cup grated cheese
¼ cup parmesan
Instructions
Bolognese Sauce
In a frying pan over medium heat, add the oil.
Once the oil is hot, add the onion & garlic. Cook until the onion is translucent.
Add the ground beef and cook until browned.
Add the tomato paste, crushed tomatoes, sugar, oregano, and basil.
Place to the side.
Cheese Sauce
Now for the cheese sauce, first melt the butter in a microwaveable bowl. 15 Seconds in the microwave should be more than long enough.
Add the flour and whisk together. Cook for a further 30 seconds.
Slowly whisk in the milk, trying to avoid any lumps.
Cook for 1 & 1/2 minutes. Continue to whisk then cook in the microwave for 30-second intervals until the milk has thickened.
Whisk in the cheese and mustard. Season with salt & pepper, and place to the side.
Putting it All Together
In the slow cooker, start with a little bit of the bolognese sauce.
Add one layer of lasagna sheets, then top this with the bolognese sauce until it covers the sheets. Spoon the cheese sauce on top of the bolognese sauce. It should roughly cover it.
Repeat until you run out of sauce or lasagna sheets. Make sure you finish off with a cheese layer on top.
Cook on low for roughly 6 hours.
Serve & Enjoy.
Recipe Tips
You can make this gluten-free by using gluten-free plain flour in the cheese sauce and gluten-free lasagna sheets.
It might be tempting, but putting the slow cooker on high may result in a burnt lasagna. I recommend keeping it on low for the entire cooking time.
To avoid scratching your slow cooker, use plastic utensils to cut and remove pieces of the lasagna. I find a flat spatula is very good at doing this.
If you're feeling like more vegetables, then I recommend adding some red bell peppers, mushrooms, and even spinach to the bolognese sauce.
In this particular recipe, I use dried herbs, but fresh always tastes better, so if you can, I recommend using fresh.
Note: I use a 5.5L (6 Quart) slow cooker for all the recipes that I have on this website unless specified. If you have a smaller or larger slow cooker, then you might need to adjust the ingredients.
Nutrition Information
Serving Size: 489g (1.1 lb)
Servings Per Recipe: 6
Calories Per Serving: 682
Amount Per Serving
Saturated Fat: 11.8g
Trans Fat: 0g
Total Carbohydrate: 65.4g
Dietary Fiber: 3.2g
Sugars: 12.3g
Cholesterol: 146mg
Sodium: 350mg
Protein: 48.3g
The information above is an estimate generated by an online nutrition calculator.
More Tasty Recipes
Another slow cooker pasta dish that I absolutely love is the pepperoni pizza casserole. It has a lovely tomato sauce, lots of cheese, and a ton of pepperoni. Certainly, a must-have if you love pizza and pasta.
If you just want a lasagna super fast, then something like an easy, lazy lasagna that you do in the oven will be a better choice. The slow cooker version is excellent if you want to get dinner prepared hours ahead of time but not great if you need it fast.
I hope you enjoy this slow cooker lasagna recipe. If you want to let me know what you think of it, then be sure to leave a comment below.