This slow cooker tomato soup is an absolute delight as it's packed with a ton of flavor. It is super easy to prepare and worth making.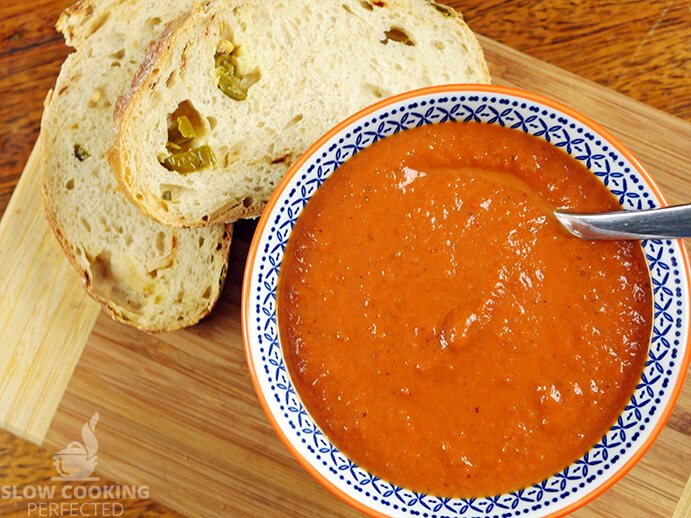 The flavors of this soup will have you going back for seconds or even thirds. It features the traditional tomato flavor combinations that you know and love, such as basil, oregano, and even bell pepper.
I love making this soup as it's super easy and tastes so much better than the store-bought canned tomato soup. The best part is that you can easily alter the recipe to better suit your taste buds.
This soup is great all year round, so it's the perfect one to keep at the top of your recipe pile. I love making it when I need to feed quite a few people but running low on money.
You should find that this recipe will feed six people, but that can vary on how hungry they are. You can either double the recipe or make some side dishes to feed more people.
Tweaking the Soup
The best part about making this slow cooker tomato soup from scratch is that you can decide on the flavorings.
Grated Parmesan is always an excellent way to finish off a hearty tomato soup. I recommend grating the Parmesan over the top of the soup after it has been served. You can try other cheese combinations if you don't like Parmesan.
If you like your soup herby, add more herbs. We use basil, bay leaf, and oregano, but there are many others that you can add. Some of the herbs that you can add include chives, dill, marjoram, parsley, rosemary, tarragon, or even thyme will work nicely.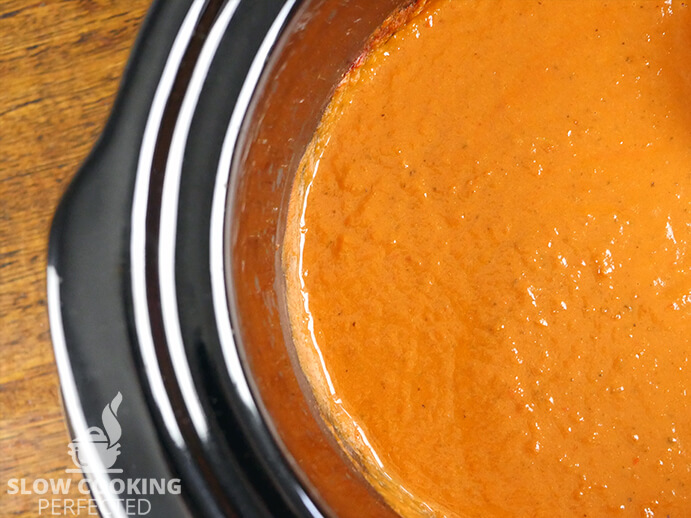 Diced crispy bacon is an excellent addition to any slow cooker soup. I would simply scatter the bacon over the top of the soup after you have served it into bowls. Alternatively, you can mix the bacon into the soup, so it takes on all those lovely bacon flavors.
Of course, there are always more ways that you can improve this delicious soup. If you have any suggestions, then be sure to let us know.
What to Serve with Tomato Soup
This soup is excellent without any side dishes, but I do love having it with some fresh bread or some croutons.
You can make some fried cheese sticks to dip into the soup. The sticks are super easy to make and are perfect for dipping. They're also relatively inexpensive to make, so they're great if you're on a budget.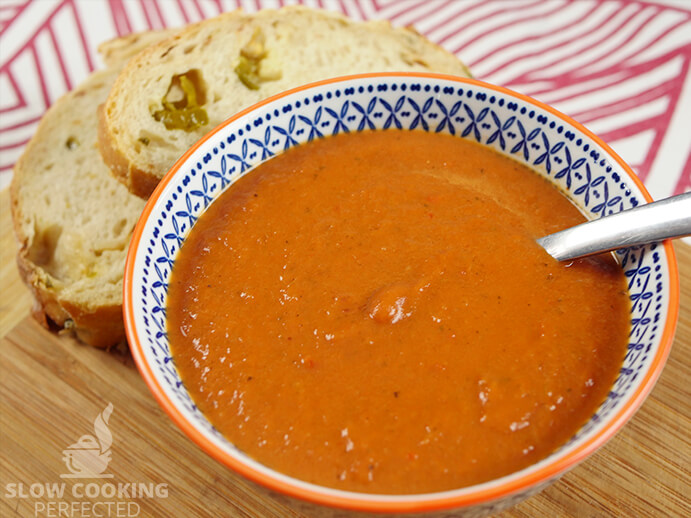 A classic toasted sandwich is also an ideal side dish to have with this delicious soup. You can eat them separately, or you can dip the toasties into the soup for a match made in heaven.
To double up on tomato, you can always make some bruschetta to serve alongside this tomato soup. It's a delicious side dish but does involve a bit more time preparing in the kitchen.
Be sure to let us know any of your ideas for serving this delicious soup by leaving a comment at the bottom of this page.
How long to keep Leftovers
Keep the leftovers as a soup is the best easy lunch ever. I love eating leftover soup at work the next day, and it is a great way to save a bit of money.
You should find that the leftovers will keep for up to three days in the refrigerator. Alternatively, it should last up to six months in the freezer, maybe even longer.
The video below will quickly take you through all the steps to making this delicious tomato soup in a slow cooker.
Alternatively, there is also a written recipe right underneath the video. If you like this recipe, then be sure to check out our many other great slow cooker recipes.
Slow Cooker Tomato Soup Recipe
Ingredients
2 onions, diced
2 celery stalks, diced
3 tsp garlic, crushed
1 red bell pepper, chopped
2 tsp oregano, dried
2 tsp basil, dried
2 bay leaves
½ tsp sugar
2 Tbsp tomato paste
800 g (1.8 lb) crushed tomatoes
1 cup chicken stock
½ cup heavy cream
Instructions
In a slow cooker, add all the ingredients except for the cream.
Cook on low for 8 hours.
Remove the bay leaves.
Puree the ingredients until smooth.
Add the cream and season to taste.
Cook on high for 15 minutes or until hot.
Serve & Enjoy.
Recipe Tips
You can omit the sugar if you don't think it is needed. However, the sugar will help reduce the acidity of the tomatoes.
If you're using fresh tomatoes, then make sure you remove the skins as they will cook to be quite leathery.
Bacon is an excellent addition, but I highly recommend that you dice and fry it first.
This soup is best pureed, so I highly recommend that you don't try to make it chunky.
The chicken stock can be replaced with vegetable stock, and the cream left out if you want this to be vegan or vegetarian-friendly.
Note: I use a 5.5L (6 Quart) slow cooker for all the recipes that I have on this website unless specified. If you have a smaller or larger slow cooker, then you might need to adjust the ingredients.
Nutrition Information
Serving Size: 390g (13.8 oz)
Servings Per Recipe: 6
Calories Per Serving: 320
Amount Per Serving
Saturated Fat: 5.7g
Trans Fat: 0g
Dietary Fiber: 4g
Sugars: 10g
Cholesterol: 131mg
Sodium: 391mg
Protein: 36g
The information above is an estimate generated by an online nutrition calculator.
More Slow Cooker Recipes
It's overwhelming how many recipes there are for the slow cooker. Below are a couple of my favorite recipes that I highly recommend that you try next.
There are plenty of tomato-based recipes that you can do in the slow cooker. For example, I love making a good marinara sauce in the slow cooker. It's perfect for pasta and much more.
Another great soup that you can make in the slow cooker is the pumpkin soup. It's rich, creamy, and the perfect dish for a cold winter's day. I love eating it with some fresh bread.
I love this slow cooker tomato soup, and I hope that you do too. If you have some feedback, tips, or anything else, then please don't hesitate to leave a comment below.