These delicious slow cooker lamb shanks cook to be so tender the meat will fall right off the bone.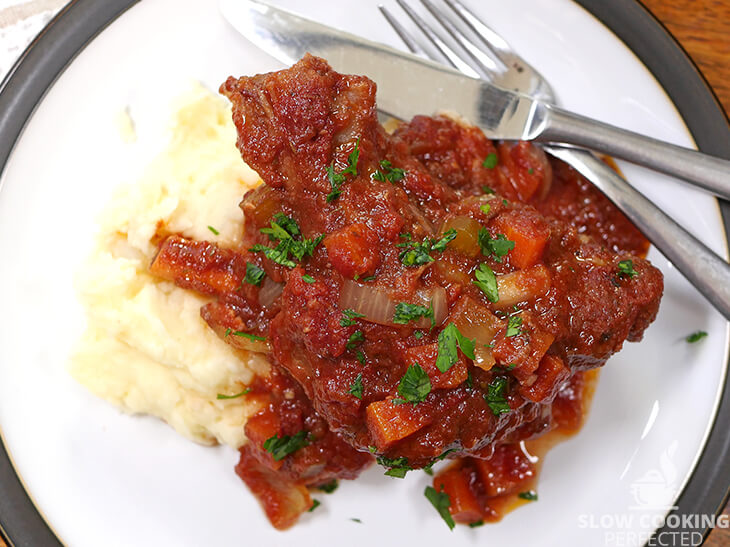 The long cooking process allows the lamb shanks to take on all the flavors of the wonderful sauce and cook to be incredibly tender. The tomato-based sauce is loaded with vegetables and has a slight hint of red wine.
You should be able to feed roughly six people from a single batch of this recipe. I highly recommend that you make something to go along with the lamb shanks. You can double this recipe, but you might need a larger slow cooker.
The poached pears in white wine are perfect for dessert after this delicious meal. You can easily cook them in another slow cooker if you have one.
The leftovers of this dish will keep for a few days in the refrigerator or a few months in the freezer. I highly recommend that you shred the lamb and discard the bones. You can use the leftovers in a wide variety of different dishes, such as a topping on pizza.
Buying the Right Cut of Meat
The shank is also known as shin and is the portion of meat below the knee and shoulder. It is typically a cheap cut of meat but has increased in price in recent years due to its popularity.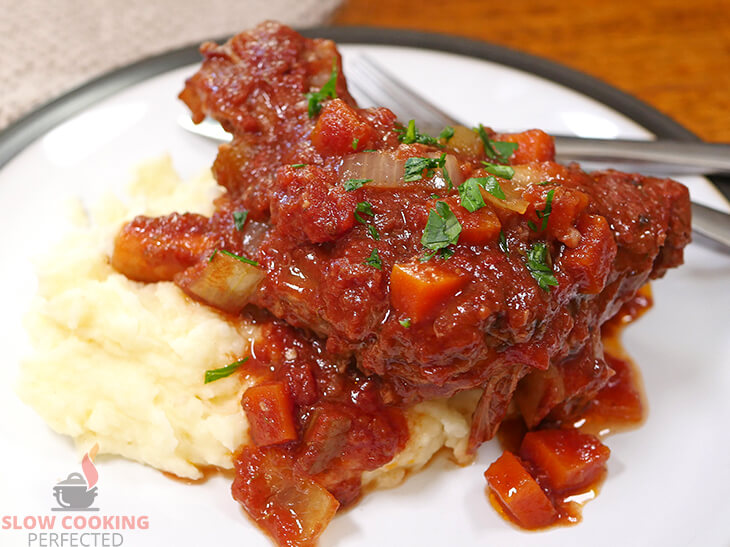 Lamb shanks should be available at your local butcher or supermarket. However, depending on where you live, it could be tricky getting your hands on some.
I make use of lamb shanks in this recipe, but you can use veal or beef shanks instead.
What to Serve with Lamb Shanks
There are so many side dishes that will work nicely with the flavors of the lamb shanks and sauce. Below are a couple of my favorite choices.
My favorite side dish for this recipe is some creamy mashed potatoes. If I am cooking for a crowd, I love to make it in the slow cooker. Alternatively, making it over the stove is a great option.
Creamy polenta is a different but delicious option to have with lamb shanks. It will require a bit of extra time in the kitchen but is well worth it. I love to add a little bit of parmesan to the polenta.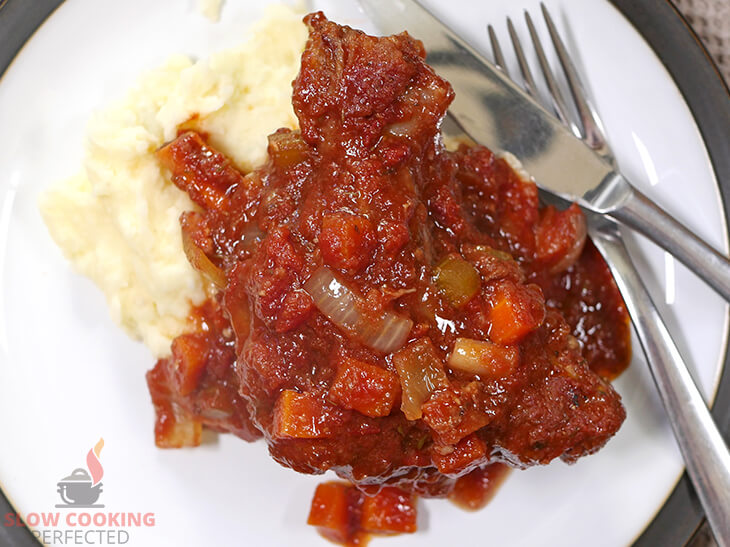 Another option to serve with lamb shanks is some delicious steamed rice. It is a simple but delicious side dish that will complement the flavors nicely. For something, a little healthier, you can try making some cauliflower rice.
Lastly, you could serve this dish along with some delicious steak fries and green salad. It is a simple combination but incredibly delicious. You can also try making some sweet potato fries.
The video below will take you through all the steps to cooking these lamb shanks in the slow cooker. Alternatively, there is an especially useful written recipe immediately below the video.
Slow Cooker Lamb Shanks Recipe
Adblock removing the video? Support us by going ad-free or whitelist us in your ad-blocker.
Ingredients
Lamb Shanks
1 kg (2.2 lb) lamb shanks
1 cup plain flour
1 tsp salt
½ tsp pepper
4 Tbsp oil
Stew
1 onion, chopped
2 carrots, chopped
2 celery stalks, chopped
1 Tbsp garlic, crushed
125 ml (4.2 fl oz) red wine
1 tsp sugar
1 tsp thyme
800 g (1.8 lb) diced tomatoes
2 Tbsp Worcestershire sauce
2 Tbsp tomato paste
1 bay leaf
125 ml (4.2 fl oz) cup chicken stock
Instructions
In a bowl, add the flour and combine with the salt and pepper.
Coat each lamb shank in the flour.
In a frying pan over medium heat, add the oil.
Cook the lamb shanks in batches. Cook until each side is browned (Roughly 3-5 minutes).
In a slow cooker, add the onion, carrot, celery, garlic, red wine, sugar, thyme, diced tomatoes, Worcestershire sauce, tomato paste, bay leaf, and chicken stock. Mix until combined.
Lastly, add the lamb shanks so that they are covered with the stewing liquid.
Cook on low for 7 hours or until the meat is tender.
Set to high and leave the lid slightly askew for 1 hour.
Season to taste with salt and pepper.
Serve & Enjoy.
Recipe Tips
The flour that we coat the lamb shanks in should also thicken the stewing liquid. If it is too runny at the end of cooking, thicken it using a cornstarch and water mixture.
Be careful not to burn the flour when browning the lamb shanks. Burnt flour might spoil the entire dish.
Turning the slow cooker to the high setting is a great way to cook this dish faster. It should be ready to eat in half the amount of time.
Lamb shanks are very tough, so you will need to cook them for a long time. When the meat is ready, it should be almost falling off the bone.
To make this recipe gluten-free, replace the plain flour with gluten-free plain flour or cornstarch.
Note: I use a 5.5L (6 Quart) slow cooker for all the recipes that I have on this website unless specified. If you have a smaller or larger slow cooker, then you might need to adjust the ingredients.
Nutrition Information
Serving Size: 464g (1 lb)
Servings Per Recipe: 6
Calories Per Serving: 333
Saturated Fat: 2.1g
Trans Fat: 0.1g
Dietary Fiber: 5g
Sugars: 13g
Cholesterol: 98mg
Sodium: 912mg
Protein: 38g
The information above is an estimate generated by an online nutrition calculator.
More Slow Cooker Lamb Recipes
There are lots more lamb recipes that you need to try in the slow cooker. Below are a couple of my favorites.
The lamb roast is one of the best roasts I have made in the slow cooker. The meat cooks to be loaded with flavor and goes great with brown gravy over the top. The vegetables are also worth a try.
If you feel like eating some curry, then you must give the lamb Rogan josh a try. It has some delicious flavors thanks to the homemade curry paste. Certainly, worth giving a try.
I hope that you love these slow-cooked lamb shanks as much as I do. If you have some feedback, then please do not hesitate to leave a comment below.