These slow cooker poached pears in white wine are an absolute treat. They're tender, sweet, and have lovely flavors thanks to the wine and spices we use.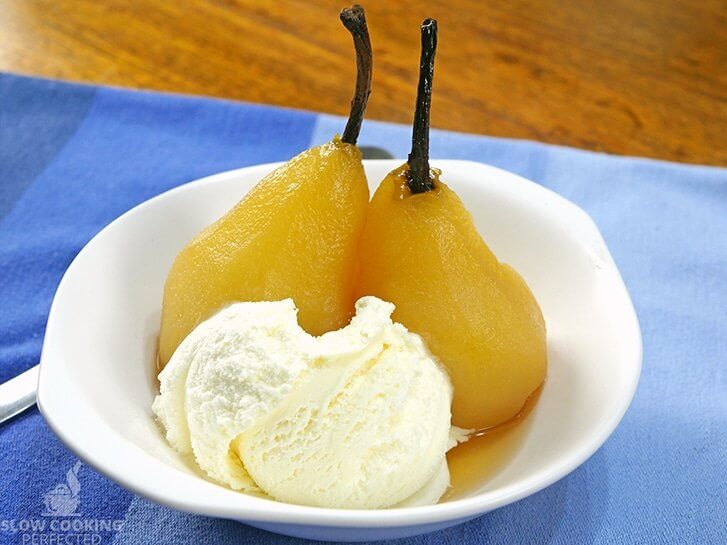 By the time these pears are ready to eat, they should be a lovely golden color and have a delicious aroma. The pear should be so tender that it will cut like butter and melt in your mouth. It's an incredible dessert that I highly recommend trying.
Poached pears in white wine are entirely different from the pears cooked in red wine. Each recipe has its pros and cons, but I find the white wine to be a bit sweeter and lighter, while red wine tends to have more flavor but not as sweet.
Firm pears tend to work better when it comes to poaching them for a long time. If they're too tender, they will cook too fast and start to fall apart. You might be better using soft pears in a crumble or a different fruity dessert.
What to Serve with Poached Pears
There are many extras that go great with these slow cooker poached pears in white wine.
One of my favorite extras is a scoop or two of vanilla ice cream. The ice cream will melt slightly with the hot syrup, but it matches the tender pears perfectly.
Hot custard also goes great drizzled over the top of the pears. You can buy some pre-made custard from the supermarket or try making some yourself. A baked custard is also pretty delicious alongside the pears.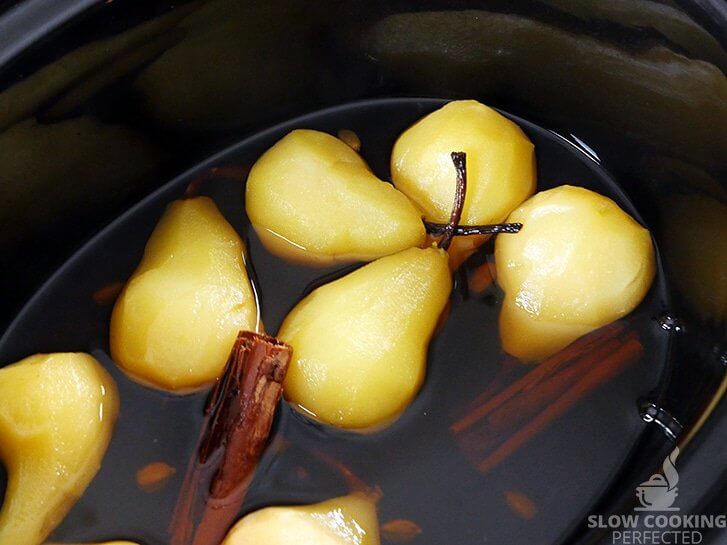 You're able to scoop the poaching liquid out of the slow cooker and boil it over the stove. Once the liquid has reduced enough, it will become like syrup and perfect for drizzling over the poached pears.
Of course, there are lots more accompaniments that you can have with these pears, so feel free to let us know if you have any suggestions.
Adjusting the White Wine Poaching Liquid
It's super easy to alter the poaching liquid so that it will be more to your liking. There are lots more spice and liquid combinations that you can do.
More spices can be added to the syrup for a bit of extra flavor. Spices such as nutmeg, star anise, and even cloves will add more flavor.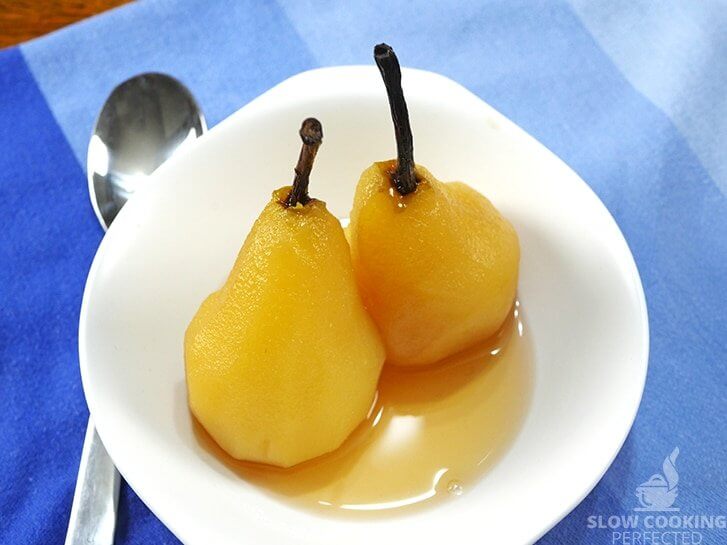 Fruit zest is also the perfect way of adding even more flavor without over-complicating the dish. Either lemon or orange zest will work quite nicely.
If you're a bit of a sweet tooth, then you can try increasing the amount of sugar. However, I found that with the sweetness of the pears, wine, and sugar, there isn't really any need to add anything else.
Leftover Poached Pears
The leftovers of these poached pears are delicious the next day for breakfast or as a quick and easy dessert.
The poached pears can be eaten cold and go great sliced on some cereal. As another option, you can heat them and have them with some ice cream or hot custard.
A video that goes through all the steps can be found right below. Alternatively, you can find the full written recipe right underneath the video.
You can also find plenty of slow cooker dinner recipes if you want something slow-cooked to eat before this delicious dessert.
Slow Cooker Poached Pears in White Wine
Ingredients
750 ml (25.4 fl oz) white wine
½ cup sugar
½ Tbsp vanilla essence
2 cinnamon sticks
10 cardamom pods
8 pears, peeled
Instructions
In a slow cooker, mix the sugar, white wine and vanilla.
Add the cinnamon sticks, pears, and the cardamom pods.
Cook for 4 hours on low or until the pears are tender.
Serve the pears with a scoop or two of the poaching liquid.
Recipe Tips
The sugar will dissolve over time, so don't worry if it is a bit grainy at the start of cooking.
To achieve a syrup-like sauce, you will need to remove roughly a cup of liquid from the slow cooker and reduce it in a saucepan by boiling it for five to ten minutes. Reducing the sauce will make the poaching liquid sweeter and more intense.
Another method of thickening the liquid is to use a paste of cornstarch. You can make this paste by mixing one tablespoon of water with a tablespoon of cornstarch. Simply mix this into the poaching liquid, and it will thicken.
You're able to core and cut the pears in half if you wish to do so. Doing this will also radically reduce the cooking time by half.
Note: I use a 5.5L (6 Quart) slow cooker for all the recipes that I have on this website unless specified. If you have a smaller or larger slow cooker, then you might need to adjust the ingredients.
Nutrition Information
Serving Size: 280g (9.9 oz)
Servings Per Recipe: 8
Calories Per Serving: 209
Amount Per Serving
Saturated Fat: 0g
Trans Fat: 0g
Dietary Fiber: 6g
Sugars: 24g
Cholesterol: 0mg
Sodium: 7mg
Protein: 1g
The information above is an estimate generated by an online nutrition calculator.
More Fruity Desserts
There are many fruity desserts that you can do in the slow cooker. Below are just a couple of recipes that I highly recommend trying.
Something like the apple and rhubarb crisp is delicious and has a surprisingly crunchy topping. It's pretty easy to prepare, and the result is so delicious.
An apple cobbler is another dessert that you should try making in the slow cooker. The apple cooks to be super tender and matches perfectly with the fluffy cake. I highly recommend giving it a try.
I hope that this slow cooker poached pears in white wine recipe works out for you. It's incredibly easy, so you shouldn't run into any problems.
If you have some feedback, tips, or something else that you would like to say, then please don't hesitate to leave a comment below.