I absolutely love this slow cooker sausage and cabbage recipe and highly recommend giving it a try. You will quickly find out why I love it so much.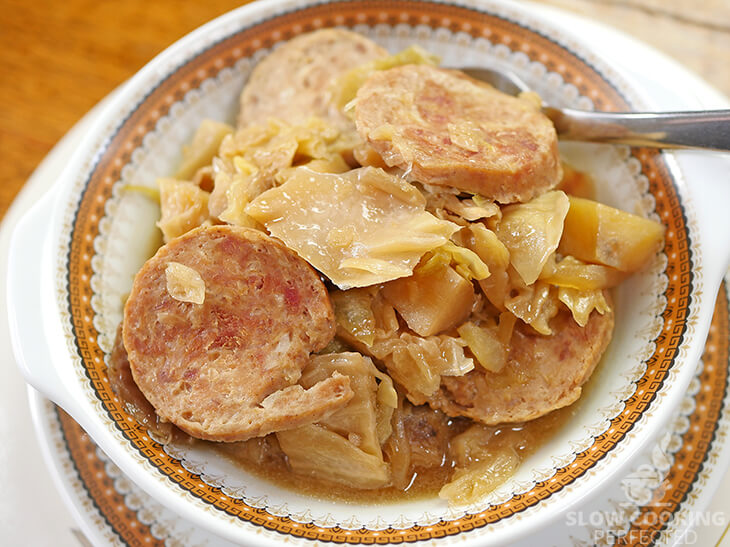 This fulfilling but straightforward dish is always a family pleaser in my household, thanks to the generous amount of Polish sausage. The cabbage and potatoes help bulk out the dish while also adding more flavor.
A single batch of this recipe should feed roughly four to six people, but this can vary massively depending on how hungry people are. Making some side dishes is great for feeding even more people without needing to double or triple this recipe.
Personalizing this Recipe
There are quite a few things that you can change with this recipe. Below are just a couple of ideas on what you can do.
Even though I recommend using Polish sausage, you can replace it with a different type of sausage. For example, Italian sausage, Kabana, or even chorizo will work nicely in this dish. My favorite is the Polish sausage.
More spices and herbs can be added to the slow cooker for more flavor. A little bit of paprika or some parsley will add more flavor and color to the sausage and cabbage.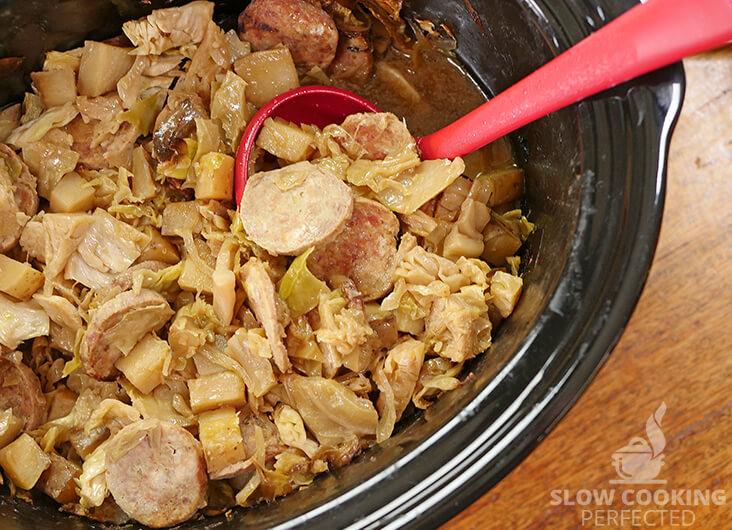 You can easily add more vegetables into this dish for more flavor and nutrition. Popular additions include vegetables such as carrot, pumpkin, or sweet potato. These will cook to be super tender and packed with flavor.
To make creamy sausage and cabbage, you can add some cream just before you go to eat. You may need to thicken the liquid slightly for the best result. Simply thicken using a cornstarch and water mixture.
There are plenty more alterations that you can do to this recipe. If you have any suggestions, then be sure to leave a comment below.
Side Dishes to have with Sausage and Cabbage
There are plenty of side dishes that go great with this delicious dish. Below are a couple of ideas on what you can make. However, I think this dish is fulfilling enough that it doesn't need anything to go with it.
Rice is a delicious side dish and is very easy to make. I typically make it in a rice cooker as I can switch it on and not have to think about it too much. You can also cook rice over the stove, but that requires a little more effort.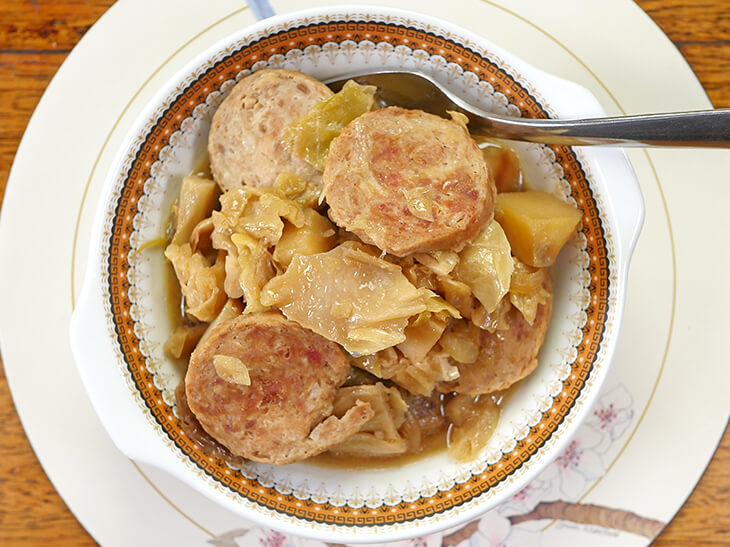 A delicious accompaniment that you can make to go alongside this dish is the cheesy potatoes. You can make them in another slow cooker, or you can try oven baking them. If you make the cheesy potatoes, then I recommend not adding the potatoes to this recipe.
Creamy mashed potato is also an excellent accompaniment to have alongside the sausage and cabbage. If you have two slow cookers, you can have both dishes cooking at the same time. It's also perfect if you need to feed a lot of people.
The video right below will take you through all the steps to making sausage and cabbage in the slow cooker. Alternatively, you can find the full written recipe right below the video.
Slow Cooker Sausage and Cabbage Recipe
Ingredients
800 g (1.8 lb) polish sausage, sliced into 1-2cm (0.5-1 inch) pieces
500 g (1.1 lb) potatoes, cut into chunks
1 onion, sliced
1 tsp garlic, minced
1 Tbsp dijon mustard
1 medium head cabbage, cut into chunks
250 ml (8.5 fl oz) chicken stock
Instructions
In a slow cooker, add all the ingredients. Stir slightly.
Cook on low for 8 hours.
Season with salt and pepper.
Serve & Enjoy.
Recipe Tips
Polish sausage is also known as kielbasa and should be readily available at your local supermarket or butcher.
You can replace the chicken stock with beef stock or vegetable stock. Water is also an option, but I don't recommend it.
Any type of potato will work fine, but for the best results, try using Yukon gold potatoes.
Try to find some polish sausage cheap as it can get quite expensive depending on where you live. Alternatively, you can use a different type of sausage such as Italian sausages.
A medium head of cabbage is roughly nine hundred grams or thirty-two ounces. It doesn't hugely matter if it's a bit less or more.
Note: I use a 5.5L (6 Quart) slow cooker for all the recipes that I have on this website unless specified. If you have a smaller or larger slow cooker, then you might need to adjust the ingredients.
Nutrition Information
Serving Size: 404g (14.3 oz)
Servings Per Recipe: 6
Calories Per Serving: 560
Amount Per Serving
Saturated Fat: 14g
Trans Fat: 0g
Dietary Fiber: 5g
Sugars: 7g
Cholesterol: 95mg
Sodium: 1300mg
Protein: 24g
The information above is an estimate generated by an online nutrition calculator.
More Slow Cooker Recipes
There are so many more recipes that you need to try for the slow cooker. Below are a couple of my favorite sausage recipes that I highly recommend that you try.
A dish that you're likely to love is the sausage and sauerkraut. It's similar to this recipe, but at the same time, also very different. I highly recommend making it only if you love the flavors of sauerkraut and beer.
You have also got to try the creamy sausage casserole as it's loaded with flavor and is always a massive hit. It has smoked sausage, potatoes, onion, and a loaded creamy sauce. I always love making it when I feel like eating comfort food.
I hope that you enjoy this slow cooker sausage and cabbage recipe as much as I did. If you have any thoughts, tips, or anything else, then please don't hesitate to leave a comment below.