Slow cooker sausage and sauerkraut is a classic combination that's extremely tasty. It requires very little prep, perfect if you're low on time.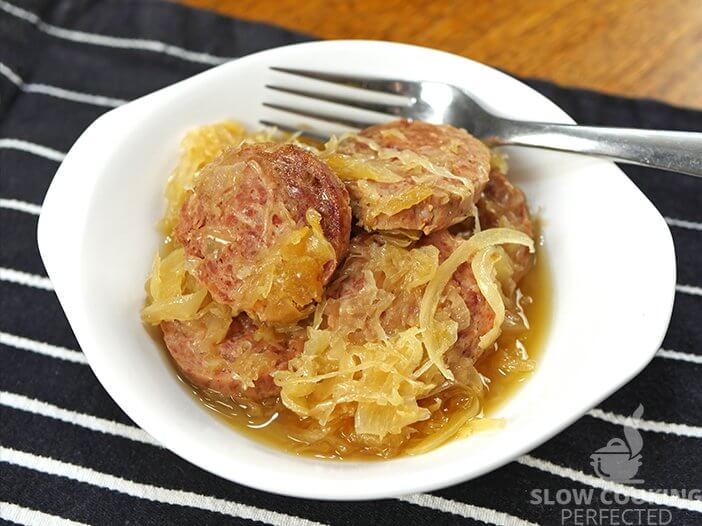 One of the best things about this dish is that it is very fulfilling and doesn't need any side dishes. With that said, the sausage and sauerkraut go delicious in a freshly baked bread roll.
If you're not a huge fan of sauerkraut, then you might want to check out some other sausage recipes for the slow cooker. For example, something like sausage and peppers will appeal to more people.
A single batch of this recipe should feed roughly four people. You can easily double or triple the recipe if you need to feed a crowd. Alternatively, side dishes are excellent for feeding lots of people.
Tweaks & Tips
The type of sauerkraut you use can heavily impact the outcome of this dish. I recommend that you stick to your favorite brand of sauerkraut for the best results.
I mention in the cooking tips further down this page that you can use other types of sausage. I have seen people use German sausage or even Italian sausage. It's up to you what you use, but I recommend using a smoked variety.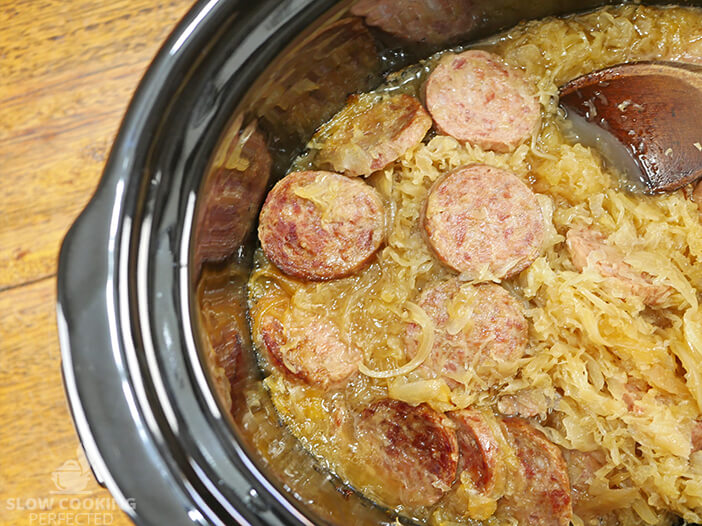 If you're not a fan of beer, then you can easily replace it with something like chicken stock or beef stock. You might want to add some more ingredients to help add a bit more flavor.
The amount of sugar I use in this recipe is pretty conservative, so feel free to add some more. I recommend going up to about a cup, but you might find it a little too sweet by that point.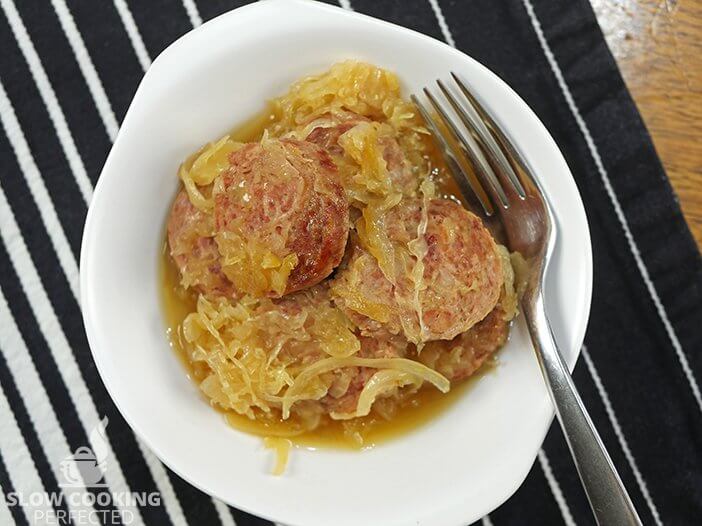 There are plenty more ingredients that you can add to help make this dish even more flavor-packed. For example, a teaspoon of caraway seeds has been known to match nicely with the flavors of this dish. Some wholegrain mustard is also an excellent addition worth trying.
I have a few more tips and tweaks just below the recipe that you should check out. The tips are perfect if you're looking to get the best sausage and sauerkraut dish possible.
What to do with Leftovers
The leftovers of this dish are great the next day for lunch or dinner. It's perfect cold, but you can heat the leftovers in the microwave, oven, or over the stove. I love to have the leftovers inside a nice bread roll.
I have assembled a video that goes through the steps to making some sausage and sauerkraut in the slow cooker. You can find the video below, and right underneath is the full recipe.
Slow Cooker Sausage and Sauerkraut Recipe
Ingredients
800 g (1.8 lb) polish sausage, sliced into 1-2 cm (0.5-1 inch) pieces
500 g (1.1 lb) sauerkraut, drained
¼ cup brown sugar
1 onion, sliced
1 cup lager beer
Instructions
Add all the ingredients into a slow cooker and stir slightly.
Cook on low for 6 hours.
Serve & Enjoy.
Recipe Tips
The polish sausage can be replaced with some regular pork sausages or Italian sausages. Both will work fine, but I highly recommend that you pick up some kielbasa.
If you're not a fan of beer, then this can be swapped for something like chicken stock or water.
I recommend using a lager beer, but you can swap it to something more to your liking. Just keep in mind a heavier beer such as stout, may not work as nicely.
The brown sugar is important as it helps takes a bit of the bitterness away from the sauerkraut and beer.
If you're not a fan of sauerkraut, you can try replacing this with just regular cabbage. This substitution will make the dish less bitter and might appeal to more people.
You don't need to have this dish with any extra side dishes as it is perfect on its own. I do sometimes like to have it with some fresh bread so I can soak up all those tasty juices.
Note: I use a 5.5L (6 Quart) slow cooker for all the recipes that I have on this website unless specified. If you have a smaller or larger slow cooker, then you might need to adjust the ingredients.
Nutrition Information
Serving Size: 4g (0.1 oz)
Servings Per Recipe: 393
Calories Per Serving: 730
Amount Per Serving
Saturated Fat: 20.7g
Trans Fat: 0g
Dietary Fiber: 3g
Sugars: 8g
Cholesterol: 140mg
Sodium: 2140mg
Protein: 30g
The information above is an estimate generated by an online nutrition calculator.
More Slow Cooker Sausage Recipes
Another sausage dish that you should try in your slow cooker is the sausage casserole. It's packed with delicious vegetables and a ton of beef sausages. Certainly, worth trying, especially if you need to feed a crowd.
You have got to try the creamy sausage casserole as it's so incredibly delicious. The creamy sauce is loaded with flavor thanks to the help of a bit of chicken stock, parsley, garlic, and Worcestershire sauce. It's a must-try casserole as it's so delicious.
I absolutely love this slow cooker sausage and sauerkraut recipe. It was a combination I wasn't too sure on at first, but after the first taste, I was going back for seconds. If you have any feedback, then please don't hesitate to leave a comment below.