This slow cooker sausage casserole is the perfect way to feed a crowd while also keeping costs low.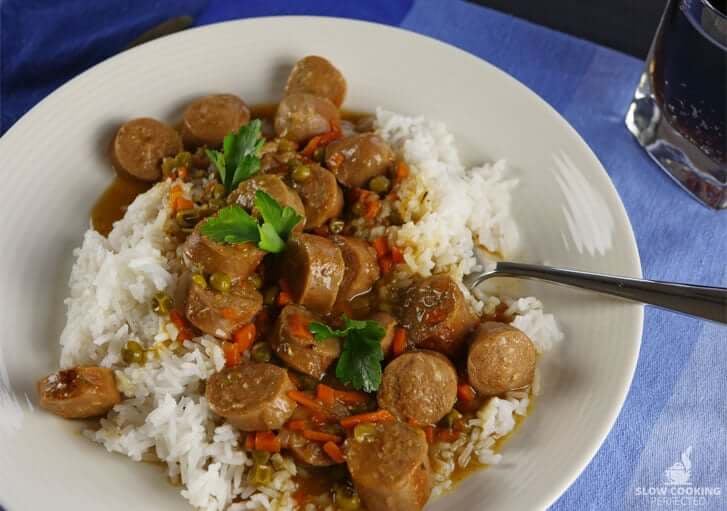 The casserole has a thick flavor-packed gravy that is so good that you will find yourself going back for seconds. It might not look like the tastiest dish, but this proves that looks can be very deceiving.
A single batch of this casserole should easily feed four people. With a few extra side dishes, you should be able to feed six people. If you need to feed more, then you will need to double or triple the recipe.
You can store this casserole in the fridge for roughly three days before it will need to be eaten. Alternatively, you can freeze this meal for approximately three months. Make sure you store it correctly so that it will last as long as possible.
Tweaking the Recipe
Assuming that you love bacon, then you can add some to this dish as well. Dice about four slices of bacon and cook with the onion. This variation will add those amazing bacon flavors we all know and love.
Some cannellini beans are an excellent addition if you are a fan of beans and would like to bulk out the casserole a little. Make sure you drain and rinse them before adding to the slow cooker.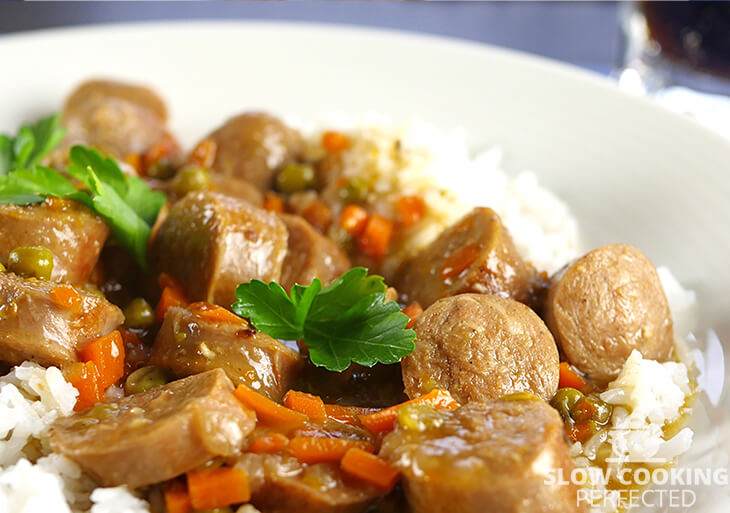 Leftover sausages are perfect to use in this sausage casserole. You will also be able to skip the first step since the sausages are probably already cooked. Simply slice the sausages before placing them into the slow cooker.
Extra vegetables can be added into the casserole for even more flavor and nutrition. For example, mushrooms or potatoes are excellent choices and will add loads of flavor.
The sausages can be left whole if you prefer them this way. If you are leaving them whole, then you can also skip the browning step and instead add them straight into the slow cooker.
What to Serve with Sausage Casserole
This dish can be eaten by itself, but if you are looking for something to go with it, below are a couple of recommendations.
I recommend delicious creamy mash potatoes to go alongside this delicious casserole. It is the perfect match, and you can easily feed a crowd by making the mashed potatoes in the slow cooker.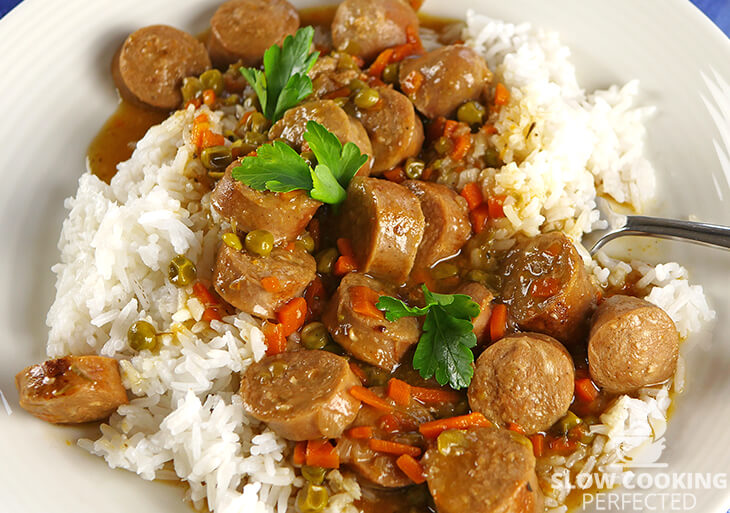 As you can tell in the photos, my other recommendation is to serve the casserole with some steamed rice. You can cook the rice in a rice cooker or over the stove. I do not recommend cooking it in with the casserole.
If you want to see how to make sausage casserole in the slow cooker, then be sure to check out the video below. I go through step by step of getting this slow cooker recipe prepared, cooked, and ready for eating.
Sausage Casserole Slow Cooker Recipe
Adblock removing the video? Support us by going ad-free or whitelist us in your ad-blocker.
Ingredients
8 Italian sausages (Pork or beef will work best)
2 Tbsp unsalted butter
1 onion, finely chopped
2 tsp garlic, crushed
2 Tbsp plain flour
1 Tbsp Worcestershire sauce
3 cups beef stock
1 carrot, diced
1 tsp thyme, dried
1 bay leaf
1 cup frozen peas
Instructions
In a frying pan, cook the sausages until they are golden brown.
Remove and allow to cool slightly before cutting into thick slices.
Add the butter, onion, garlic and cook for about 1 minute.
Add the flour and stir in. Cook for about 2 minutes.
Slowly stir in the beef stock and the Worcestershire sauce. Once done, transfer to the slow cooker.
Add the diced carrot, thyme, sausages, bay leaf, and peas to the slow cooker.
Cook for 6 hours on low.
Season with salt and pepper.
Serve & Enjoy.
Recipe Tips
A runny sauce can be thickened by using a bit of cornstarch. Simply mix one tablespoon of cornstarch to one and a half tablespoons of water, then mix this into the sauce. It should thicken up quite a bit. Repeat if you need to make it thicker.
If you prefer the peas to be bright green, add these just before you go to serve the casserole. Adding the peas frozen will cool down the casserole, so turn the slow cooker to high for fifteen minutes to reheat it.
Note: I use a 5.5L (6 Quart) slow cooker for all the recipes that I have on this website unless specified. If you have a smaller or larger slow cooker, then you might need to adjust the ingredients.
Nutrition Information
Serving Size: 269g (9.5 oz)
Servings Per Recipe: 6
Calories Per Serving: 371
Saturated Fat: 10.2g
Trans Fat: 0g
Dietary Fiber: 2.3g
Sugars: 3g
Cholesterol: 80mg
Sodium: 1097mg
Protein: 19.6g
The information above is an estimate generated by an online nutrition calculator.
More Slow Cooker Recipes
Below are some more delicious recipes that you can do in the slow cooker.
Another dish that you might be interested in is the butter chicken slow cooker recipe. It uses a homemade curry paste, which results in some incredibly delicious flavors. I highly recommend giving it a try.
There are plenty of casserole dishes that you can do in the slow cooker, and they are great for feeding a crowd. For something a little different, check out the pepperoni pizza casserole.
I hope that you were able to cook this slow cooker sausage casserole without any issues and that it tastes fantastic. If you have a variation that you would love to share or just have some feedback, then please do not hesitate to leave a comment below.