Slow cooker sloppy joes is the perfect dish for when you're running low on money and want something super easy to cook up.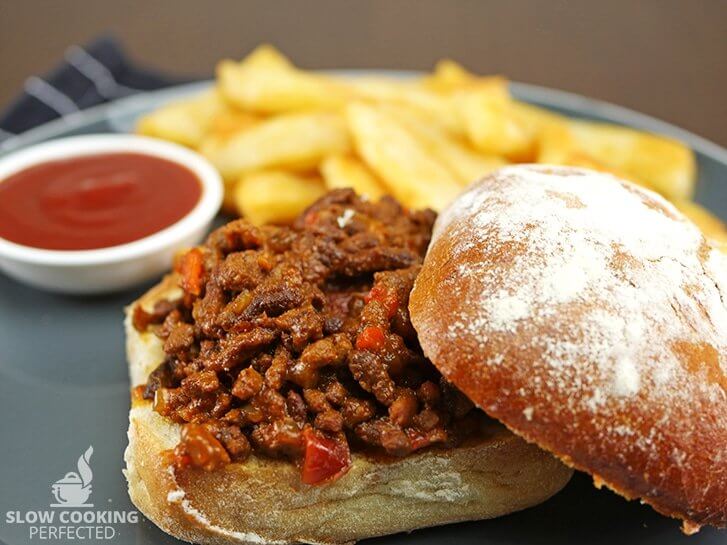 Once this dish is ready, it will be quite rich and packed full of flavor. The combination of the ketchup, Worcestershire, Dijon, and brown sugar leaves you with a deliciously rich sauce. If you love tons of sauce, then I highly recommend doubling all the sauce ingredients.
Sloppy joes are pretty marvelous in a sandwich, but it's not the only slow cooker dish that produces great sandwich meat. You should also check out something like the Mississippi beef or even the addictive crack chicken.
This recipe is just yet another great ground beef dish that you can cook in a slow cooker. Perfect if you're looking for a dish that is friendly on your budget but still incredibly delicious.
You can quickly bulk this recipe out if you need to feed more people. I find that the base recipe will feed at least four people, especially if I am serving it with bread rolls and crispy chips.
What to Serve with Sloppy Joes
While you can eat this dish on its own, there is plenty of side dishes that go great with it. Extras are also a great way of feeding a crowd without needing to adjust the recipe.
I highly recommend having the sloppy joes in a freshly baked bread roll. If you're feeling really hungry, then some chips really complete this dish. You can add the chips to the roll with the sloppy joe mix or have them on the side.
If you decide on the bread roll idea, then there is a lot of extras that you can have in the roll. For example, feel free to melt cheese over the top of the beef mixture. Gherkins are also a popular addition.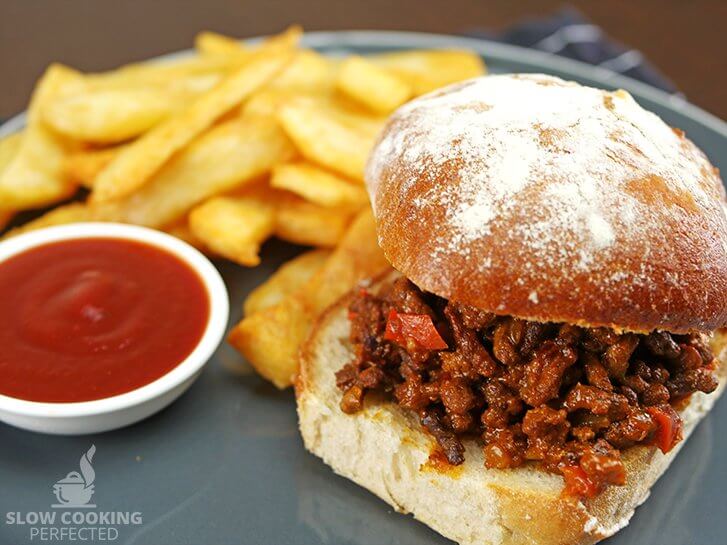 You can use this beef mixture as a topping of a delicious homemade pizza. Simply spread across a pizza base, add cheese, and bake in the oven until ready. Perfect if you're feeling a little experimental.
Coleslaw is a popular salad to have with this dish. You can either buy some from the supermarket or spend a little bit of extra time in the kitchen and make it yourself. I always prefer homemade coleslaw.
There is so much that you're able to do with sloppy joes, so if you have any great ideas, then be sure to let us know. We always love to hear about your creations.
Making the Best Sloppy Joes
I think this recipe is great without any changes, but if you feel the need to tinker, then feel free to do so. Below are just a couple of suggestions on what you can do.
You can make this saucier by increasing the quantity of wet ingredients that we use. This includes ingredients such as the ketchup, Dijon mustard, and Worcestershire sauce. Another option is to add some crushed tomatoes into the mixture.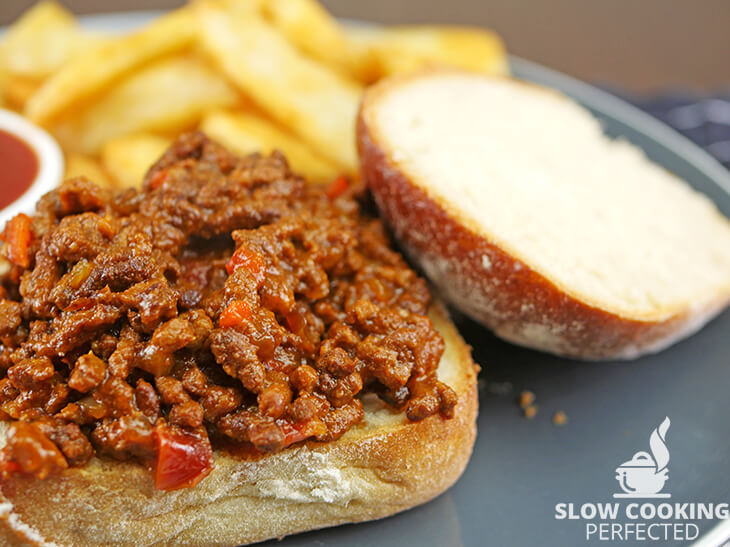 Browning the meat is important is it will help reduce the fatty liquid in the slow cooker. With that said, you can skip browning the meat and still get great results.
You can use a different type of ground meat in this recipe. For example, something like turkey, chicken, or even pork will work very well. Personally, I prefer the traditional method of using ground beef.
There are lots more that you can do with this recipe. Be sure to let us know if you have an adjustment that turned out to be amazing.
What to do with Leftovers
Leftovers of this dish are great in a sandwich the next day. You can reheat the leftovers, but they're surprisingly good cold too. Just make sure you store it in the fridge or freezer until you need it.
Any leftovers should last for roughly three days in the refrigerator or about six months in the freezer. Make sure you store it in a clean airtight container so that it lasts for as long as possible.
If you love seeing how to make sloppy joes in the slow cooker, then be sure to check out the video below. It will take you through all the steps to making this delicious dish in the slow cooker. There is also the full written recipe immediately below the video.
Slow Cooker Sloppy Joes Recipe
Ingredients
500 g (1.1 lb) ground beef
1 onion, diced
1 tsp garlic, crushed
1 red bell pepper, diced
2 tsp Worcestershire sauce
2 tsp Dijon mustard
1 Tbsp brown sugar
1 cup ketchup
Instructions
In a frypan over high heat, brown the ground beef.
Once browned, drain off the excess fluid and transfer it to a slow cooker.
In the slow cooker, add the rest of the ingredients.
Cook on low for 6-8 hours.
Serve & Enjoy.
Recipe Tips
Browning the beef isn't important, but if you do want less liquid at the end of cooking, then I highly recommend doing it. Also, by browning the meat and draining the excess fluid, you will have less fat in the final dish.
Adding a 400g (14 oz) can of crushed tomatoes will add a lot more fluid to this dish. It's the perfect addition if you prefer your sloppy joes a bit wetter than what this recipe produces.
If you prefer your food to be less on the sweet side, then simply leave the sugar out.
You can change the slow cooking time for this dish to something a lot shorter. Even when set on low, this dish will be fine cooking for as short as two hours. However, the flavors might not fully develop in such a short time. Personally, I would avoid setting the slow cooker to the high temperature.
Note: I use a 5.5L (6 Quart) slow cooker for all the recipes that I have on this website unless specified. If you have a smaller or larger slow cooker, then you might need to adjust the ingredients.
Nutrition Information
Serving Size: 240g (8.5 oz)
Servings Per Recipe: 4
Calories Per Serving: 387
Amount Per Serving
Saturated Fat: 8.6g
Trans Fat: 1.3g
Dietary Fiber: 1g
Sugars: 19g
Cholesterol: 81mg
Sodium: 678mg
Protein: 21g
The information above is an estimate generated by an online nutrition calculator.
More Slow Cooker Recipes
If you're not really in the mood for some sloppy joes and want to cook something else with ground beef, then you should check out the flavor-packed chili. It's pretty easy to make and can be eaten on its own.
Another dish that I highly recommend making is ground beef pie. The beef mixture is absolutely delicious, even without the pastry. I love making it, and it's always a huge hit in my household.
I hope that you enjoy these easy slow cooker sloppy joes, if you have any feedback, tips or anything else, then feel free to leave a comment below.