This slow cooker Philly cheesesteak leaves you with meat that is so tender and flavorsome that you will be going back for seconds. Best of all, it is perfect for feeding a hungry crowd.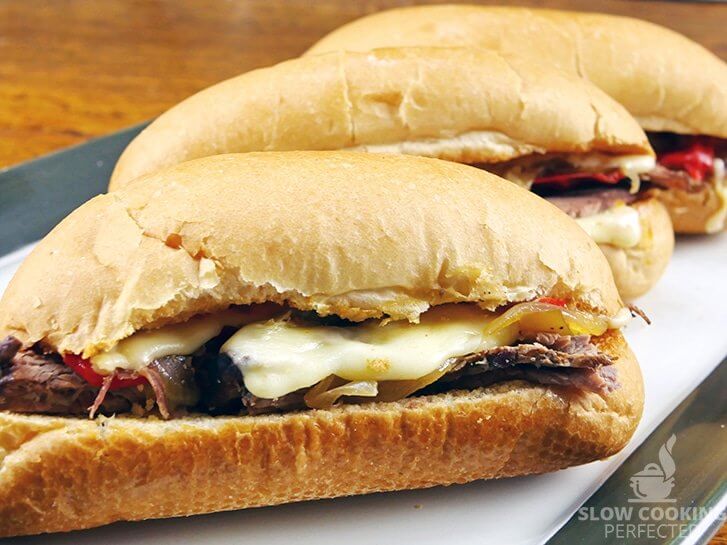 The ideal outcome of this recipe will leave you with some fantastic tender beef and flavorsome vegetables. The sauce is perfect for lightly pouring over the cheese to help it melt while also adding a bit of flavor.
You don't have to eat this dish in a hoagie roll, though I do recommend it. You can eat it just on its own topped with some provolone cheese. Leaving out the hoagie roll is great if you're trying to reduce the number of carbs in your food.
As the name suggests, the Philly cheesesteak originated out of Philadelphia, Pennsylvania. This delicious sandwich is often referred to as just cheesesteak within Philadelphia itself.
This recipe will feed quite a few heads, roughly five to ten people, depending on how hungry they all are. You can easily scale the recipe down if you feel like you don't need that much food.
The perfect Philly cheesesteak varies from person to person. If you want to share your thoughts on what would make this recipe even better, then be sure to leave a comment at the bottom of this page.
Serving the Philly Cheesesteak
Below are a few ideas on how you can serve the cheesesteak and what you can have alongside the sandwich.
In a hoagie roll, it is recommended that you have some thinly sliced beef along with some melted cheese. You can add extras into the roll, such as bell peppers, onions, mushrooms, ketchup, and much more.
If you can't get your hands on some authentic hoagie rolls, then most rolls that are similar in shape will suffice. You could also try making some at home if you have some spare time.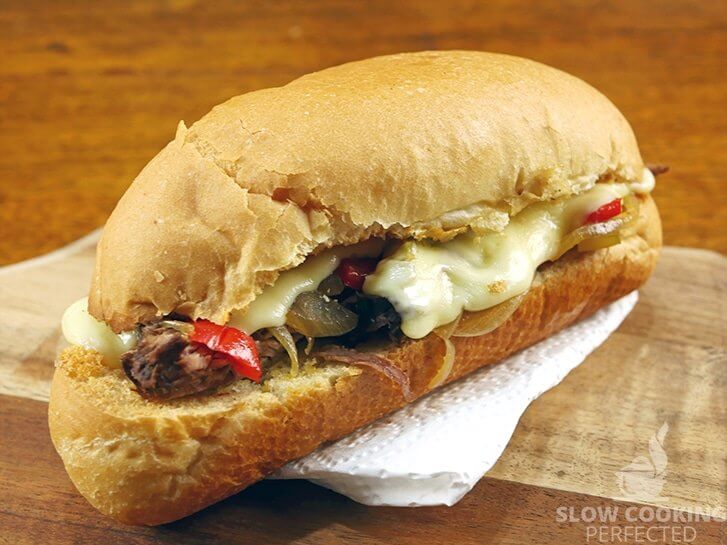 Typically the roll should be more than enough to keep you satisfied. Still, if you want something to go on the side, then I highly recommend making cheesy potatoes with bacon. Alternatively, some french fries are perfect as a side dish.
A salad such as coleslaw also works nicely as a side dish to this delicious sandwich. You can buy it from the supermarket, or you can spend a bit of time in the kitchen and make it from scratch.
The foods I have mentioned above is just a couple of examples. If you have any other suggestions, then be sure to leave a comment at the bottom of this page.
What to do with Leftovers
Any leftovers are worth keeping as they are great for many other dishes. For example, you can use the beef, bell peppers, and onion as topping on a pizza. It's also great cold in a sandwich the next day.
You can keep the leftovers in either the fridge or freezer. They should last for roughly three days in the refrigerator or six months in the freezer.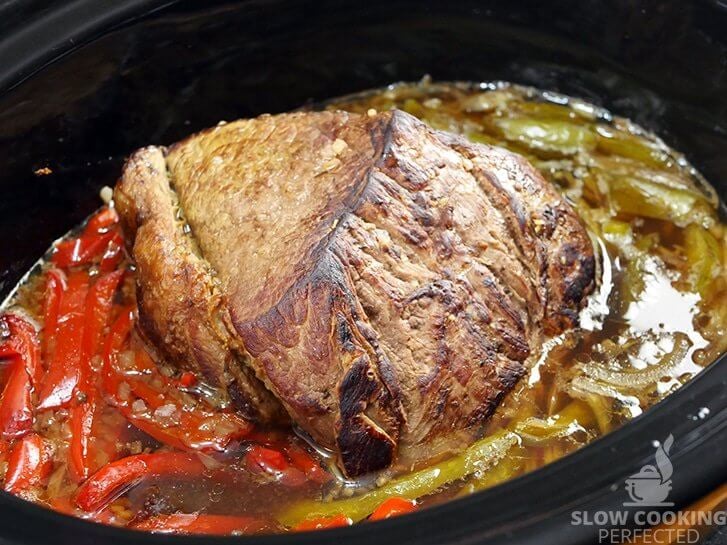 The video below is super handy if you want to see how to make Philly cheesesteak in the slow cooker. If you like the video, then please don't hesitate to subscribe to get even more slow cooker video recipes.
Alternatively, if you're more of a written recipe type of person, then you can find one right underneath the video.
Slow Cooker Philly Cheesesteak Recipe
Ingredients
2 kg (4.4 lb) chuck roast
1 cup beef stock
300 ml (10.1 fl oz) French onion soup
1 Tbsp Worcestershire sauce
2 onion, sliced into thin strips
2 bell peppers, sliced into thin strips
120 ml (4.1 fl oz) dark beer
Rolls:
10 Hoagie rolls, cut in halve
4 Tbsp unsalted butter
10 slices Provolone Cheese
Instructions
Season the beef with salt and pepper.
Heat a frypan over high heat.
Once hot, add the beef and cook until browned, roughly 1-2 minutes on each side.
In a slow cooker, add the beef, beef stock, French onion soup, Worcestershire sauce, dark beer, onion, mushrooms, and bell pepper.
Cook on low for 8 hours.
Slightly toast the hoagie rolls and then spread a bit of butter on each half.
Using a sharp knife cut your beef thinly.
Add the provolone cheese to the Hoagie roll, then top with some of the meat and veggies.
Serve and enjoy.
Recipe Tips
If you love mushrooms, then don't hesitate to add these to the slow cooker. I would slice them so you don't end up with large chunks of mushrooms.
Provolone cheese can be swapped for a different cheese. Swiss cheese is a great replacement, but any type of cheese will likely be tasty.
If you can't get your hands-on chuck beef, then any other tough cut of beef should be fine to use. This slow cooker Philly cheesesteak recipe is pretty versatile.
You can easily make the French onion soup using some packet mixes. Using a packet is the easiest and quickest way to get this ready for cooking.
Note: I use a 5.5L (6 Quart) slow cooker for all the recipes that I have on this website unless specified. If you have a smaller or larger slow cooker, then you might need to adjust the ingredients.
Nutrition Information
Serving Size: 370g (13.1 oz)
Servings Per Recipe: 10
Calories Per Serving: 654
Amount Per Serving
Saturated Fat: 15g
Trans Fat: 0.9g
Dietary Fiber: 2g
Sugars: 6g
Cholesterol: 198mg
Sodium: 743mg
Protein: 66g
The information above is an estimate generated by an online nutrition calculator.
More Slow Cooker Beef Recipes
There are plenty more slow cooker beef dishes that you need to try, especially if you like this one.
For example, the Mississippi Pot Roast is a family favorite and so easy to quickly get prepared. It is one of the most popular pot roasts that you can do in the slow cooker.
Another beef dish that is great in sandwiches or on a pizza is the slow-cooked pulled beef. It has a ton of flavor, and the meat just melts in your mouth. Indeed, worth checking out if you love a bit of beef.
I do hope that you love this slow cooker Philly cheesesteak recipe. If you have some improvements that you would like to share, then please don't hesitate to leave a comment below.