A slow cooker pot roast is an excellent way of feeding a crowd. The best thing is that you can get it cooking in the morning, so it's ready for when you sit down for dinner.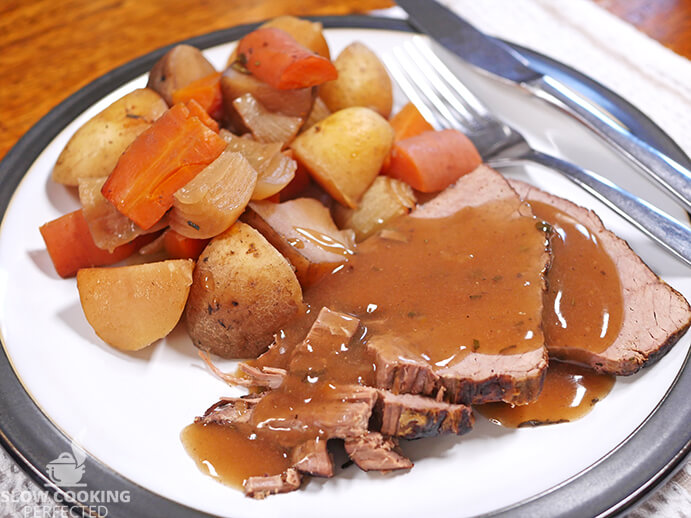 By the end of cooking, you will have some deliciously tender beef and vegetables. The liquid in the slow cooker will be for a delicious gravy that you can pour over the meat and veg. It's a tasty combination that is always a huge hit at my family gatherings.
One great thing about this recipe is that you change it to feed quite a few people. A single batch should feed about six to eight people, but you can easily double or triple the ingredients if you need to feed more. You might need a larger slow cooker if you triple the recipe.
Best Cut of Beef to Use for a Pot Roast
There are a few different cuts of beef that you can use for this beef pot roast recipe. I will quickly go through some that I recommend that you use.
Since we are slow cooking the meat, we will want to lean towards using cheaper cuts of beef. The long cooking time will allow for the meat to tenderize and intensify in flavor.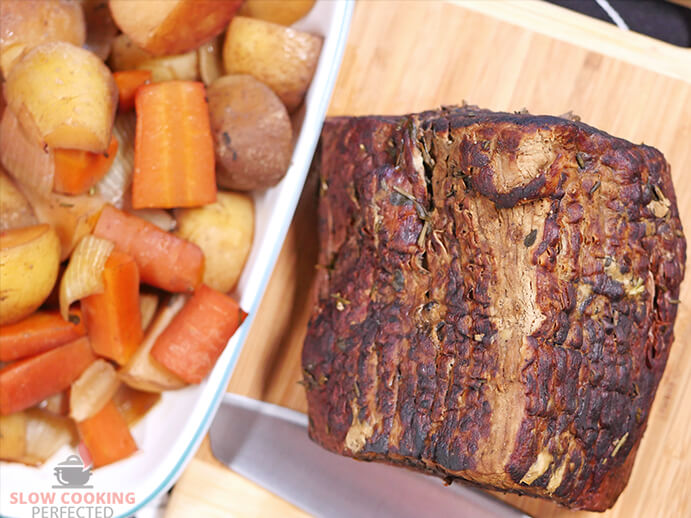 You will want to use something like a chuck roast, beef brisket, or bottom round (London Broil). These cuts can go by different names depending on where you live so if you don't recognize any, then you might want to do a quick search.
A cut such as silverside (bottom round) can also be made into some corned beef, so be sure to give that a try. The meat is incredibly delicious and is well worth the wait.
If you have tried a different cut of beef, then what's listed above, we will love to hear what you use and how it turned out.
Side Dishes to have with a Pot Roast
Hundreds of side dishes work great with a pot roast. I will go through some of my favorites that you can make to go alongside this delicious recipe.
If you have multiple slow cookers, then you can always do some creamy scalloped potatoes to go with it. They're incredibly flavorsome and well worth the effort.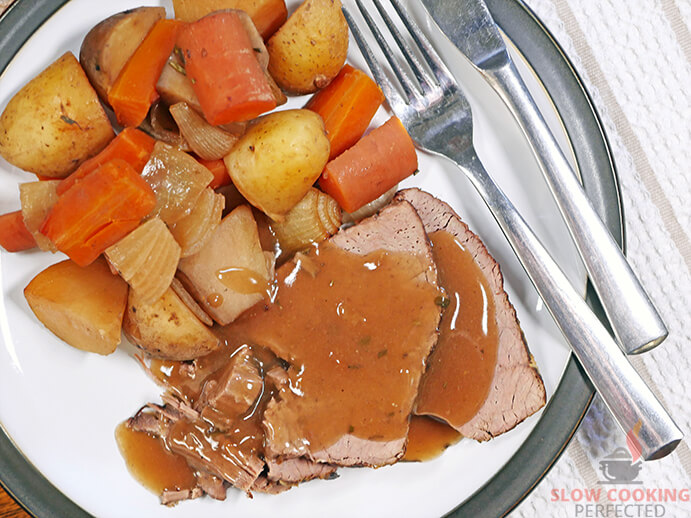 Another one of my favorites is mashed sweet potato, and it's so easy to make in the slow cooker. It's certainly not for everyone, but I love it.
Some Yorkshire puddings go great with roast beef so if you have some spare time I highly recommend that you make some. They're so tasty if you get them right.
Be sure to let us know any side dishes that you like to have with a good beef pot roast.
What to do with Leftover Beef
Leftover beef is excellent in so many different dishes, so be sure to keep it. You can store it in the fridge for a few days or freeze it for later.
One of the most popular ways to use leftover beef is to slice it thinly and use it on sandwiches or in some wraps.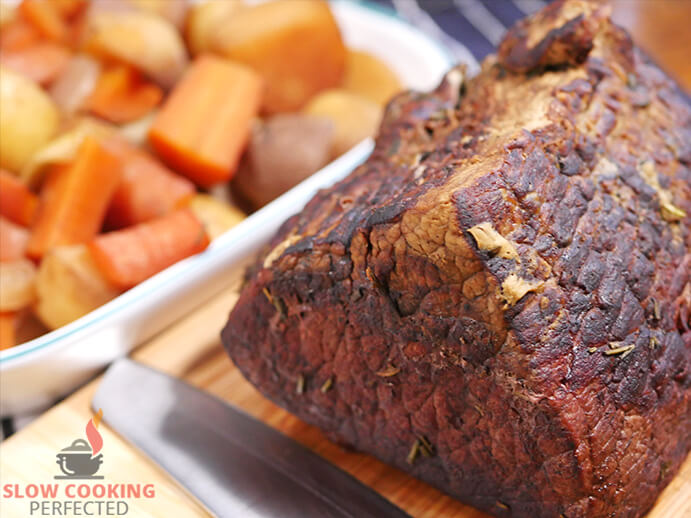 You can also shred the leftover meat and use it in a dish such as beef enchiladas, tacos, and so much more. There are just so many options, so make sure you use it.
Right below is the video that takes you through the steps of making a delicious beef pot roast in the slow cooker. If video isn't your thing, then the written recipe is immediately beneath it.
Slow Cooker Roast Beef Recipe
Ingredients
2 kg (4.4 lb) chuck roast
1 tsp salt
¼ tsp pepper
2 onions, quartered
4 potatoes, cut into chunks
4 carrots, cut into chunks
2 tsp thyme
2 tsp rosemary, chopped
½ cup red wine
1 Tbsp Dijon mustard
2 Tbsp Worcestershire sauce
2 cups beef stock
Thickener
6 Tbsp cornstarch
6 Tbsp water
Instructions
Rub the beef with the salt and pepper.
In a frypan over high heat, brown the roast on all sides. Put to the side.
Add the thyme, rosemary, red wine, mustard, Worcestershire sauce, and beef stock to a jug and stir.
In a slow cooker, add the chuck roast. Next, add the onion, potatoes, and carrots around the roast.
Pour the marinade mixture over the beef and vegetables.
Cook on low for 6 hours.
Remove the beef and vegetables from the slow cooker and keep warm.
Transfer the liquid to a pot and heat over a stove.
Combine the cornstarch and water and pour it into the liquid in the pot.
Cook for 5 minutes on high heat or until thickened.
Serve & Enjoy.
Recipe Tips
You can skip the browning of the beef and put the meat straight into the slow cooker. I only recommend doing this only if you don't have the time to brown the meat.
The homemade gravy might not be to your liking. If that is the case, you can simply discard the liquid and make the gravy a different way. I love the gravy, so I do recommend you give it a try.
Experiment with the mustard that you use. For example, a wholegrain mustard will also add quite a nice flavor.
If you want your roast beef to be medium-rare, then you will need to reduce the cooking time by quite a bit. Roughly 90 minutes will give you a very pink beef if that's what you're after. Your vegetables also might not cook.
While you can cook the pot roast for longer than 6 hours, you do unfortunately run the risk of overcooking it. Once overcooked, the beef will be quite dry.
You can also make the gravy in the slow cooker but it will take quite some time to thicken and may result in your vegetables and beef going cold.
Note: I use a 5.5L (6 Quart) slow cooker for all the recipes that I have on this website unless specified. If you have a smaller or larger slow cooker, then you might need to adjust the ingredients.
Nutrition Information
Serving Size: 566g (1.3 lb)
Servings Per Recipe: 8
Calories Per Serving: 619
Amount Per Serving
Saturated Fat: 7.8g
Trans Fat: 0.8g
Dietary Fiber: 6g
Sugars: 5g
Cholesterol: 187mg
Sodium: 667mg
Protein: 66g
The information above is an estimate generated by an online nutrition calculator.
More Slow cooker Beef Recipes
The slow cooker is awesome for cooking beef, so there is a lot of different recipes that you can make. I will go through some I highly recommend trying, especially if you like this recipe.
If you want even richer flavors, then you have got to try the Mississippi roast in the slow cooker. It's an interesting blend of flavors but certainly comes out amazing. I have added it to my favorites list.
Another that you should try is the slow-cooked beef brisket. It has a delicious spice rub that will have you going back for seconds. There will also be a delicious sauce at the end of cooking that you can use.
That's all I have to talk about for this slow cooker pot roast recipe. I really hope that you enjoy it as much as I did.