Back to Recipe
Print Recipe
Slow Cooker Roast Beef Recipe
---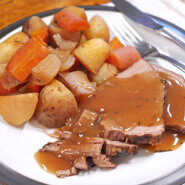 Prep time: 30 Minutes
Cook time: 6 Hours
Total time: 6 Hours & 30 Minutes
Serves: 8
Ingredients
2 kg (4.4 lb) chuck roast
1 tsp salt
¼ tsp pepper
2 onions, quartered
4 potatoes, cut into chunks
4 carrots, cut into chunks
2 tsp thyme
2 tsp rosemary, chopped
½ cup red wine
1 Tbsp Dijon mustard
2 Tbsp Worcestershire sauce
2 cups beef stock
Thickener
6 Tbsp cornstarch
6 Tbsp water
---
Instructions
Rub the beef with the salt and pepper.
In a frypan over high heat, brown the roast on all sides. Put to the side.
Add the thyme, rosemary, red wine, mustard, Worcestershire sauce, and beef stock to a jug and stir.
In a slow cooker, add the chuck roast. Next, add the onion, potatoes, and carrots around the roast.
Pour the marinade mixture over the beef and vegetables.
Cook on low for 6 hours.
Remove the beef and vegetables from the slow cooker and keep warm.
Transfer the liquid to a pot and heat over a stove.
Combine the cornstarch and water and pour it into the liquid in the pot.
Cook for 5 minutes on high heat or until thickened.
Serve & Enjoy.
---
Recipe Tips
You can skip the browning of the beef and put the meat straight into the slow cooker. I only recommend doing this only if you don't have the time to brown the meat.
The homemade gravy might not be to your liking. If that is the case, you can simply discard the liquid and make the gravy a different way. I love the gravy, so I do recommend you give it a try.
Experiment with the mustard that you use. For example, a wholegrain mustard will also add quite a nice flavor.
If you want your roast beef to be medium-rare, then you will need to reduce the cooking time by quite a bit. Roughly 90 minutes will give you a very pink beef if that's what you're after. Your vegetables also might not cook.
While you can cook the pot roast for longer than 6 hours, you do unfortunately run the risk of overcooking it. Once overcooked, the beef will be quite dry.
You can also make the gravy in the slow cooker but it will take quite some time to thicken and may result in your vegetables and beef going cold.
Did you make this recipe?
We want to see! Tag
@slowcookingperfected
on Instagram or use the hashtag
#slowcookingperfected
so we can find you!
---