A delicious slow cooker beef stew is an absolute classic and one of the easiest dishes to get right.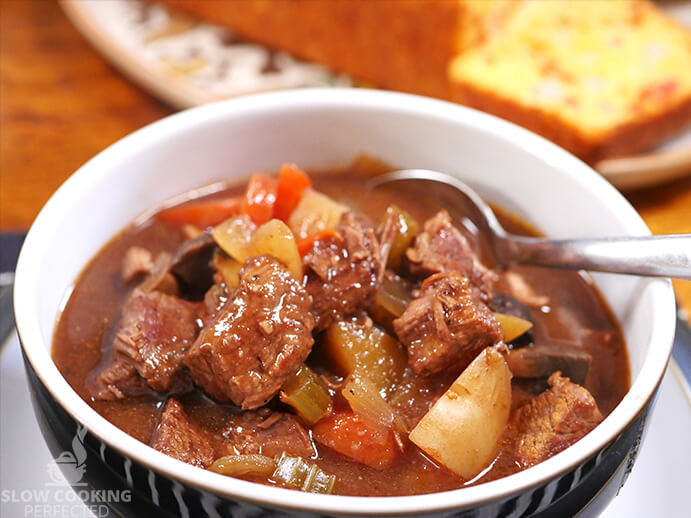 By the time this stew is ready to eat, you will have tender pieces of beef, vegetables, and a delicious broth. It's the perfect comfort food for all year round, but it is especially good in winter.
You can eat this stew by itself without any extra dishes, but if you're feeding a crowd, then you might want some side dishes.
Feed a Crowd
A stew is an excellent way of easily feeding a crowd and is usually pretty affordable. You will find that this recipe should feed roughly six to eight people. The number of people it will feed will depend on how hungry people are.
You're easily able to double or triple the recipe if you need to feed a large number of people. Keep in mind that you might need another slow cooker as you might not be able to fit everything in one.
Sides are also an excellent way to feed more people, so be sure to check out some of our suggestions below.
Sides to have with Beef Stew
There are so many different sides that you can have with a beef stew. I am just going to go through my favorites, but there are so many more that you can do. Be sure to let us know what you have with this tasty stew.
I had this stew by itself with a loaf of homemade cornbread, and both were absolutely delicious. There are several other options that will work just as well.
Serving the stew over some mashed potato is a delicious combination. Even better is that you can make the mashed potato in bulk by using a slow cooker. It's certainly worth a try.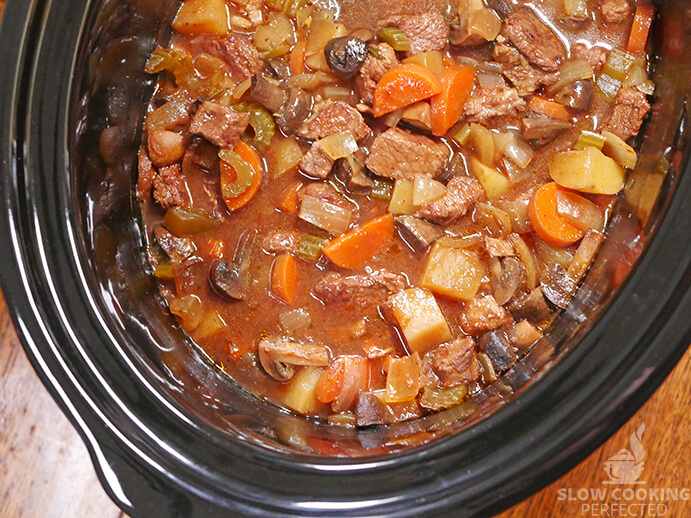 A couple of sides that work great with this slow cooker beef stew is some dinner rolls or Yorkshire puddings. Both are delicious, but you can usually buy some dinner rolls at a local bakery, so they're probably the easier option.
Having the stew over some freshly cooked rice is another option. You can easily cook some rice in a rice cooker and have it ready for when you're serving the beef stew.
The last option is to have it with some side salads. There are dozens of different types of salad that work great with stews. So, feel free just to pick any and try it.
Many other side dishes go great with this dish so if you have any suggestions, I'm happy to hear them.
Best Cut of Meat to Use
As with any slow cooker recipe, the best cut of beef to use is typically one that is cheap and tough.
We use the cheap cuts as we're slowly cooking the meat for a long time, so by the time it's ready, the meat will be flavorsome and tender.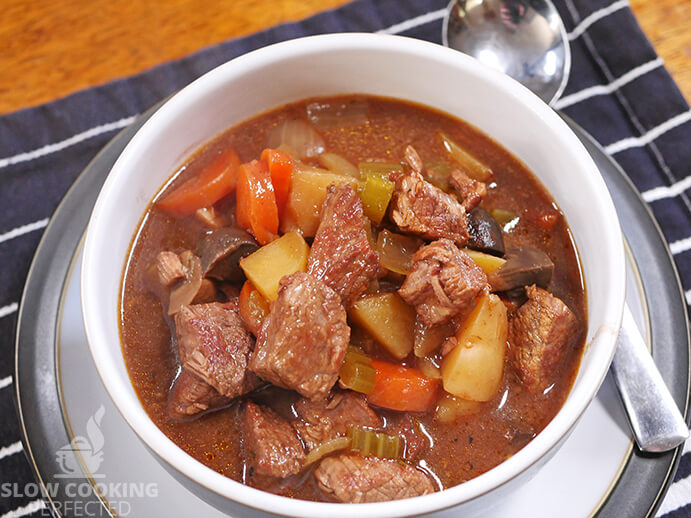 I suggest using something like chuck, round, shanks, blade, or even brisket. Of course, names will vary depending on the country you're living in so look for anything that's cheap but still looks decent.
You're able to find the full beef stew recipe for the slow cooker right below. There is also a video that will take you through all the steps of making this incredible stew.
Slow Cooker Beef Stew Recipe
Ingredients
1 kg (2.2 lb) chuck roast, cubed
¼ cup plain flour
1 tsp salt
½ tsp pepper
2 Tbsp oil
2 onions, diced
3 tsp garlic, crushed
2 celery stalks, chopped
2 potatoes, chopped
2 carrots chopped
250 g (8.8 oz) mushrooms, sliced
1 tsp thyme
1 tsp rosemary
2 bay leaves
3 cups beef stock
1 cup red wine
2 Tbsp tomato paste
1 Tbsp Worcestershire sauce
Instructions
Combine the flour, salt, and pepper in a bowl
Coat the cubed beef in the seasoned flour.
In a frying pan over high heat, add the oil. Once hot, sear the beef. Once browned, place the meat to the side.
Add the red wine to the frying pan and cook for 1 minute. Transfer the wine and beef to a slow cooker.
Add the rest of the ingredients to the slow cooker and stir.
Cook on low 8 hours.
Season to taste with salt and pepper.
Serve & Enjoy.
Recipe Tips
If the stew requires a little more thickening, then combine roughly two tablespoons of cornstarch with water until it forms a paste. Pour this mixture into the slow cooker and stir. It should thicken, repeat until it is thick enough for you.
You can cut the vegetables smaller if you prefer a less chunky stew. It will still be delicious, but you won't have the delightful chunks of vegetables.
You can skip the browning of the meat and the cooking of the wine if you're very low on time. Simply add it all to the slow cooker instead.

There are tons more vegetables that you can add to stew so feel free to experiment a little. For example, some pumpkin will work very nicely in a stew.
Note: I use a 5.5L (6 Quart) slow cooker for all the recipes that I have on this website unless specified. If you have a smaller or larger slow cooker, then you might need to adjust the ingredients.
Nutrition Information
Serving Size: 433g (15.3 oz)
Servings Per Recipe: 8
Calories Per Serving: 356
Amount Per Serving
Saturated Fat: 4.5g
Trans Fat: 0.5g
Dietary Fiber: 4g
Sugars: 4g
Cholesterol: 104mg
Sodium: 778mg
Protein: 39g
The information above is an estimate generated by an online nutrition calculator.
Also, Try these Recipes
Other stew-like dishes might also appeal to you, such as the beef goulash. It's a Hungarian inspired recipe with lots of flavors, and I highly recommend giving it a try.
The slow-cooked beef cheeks are another dish that's worth trying. They cook to be so tender, and the sauce is very rich in flavor. It's an absolute must-try.
We have lots more beef recipes for the slow cooker that you should check out if you love beef dishes.
I hope that you love this slow cooker beef stew as much as I did. If you have any feedback, tips, or anything else, then please don't hesitate to leave a comment below.