This slow cooker corned beef is a fantastic easy dish that is both affordable and incredibly tasty. It goes really well with some gravy and roasted vegetables.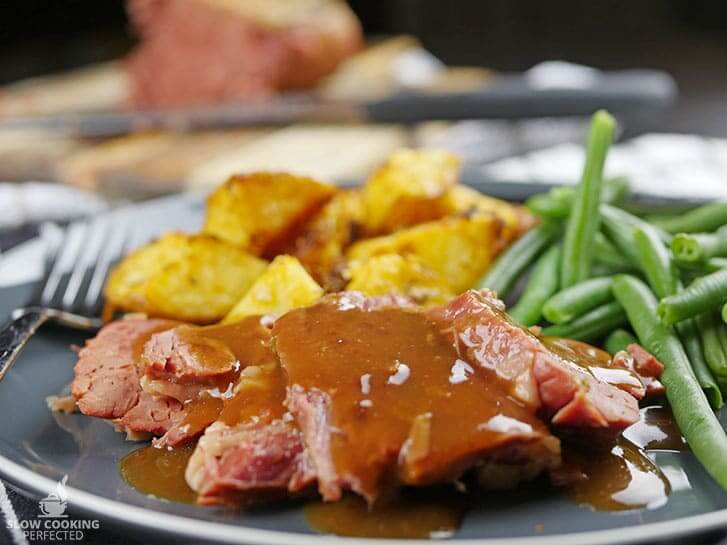 By the time the beef is ready to eat it should be deliciously tender and should have infused with all the flavorings we add into the slow cooker. It is typically a dish that you would have with sides so I highly you make some to go with the beef.
This type of dish can also be referred to as a slow cooker silverside depending on where you live in the world. Despite the different name, they are the same dish.
I love having corned beef with brown gravy, but traditionally a white gravy is preferred. You will need to make this separate as the poaching liquid isn't an ideal gravy flavor.
Leftover Corned Beef Ideas
There are many uses for the leftover beef. For example, it can be sliced and used for sandwiches the next day.
You can also use the leftovers in something like corned beef hash. It's the perfect breakfast dish that has lovely potatoes, herbs and much more. I highly recommend trying it out.
You should find that the leftover meat will keep for up to about a week in a sealed container in the fridge.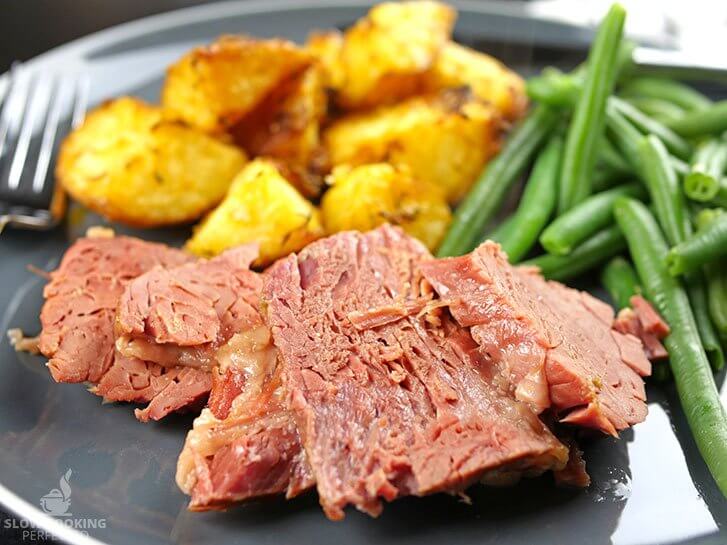 Corned Beef Side Dishes
There are plenty of side dishes that go well with this corned beef. If you have another slow cooker or crock pot lying around, then something like the cheesy hash brown casserole is a fantastic dish to try out.
Another side dish that goes great with this is some cauliflower cheese. It requires a little bit of prep and cooking time but is totally worth it.
Personally, I love to have some crunchy roast potatoes and some gravy with this delicious beef. As I mentioned in the cooking tips below, you can add vegetables to the slow cooker, but I find that the vinegar often adds a bit of an odd flavor to them.
If you would like to see a super short and snappy video on how to make this corned beef in the slow cooker, then be sure to check out the one below.
Slow Cooker Corned Beef Recipe
Ingredients
1.5 kg (3.3 lb) silverside (bottom round)
1 onion, roughly chopped
1 carrot, roughly chopped
10 peppercorns
6 cloves
2 bay leaves
¼ cup brown sugar
½ cup malt vinegar
Enough water to cover
Instructions
Place the onion, carrot, peppercorns, cloves, bay leaves and the brown sugar into the slow cooker.
Add the silverside/bottom round on top of the onions and carrots.
Add the malt vinegar and fill with water until you completely cover the silverside.
Cook on low for 8 hours.
Serve & Enjoy
Recipe Tips
To make this recipe gluten-free, replace the malt vinegar with apple cider vinegar or something similar.
While you can cook vegetables in the poaching liquid, I wouldn't recommend it. The vegetables will come out very soft and may have a bit of a vinegar taste to them. You're better off cooking some sides in the oven or another slow cooker.
If you have a smaller slow cooker or piece of meat, then you may need to use less fluid. If this is the case, you may want to reduce the amount of vinegar by half.
Silverside is typically affordable, making it a great for when you're running low on money.
Allowing the meat to cool will help stop the meat from falling apart if you're trying to get thin slices.
Beef stock can be used instead of water, but I find that water works just fine.
The carrot and onion can be left out, but they do help add flavor to the overall dish. It's entirely up to you if you want to eat these at the end or just merely discard.
Note: I use a 5.5L (6 Quart) slow cooker for all the recipes that I have on this website unless specified. If you have a smaller or larger slow cooker, then you might need to adjust the ingredients.
Nutrition Information
Serving Size: 305g (10.8 oz)
Servings Per Recipe: 6
Calories Per Serving: 505
Saturated Fat: 5.9g
Trans Fat: 0g
Dietary Fiber: 0.8g
Sugars: 7.2g
Cholesterol: 223mg
Sodium: 176mg
Protein: 76.2g
The information above is an estimate generated by an online nutrition calculator.
Other Slow Cooker Recipes
As you may already know most slow cookers are fantastic for cooking beef, they are perfect for getting tender flavor-packed meat that will have you coming back for seconds.
There are tons of dishes that you're able to do such as a delicious beef goulash or even everyone's favorite beef chili. There is certainly something for everyone to try.
Another recipe that you might enjoy is the slow-cooked beef brisket. It's slow-cooked in a delicious dry rub that allows the flavors to penetrate deep into the meat. The result is a flavor-packed piece of beef that's deliciously tender.
I hope that you enjoy this delicious slow cooker corned beef recipe. If you have any feedback, variations or tips that you would like to share, then please don't hesitate to leave a comment below.