This slow cooker hash brown casserole is one of the easiest cheesiest potato dishes ever. If you love cheese and potato, then you're going to love eating this dish.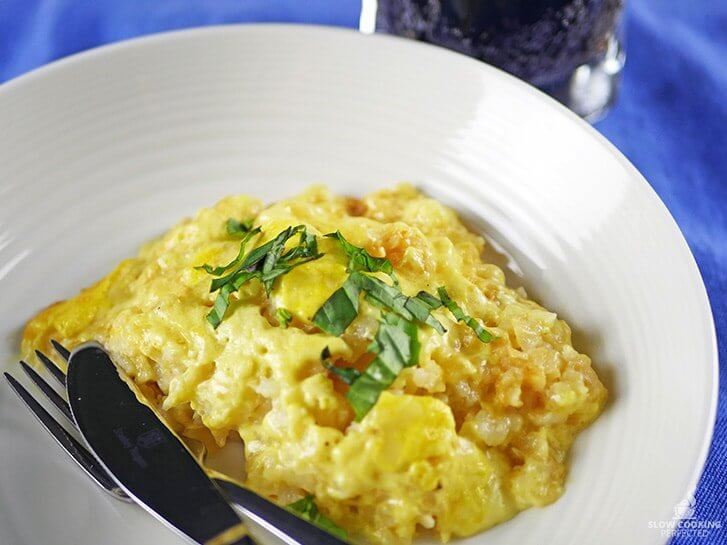 While this dish might not be the most visually appealing meal, it is super tasty and can be very addictive. It is a meal to avoid if you're on a diet or looking for a healthy meal as it has quite a few calories per serving.
On the flip-side, if you're just looking for something that is packed full of flavor and not worried about a few extra carbs, then you're in for a treat.
What to Serve with Hash Brown Casserole
You will find that this dish is best served as a side, but is still super delicious and fulfilling by itself.
I love having this casserole for breakfast with some bacon and eggs. It also makes for a great side dish to a Mississippi roast, roast pork, slow-cooked whole chicken, or anything else that requires a delicious accompaniment.
If you plan on eating this dish as a main meal, then you will probably want some vegetables to go with it. A couple of my favorites include some stir-fried vegetables or steamed greens.
We will love to hear if you have any suggestions on what to serve with this delicious casserole, so be sure to leave a comment at the bottom of this page.
Tweaking the Recipe
There are so many slight changes that you can make to the recipe to add a bit more flavor. Below are just a couple of suggestions.
It's so easy to add more flavor to this recipe. For example, you can try adding some garlic, onion, and mustard. Even something like chopped bell peppers will add lots of flavor.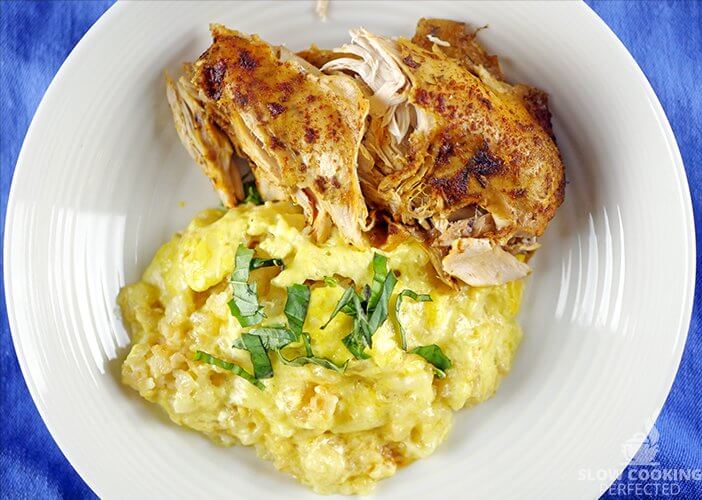 If you absolutely love your meat, then you can add one or multiple of the following ingredients; shredded chicken, pulled beef, diced ham or bacon, pulled pork, or some cooked ground beef.
There are many more tweaks that can help elevate this dish so that it is more to your liking. I love the recipe how it is, but feel free to change it.
What to do with any Leftovers
This dish also reheats surprisingly well, so if you end up with leftovers, simply keep them in the fridge and reheat whenever you need a quick and easy meal. It should last roughly three days in the fridge.
You're also able to freeze this casserole for later. It should last roughly three months in a freezer, as long as it has been sealed and stored correctly.
This casserole is surprisingly tasty when it is cold, making the leftovers perfect if you need something quick to eat.
If you want to see how to make this recipe, then be sure to check out the video below. It goes through all the steps to getting this delicious hash brown casserole prepared and cooking in your slow cooker.
On the flip-side, if you're just after a text version of the recipe, then you can find it right below the video.
Slow Cooker Hash Brown Casserole Recipe
Ingredients
420 g (14.8 oz) cream of chicken soup
2 cups sour cream
2 cups mozzarella cheese, shredded
1 kg (2.2 lb) hash browns (patties or shredded)
Instructions
In a bowl, combine the sour cream, cheese, and cream of chicken soup. Season with salt and pepper.
Lightly spray the slow cooker.
Add the hash browns then pour over the cheese mixture.
Cook on low for about 4-6 hours.
Serve & Enjoy.
Recipe Tips
You can use either shredded or patty hash browns in this recipe. There is very little difference between the two by the time you're finished cooking.
Chopped chives go incredibly well with this dish. You can mix the chives in with the cream and cheese mixture or just sprinkle them over the top once you're ready to serve.
If you want to go one bit further, you can add some bacon, sausage, or even shredded chicken to the dish. Add these to your cheese mix for the best flavorsome outcome.
I made use of regular full fat sour cream in this recipe but haven't tried using low fat. You may find that the result will be slightly different if you use low-fat sour cream.
Personally, I wouldn't cook this for any longer than the recommended four hours; otherwise, you may find it will start to burn, or the cheese will curdle and become a bit unappetizing.
Note: I use a 5.5L (6 Quart) slow cooker for all the recipes that I have on this website unless specified. If you have a smaller or larger slow cooker, then you might need to adjust the ingredients.
Nutrition Information
Serving Size: 260g (9.2 oz)
Servings Per Recipe: 8
Calories Per Serving: 522
Amount Per Serving
Saturated Fat: 11.4g
Trans Fat: 0g
Total Carbohydrate: 50.4g
Dietary Fiber: 4g
Sugars: 2.2g
Cholesterol: 33mg
Sodium: 844mg
Protein: 8.8g
The information above is an estimate generated by an online nutrition calculator.
More Potato Recipes for the Slow Cooker
There are so many more potato recipes that you're able to do in the slow cooker. Below are just a couple of my favorites that I highly recommend that you try.
Whenever I need to feed a crowd, I make a slow cooker breakfast casserole as it's super fulfilling. It's super easy to prepare quickly and can cook for up to six to eight hours.
If you're a massive fan of cheesy potatoes, then I highly recommend that you try the slow-cooked cheesy potatoes topped with crispy bacon. It's the perfect side dish and tastes as good as it sounds.
I hope that you enjoy this slow cooker hash brown casserole as much as I did. If you have a variation, feedback, or anything else that you would like to say, then please feel free to leave a comment below.