A slow cooker pork stew is the perfect meal for when you want something hearty and delicious.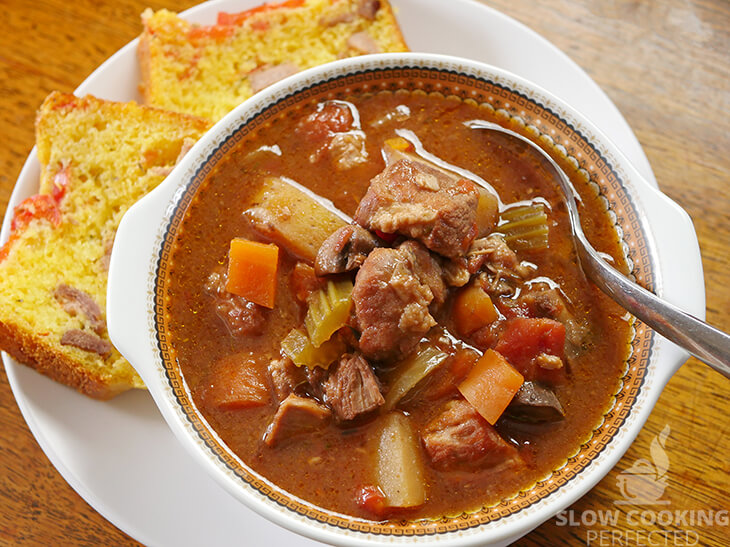 At the end of cooking, you will be treated to a stew that's loaded with delicious vegetables and tender pieces of pork. It's comfort food that you can relax with.
The stew is perfect without needing to have any extra side dishes. However, if you need to feed a lot of people or simply want something to go with it, then there are plenty of sides that you can make.
Feeding a Crowd
Stews are always great for feeding a crowd, and this recipe is no exception.
You can feed roughly six to eight people from a single batch of this stew without any side dishes. You can easily double or triple the recipe if you need to feed even more.
A great way of feeding more people and having a little bit of variety on the table is to make some side dishes. There are so many different foods that go great with a slow cooker pork stew.
Sides to have with Pork Stew
You will be glad to hear that there is a lot of different side dishes that go great with this recipe. Below is just a few of my favorites that I like to make as a side dish to this delicious stew.
Something like sweet mashed potatoes or even regular mashed potatoes will go great with this stew. The delicious stew is excellent poured over some mashed potato. It's a combination that tastes amazing.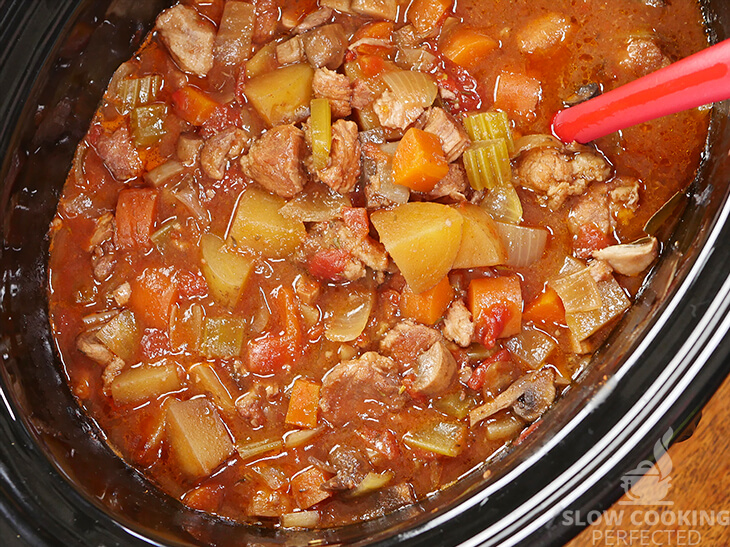 The classic Yorkshire pudding is an excellent side dish to any stew. If you have time, then I highly recommend that you make some. They're so good, especially when dipped into the pork stew.
I also highly recommend making some cornbread, much like the Yorkshire pudding; it's delicious dipped into the stew. You can also make it gluten-free, so it's perfect if you can't eat gluten.
There are so many side dishes that you can have, so if you have a suggestion that I haven't mentioned, then be sure to let us know in the comments section at the bottom of this page.
The Best Cut of Pork to use in a Stew
There are quite a few different cuts of pork that you can use. However, each has its own sets of pros and cons.
The ideal cut of pork to use for stewing is pork shoulder or also known as Boston butt pork. This cut is fattier, tougher, has a lot of flavors, and benefits from longer cooking times.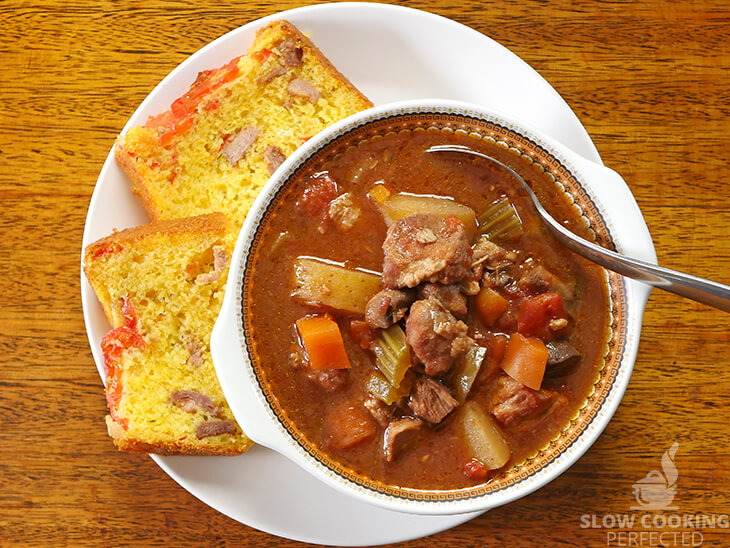 You can use other cuts such as pork loin, but they will cook a lot faster and are more prone to overcooking. Using an expensive cut in a stew is a bit of a waste of money as you lose a lot of the benefits of expensive meat when cooking for long periods.
Leftovers & Dessert
Stews are one of my favorite meals because the leftovers are always just as good as they are fresh. They're perfect if you want an easy meal that you can reheat at work.
I recommend storing any leftovers in the fridge for up to three days. Alternatively, you can freeze the stew for roughly three months before it will need to be used.
A dessert that I recommend to have after this stew is the gooey sticky date pudding. It's sweet, delicious, and the perfect way to finish this delicious stew.
The video that goes through the steps on how to make a delicious pork stew in the slow cooker is right below. Immediately underneath the video is the full written recipe that's handy to have.
Slow Cooker Pork Stew Recipe
Ingredients
1 kg (2.2 lb) pork shoulder, cubed
¼ cup plain flour
1 tsp salt
½ tsp pepper
2 Tbsp oil
250 ml (8.5 fl oz) red wine
2 onions, chopped
2 tsp garlic, crushed
2 celery stalks, chopped
2 carrots, chopped
2 potatoes, chopped
250 g (8.8 oz) mushrooms, sliced
2 bay leaves
1 tsp thyme
1 tsp rosemary
2 Tbsp tomato paste
400 g (14.1 oz) crushed tomatoes
500 ml (16.9 fl oz) chicken stock
Instructions
Combine the flour, salt, and pepper in a bowl.
Coat the cubed pork in the flour.
In a frying pan over high heat, add the oil.
Once the oil is hot, sear the pork until browned. Place the meat to the side.
Add the red wine to the pan and cook for 1 minute. Transfer both the wine and pork to the slow cooker.
In the slow cooker, add the rest of the ingredients and gently stir.
Cook on low for 8 hours.
Remove the bay leaves.
Season with salt & pepper.
Serve & Enjoy.
Recipe Tips
To make this recipe gluten-free, swap the plain flour for either cornstarch or gluten-free plain flour.
If you're running low on time, you can simply skip the browning of the meat and the cooking of the wine. I would reduce the amount of wine you use by a quarter.
Cut the vegetables and meat to the size that you like them. For example, if you want an extra chunky stew, then cut them large.
Stews are super flexible, so feel free to experiment with different vegetables and flavorings.
The stew should cook to be thick enough. However, if you want it to be thicker, then you will need to thicken it using cornstarch.
Note: I use a 5.5L (6 Quart) slow cooker for all the recipes that I have on this website unless specified. If you have a smaller or larger slow cooker, then you might need to adjust the ingredients.
Nutrition Information
Serving Size: 456g (1 lb)
Servings Per Recipe: 8
Calories Per Serving: 323
Amount Per Serving
Saturated Fat: 2.8g
Trans Fat: 0g
Dietary Fiber: 5g
Sugars: 7g
Cholesterol: 77mg
Sodium: 588mg
Protein: 30g
The information above is an estimate generated by an online nutrition calculator.
More Tasty Pork Recipes
Pork is a delicious ingredient and goes great in so many different dishes. Below are just a couple of my favorite recipes.
The slow-cooked pork belly is an absolute must-try. The pork cooks to be so tender it will just melt in your mouth. It also has an accompanying honey soy glaze that tastes amazing.
You also need to try the sweet and sour pork as it's a delicious dish. It's packed with delicious vegetables, and the sauce is incredibly delicious.
I hope that you enjoy this slow cooker pork stew as much as I did. If you have any thoughts, tips, or anything else, then please don't hesitate to leave a comment below.