This tasty slow cooker osso buco is an incredibly tasty dish that gets better the longer you cook it.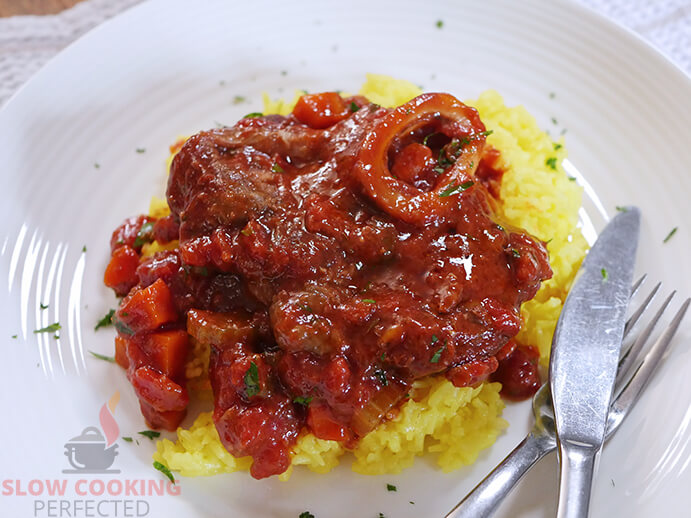 Osso buco or ossobuco is a part of Italian cuisine and has become a hugely popular dish worldwide. Osso buco translates from Italian to "bone with a hole" which references the hole in the bone where the marrow resides.
This version of the dish is a more modernized version with tomatoes, carrots, celery, and onion. A traditional version typically is flavored with cinnamon, wine, stock, and a few other ingredients.
Osso buco is often topped with a gremolata, but personally, I find the rich tomato sauce and vegetables more than enough to keep me happy.
Getting the Right Cut of Meat
Osso buco uses shanks, but they need to be sliced in roughly 2-inch pieces, so the bone marrow is exposed. Any decent butcher will be able to do this for you if it's not readily available.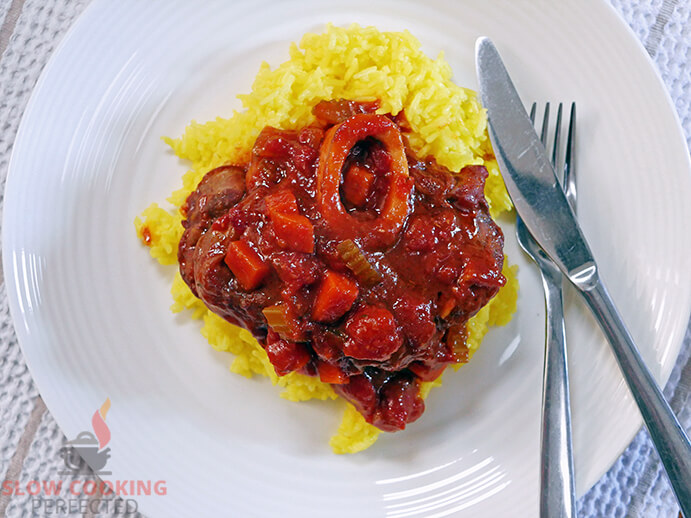 For this recipe, I make use of beef shanks, but veal is a suitable alternative to the beef that won't drastically change the flavor profile of the dish. Whatever cut of meat you choose the dish will come out packed full of flavor.
Feeding a Crowd
This dish is perfect without any extras, but if you're feeding a crowd or just feel like something extra to go with it, then there are quite a few side dishes that you can make.
Some creamy mashed potato is excellent on the side and can be made in the slow cooker. It's perfect if you need to feed a lot of people.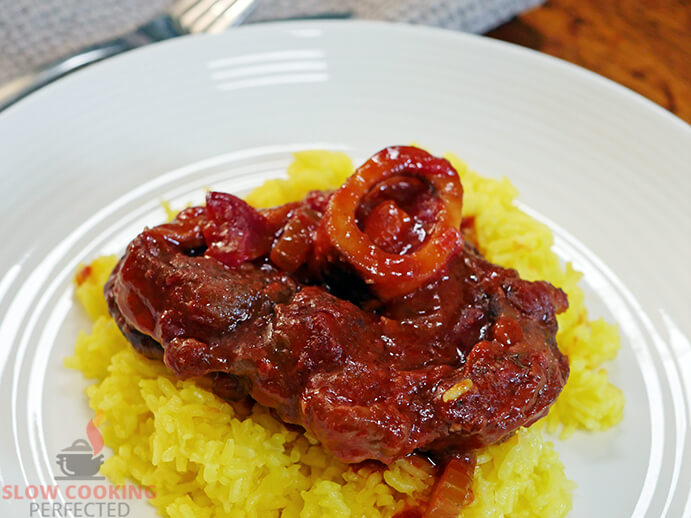 Polenta is an excellent alternative to making mashed potato. You typically make this on the stove-top, but there are recipes for the slow cooker around.
Another great accompaniment is rice and is perfect if you're trying to keep costs down. Using a rice cooker is the easiest way of getting it ready. I love to add a bit of butter and saffron to my rice.
If you want to get traditional, then you can try to make Risotto Alla Milanese.
There are so many more foods that match perfectly with this dish. If you have a combination, then be sure to let us know in the comments section at the bottom of this page.
Osso Buco is Great the next Day
Thankfully this will reheat well thanks to it being pretty much like a stew.
Store the osso buco in the fridge in an airtight container until you need it. It should last between two to five days before it may start to go bad. I recommend reheating it over the stove-top.
If you want to see how to make osso buco in the slow cooker, then be sure to check out the video below. Immediately underneath the video is the full written recipe that you can also print.
Slow Cooker Osso Buco Recipe
Ingredients
1 kg (2.2 lb) beef shanks
75 g (2.6 oz) plain flour
½ tsp salt
¼ tsp pepper
2 Tbsp oil
1 onion, chopped
2 carrots, chopped
2 celery stalks, chopped
1 Tbsp garlic, crushed
½ cup red wine
1 tsp sugar
1 tsp thyme
800 g (1.8 lb) diced tomatoes
2 Tbsp tomato paste
1 bay leaf
½ cup beef stock
Instructions
In a bowl, add the flour and mix with the salt and pepper.
Coat each slice of the beef shank in the flour.
In a frying pan over medium heat, add the oil.
Cook the beef in batches. Cook until each side is browned (Roughly 3-5 minutes).
In a slow cooker, add the onion, carrot, celery, garlic, red wine, sugar, thyme, diced tomatoes, tomato paste, bay leaf, and beef stock. Mix until combined.
Lastly, add the beef shanks so that they're covered with the sauce.
Cook on low for 8 hours or until the meat is tender.
Season to taste.
Serve & Enjoy.
Recipe Tips
To make this recipe gluten-free, swap the plain flour for GF plain flour or GF cornstarch.
Depending on what you prefer, you can swap the red wine for white wine.
Flouring the osso buco should help thicken the sauce. If you find that it is still way too runny, then you always thicken it up using a cornstarch and water mixture.
I highly recommend that you do brown the meat as it helps with both texture and flavor. If you're in a hurry, then you can skip this step, but I highly recommend that you don't.
To reduce the cooking time put the slow cooker on high. This should roughly half the amount of time required to cook the meat.
The meat on the osso buco cut is very tough, so it's very important that you cook it for a long time. The longer you cook it, the more tender the meat will become.
If you're unable to get your hands-on beef shanks, then veal is a viable option.
Note: I use a 5.5L (6 Quart) slow cooker for all the recipes that I have on this website unless specified. If you have a smaller or larger slow cooker, then you might need to adjust the ingredients.
Nutrition Information
Serving Size: 417g (14.7 oz)
Servings Per Recipe: 6
Calories Per Serving: 364
Amount Per Serving
Saturated Fat: 3g
Trans Fat: 0g
Dietary Fiber: 4g
Sugars: 9g
Cholesterol: 65mg
Sodium: 617mg
Protein: 41g
The information above is an estimate generated by an online nutrition calculator.
More Beef Slow Cooker Recipes
There are tons of other slow cooker beef recipes that you should check out.
Hearty beef goulash is very similar to this dish but is instead has an strong tomato and paprika flavor to it. It's the perfect dish to warm you up on a cold winter's day.
Another cut of beef that you should try cooking in the slow cooker is beef cheeks. After a few hours they will be so tender they melt in your mouth. The sauce that accompanies the beef is rich and loaded with onion, mushrooms, and carrots.
This slow cooker recipe for osso buco should come out to be amazing, and I really do hope that you enjoy it. If you have any feedback tips or anything else that you would like to share, then please don't hesitate to leave a comment below.