This slow cooker split pea and ham soup is a fantastic meal for the winter. It's completely homemade, and the result shows as it's packed with flavor and looks amazing.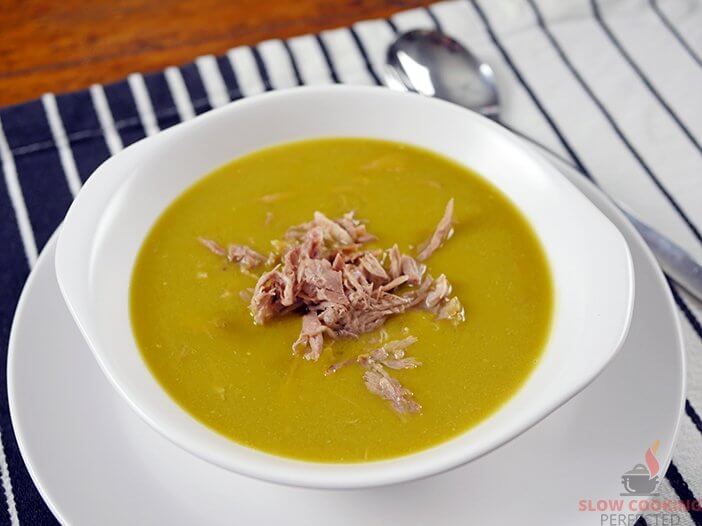 You will love this soup if you love smooth flavorsome soups. It has a delicious range of ingredients such as split peas, ham, onion, garlic, carrots, sherry, and chicken stock. It's the perfect soup that can be enjoyed all year round.
A single batch of this delicious soup will feed roughly eight people. Still, how many you can feed will heavily depend on how hungry people are. You can get more serves out of a single batch of this recipe by making or buying some side dishes.
What to Serve with this Soup
As with any good soup, this is fine on its own without any extras. With that said, I love to have some fresh bread on the side. I love dipping the bread in and having it soak up all the lovely flavors.
Soups also go great with a refreshing side salad. It's entirely up to you what you put in your salad. Still, I love a combination of avocado, baby spinach, cucumber, and tomato.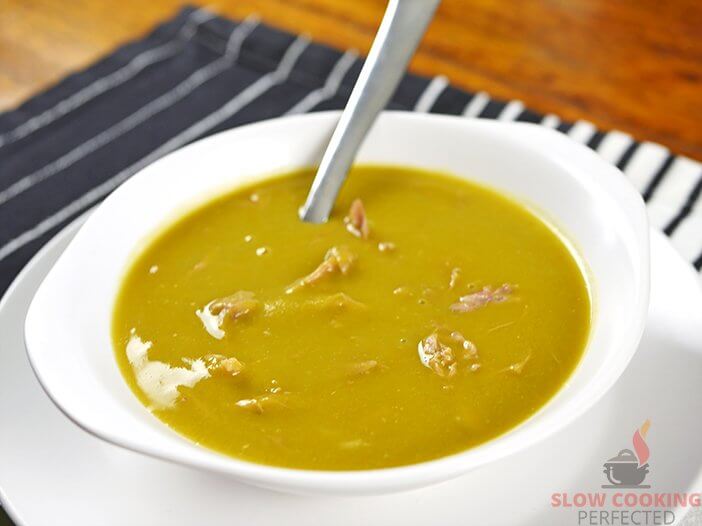 Croutons go perfectly with this soup and are great scattered across the top. You will need a bit of extra time to make them at home; otherwise, you can buy them at any good supermarket.
There are quite a few different side dishes that go great with soup, so if you have any suggestions, we will love to hear them.
Tweaking the Soup Recipe
You don't have to blitz this soup, but I highly recommend that you do. To make your life easier, I recommend using a stick blender. This avoids the need to transfer the soup to and from the slow cooker or crock-pot.
I recommend using fresh stock as it tastes the best. However, for most of us, this isn't possible. Stock powders dissolved in water are the next best thing.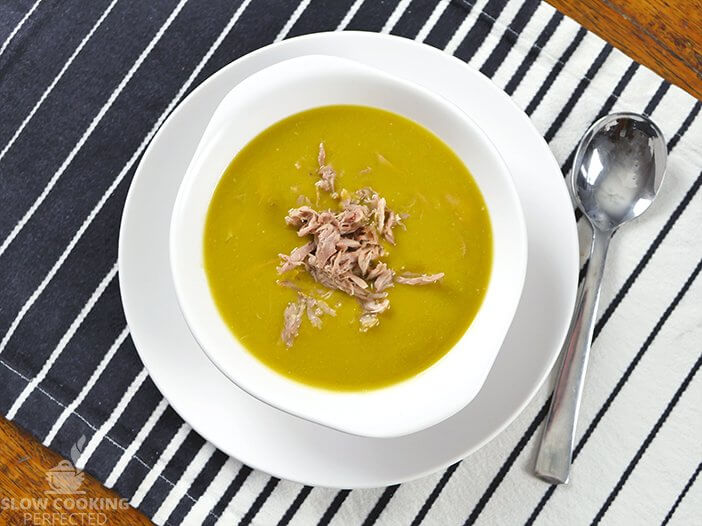 One thing I love about slow cooker soups is that they're able to be heated later and still taste just as good as they did fresh. If you end up with leftovers, I highly recommend you keep them and simply heat whenever you need some soup. I love having soup for lunch at work.
If you want to see how to make this delicious split pea and ham soup in the slow cooker, then be sure to check out the video below. Alternatively, you can find the full written recipe right underneath the video.
Slow Cooker Split Pea and Ham Soup Recipe
Ingredients
600 g (1.3 lb) ham hock
1 onion, diced
2 tsp garlic, crushed
2 carrots, diced
2 cups green split peas, rinsed
1 bay leaf
2 Tbsp sherry
1 l (1.1 qt) water
1 l (1.1 qt) chicken stock
Instructions
Add all the ingredients into a slow cooker.
Cook on low for 6-8 hours.
Remove the ham hock and put it to the side. Discard, the bay leaf.
Remove the skin from the ham and shred the meat. Discard the skin, fat, and bone.
Blend until smooth by using a food processor or stick blender.
Add the shredded meat into the soup.
Cook on low for 1 hour or until it's nice and hot.
Season to taste.
Serve & Enjoy.
Recipe Tips
The sherry isn't essential but it does help add a little bit more depth to the soup.
Skim the scum that forms on top of the liquid for a cleaner soup. If you don't have the time, then you can leave it.
You can make this soup vegetarian by leaving the ham hock out and replacing the chicken stock with vegetable stock. You may need to heavily season the dish to get more flavor. Of course, this means it will just be split pea soup.
I made use of green split peas, but you can use any variety. Choose the variation that you love the most or go with the green type.
The ham hock I used was raw, but you can use a smoked ham hock instead. Both are excellent and will add different flavors to your soup.
Note: I use a 5.5L (6 Quart) slow cooker for all the recipes that I have on this website unless specified. If you have a smaller or larger slow cooker, then you might need to adjust the ingredients.
Nutrition Information
Serving Size: 378g (13.3 oz)
Servings Per Recipe: 8
Calories Per Serving: 185
Amount Per Serving
Saturated Fat: 1.3g
Trans Fat: 0g
Dietary Fiber: 5g
Sugars: 5g
Cholesterol: 30mg
Sodium: 948mg
Protein: 18g
The information above is an estimate generated by an online nutrition calculator.
More Slow Cooker Soup Recipes
There are plenty of other soups that you can do in the slow cooker. If another pureed soup sounds delicious, then you must check out the creamy pumpkin soup. It's as delicious as it sounds.
The hearty corn chowder is yet another soup that I can recommend. I love having it on a cold winter's day. It warms me up and keeps me going throughout the day.
I really hope that you enjoy this slow cooker split pea and ham soup as much as I did. If you have some feedback, tips, variations, or anything else that you would like to say, then please don't hesitate to leave a comment below.