This slow cooker potato and leek soup is perfect if you're looking for a hearty soup that will easily satisfy.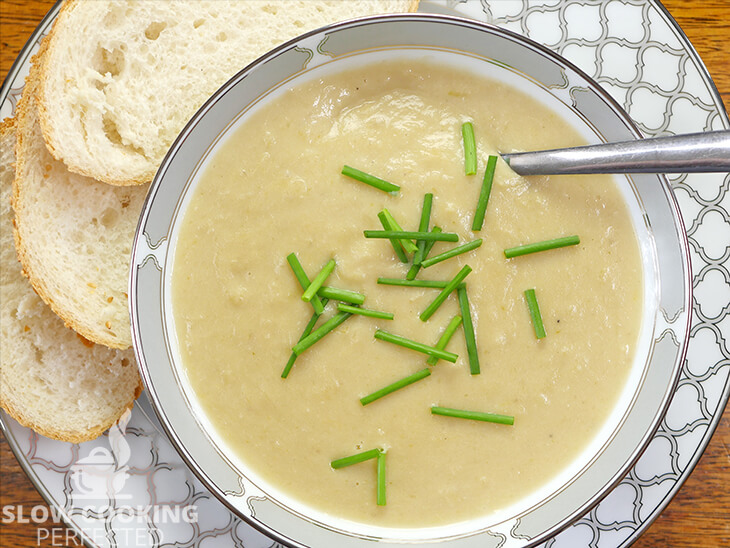 This soup not only looks great, but it is also packed with a ton of flavor. You can have the soup as a starter or as the main meal. If you're going to have it as a main meal, then you might want to make some extras to go with it.
A single batch of this recipe should feed roughly four to six people, but this can heavily vary depending on how hungry they are. If you need to feed more, then you can always double or triple the recipe.
Tweaking the Soup Recipe
There are lots of ways that you can alter this recipe to make it more to your liking. Below are just a couple of suggestions on what you can do.
Cheese is an excellent addition to this soup, so don't hesitate if you would like to add some. I recommend cheddar cheese for the best flavor. You could try some blue cheese to get flavors similar to the parsnip and blue cheese soup.
Lots of different ingredients will work nicely with the flavors of this soup. For example, crispy bits of bacon, chopped chives, or even a bit of mustard will help elevate the flavors of this dish.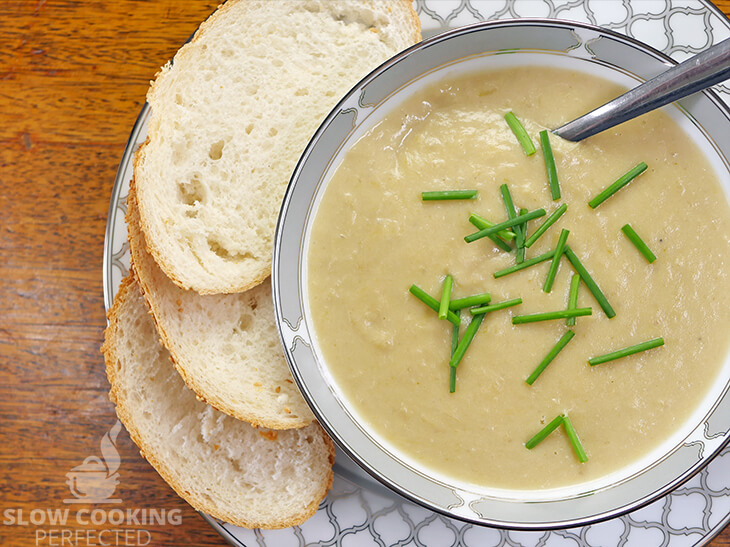 The cream is optional, so don't feel like that you need to add it. However, you might want to substitute it with some chicken stock or coconut cream to ensure the soup is the right consistency.
If you make a change and it's delicious, then be sure to let us know in the comments section at the bottom of this page.
What to Serve with Potato and Leek Soup
Lots of different side dishes go great with soup, and below are just a couple of suggestions. Be sure to let us know if you have any recommendations.
If you have read any of my soup recipes, then you will know my absolute favorite accompaniment with soup is some bread. It's perfect for dipping into the soup and soaking up all those lovely flavors.
Some croutons or puff pastry cheese sticks are also delicious dipped or mixed in with this soup. The only downside is that they require a little bit of extra preparation time in the kitchen.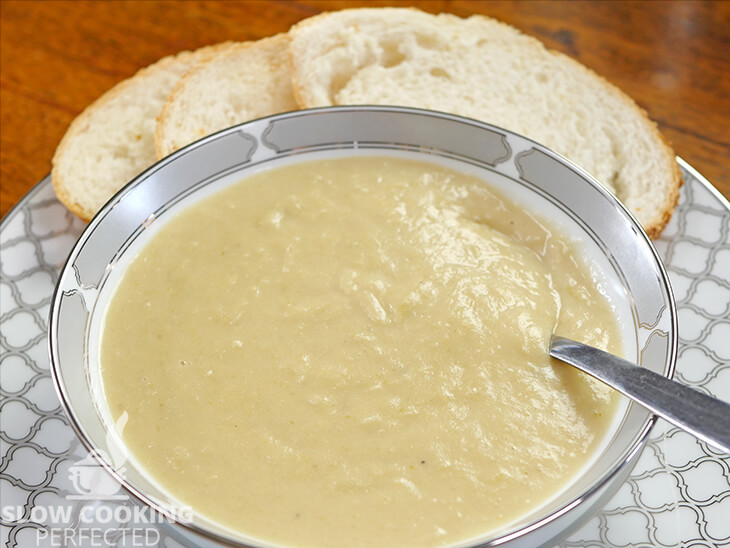 This potato and leek soup is delicious with some crispy bacon bits scattered over the top. You can also add these into the slow cooker after the soup has been pureed for even more bacon flavor.
If you have multiple slow cookers, then an apple and rhubarb crisp are perfect as dessert after this soup. The rhubarb crisp has some wonderful colors and flavors. I highly recommend giving it a try if you want some dessert.
What to do with any Leftovers
As with any soup, the leftovers are excellent the next day for either lunch or dinner. You can quickly heat the soup in either the microwave or over the stove. It's perfect if you want a quick and easy meal.
The leftover soup can be kept in the fridge for up to five days. Alternatively, you can freeze the soup and have it last for up to six months.
Right below is the video that will take you through the steps on how to make a potato and leek soup in the slow cooker. If you prefer a written recipe, then that's immediately underneath the video.
Slow Cooker Potato and Leek Soup Recipe
Ingredients
3 leeks, sliced
2 tsp garlic, crushed
1 kg (2.2 lb) potatoes peeled and chopped
1 bay leaf
125 ml (4.2 fl oz) white wine
1 l (1.1 qt) chicken stock
250 ml (8.5 fl oz) cream
Instructions
Add the leeks, garlic, potatoes, bay leaf, white wine, and the chicken stock to the slow cooker.
Cook on low for 6 hours.
Remove the bay leaf.
Puree the soup until it's smooth.
Stir in the cream.
Cook on high for 15 minutes until hot.
Season to taste with salt and pepper.
Serve & Enjoy.
Recipe Tips
The wine can be left out of the recipe if you don't like using it. You don't need to substitute it with anything.
Make sure you wash the leeks before adding them to the slow cooker. Leeks can have a lot of dirt in between the leaves. You will also want to discard the dark green leafier part of the leak.
You can thicken the soup using a cornstarch and water mixture. Alternatively, you can make it runnier by adding a bit more cream or chicken stock.
A stick blender is ideal for blending the soup as you don't need to remove anything from the slow cooker.
Note: I use a 5.5L (6 Quart) slow cooker for all the recipes that I have on this website unless specified. If you have a smaller or larger slow cooker, then you might need to adjust the ingredients.
Nutrition Information
Serving Size: 443g (15.6 oz)
Servings Per Recipe: 6
Calories Per Serving: 333
Amount Per Serving
Saturated Fat: 10.3g
Trans Fat: 0g
Dietary Fiber: 5g
Sugars: 6g
Cholesterol: 63mg
Sodium: 285mg
Protein: 10g
The information above is an estimate generated by an online nutrition calculator.
Other Delicious Soups Worth Making
There are lots of different soups that you can make using the slow cooker. If you love this soup, then you might want to try some of the soups I mention below.
The cheesy potato soup is undoubtedly one of my favorites and is so easy to make. It has some incredible flavors thanks to the cheddar cheese, chives, and vegetables. I highly recommend giving it a try.
For something a little healthier, I recommend making the chicken and vegetable soup. It has a delicious light chicken broth, some delicious vegetables, and plenty of shredded chicken. Certainly, a recipe I often go back to for when I want a good soup.
I hope that you love this slow cooker potato and leek soup as much as I do. If you have some feedback, then please don't hesitate to leave a comment below.