This slow cooker carrot and ginger soup is incredibly delicious as it blends two amazing flavors.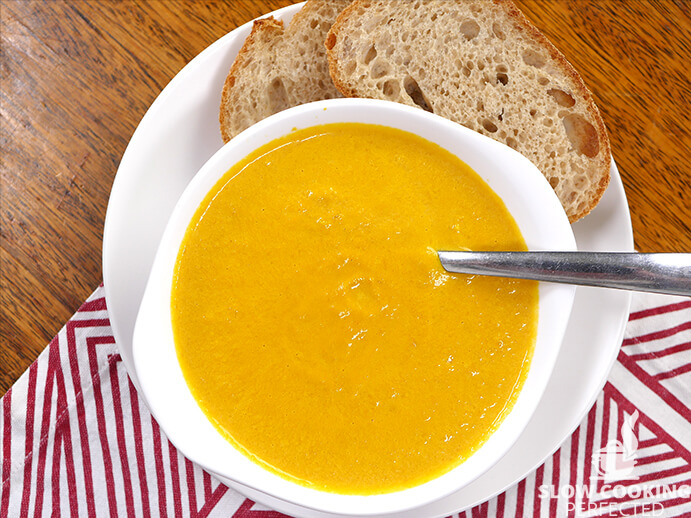 By the time you serve this soup, it should be smooth, delicious, and have a lovely aroma. It has strong flavors of carrot, a slight hint of ginger, and is the perfect soup if you love the taste of carrot.
One of the best things about this delicious soup is just how easy it is to make. All you need is a few ingredients, a slow cooker, and you're good to go. It's also healthy for you as well.
Feed a Crowd
A slow cooker soup is always an excellent way of feeding a crowd without breaking the bank.
Not only can this soup be made on a budget, but it is also very fulfilling. You should easily be able to purchase all the ingredients for under ten dollars, but this can vary heavily depending on where you live.
If you need to feed more people, then you can easily double or triple the recipe. You might need another slow cooker or a bigger one if you do decide to double the recipe.
What to Serve with Carrot Soup
There are lots of side dishes that go great with soup. I will list some of my favorite recipes to have alongside a carrot and ginger soup.
As with any soup, I love having some slices of fresh bread to dip into the soup and soak up all those lovely flavors. I tend to buy my loaves of bread from the local bakery, but if you have the energy, you can make it at home.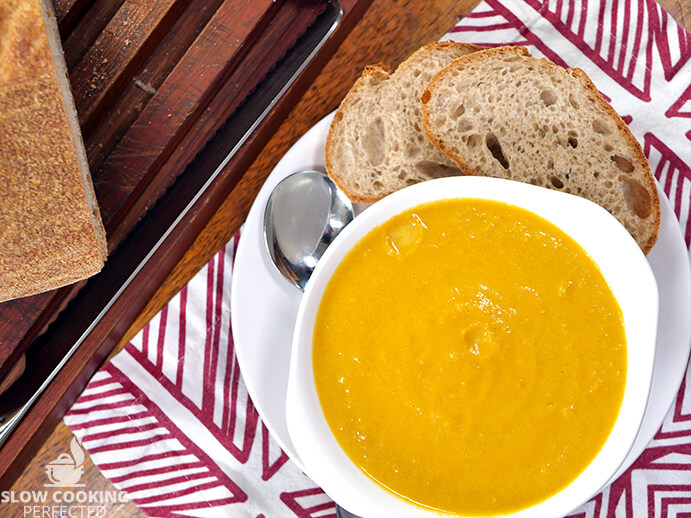 I also love to make some gluten-free cheesy cornbread to go alongside this soup. It's pretty easy to make, and the result is incredibly delicious. I highly recommend making some if you have the time.
For a more substantial side dish, you can always make some baby potatoes or even mac n cheese. You can even make these in a slow cooker if you want to.
I am always open to more ideas of side dishes to go with soup, so if you have a combination that you would love to share, then please don't hesitate to leave a comment at the bottom of this page.
Altering the Recipe
As with any recipe, there are lots of slight tweaks that you can do.
To make the soup even healthier, you can leave the cream out of the soup altogether. Not adding cream will remove one of the heaviest parts of the soup. However, you might need to add some more chicken stock if you find the soup is too thick.
You can use a different type of stock for a different flavor profile. For example, beef stock or vegetable stock can be used instead. The soup will still be super delicious with either stock.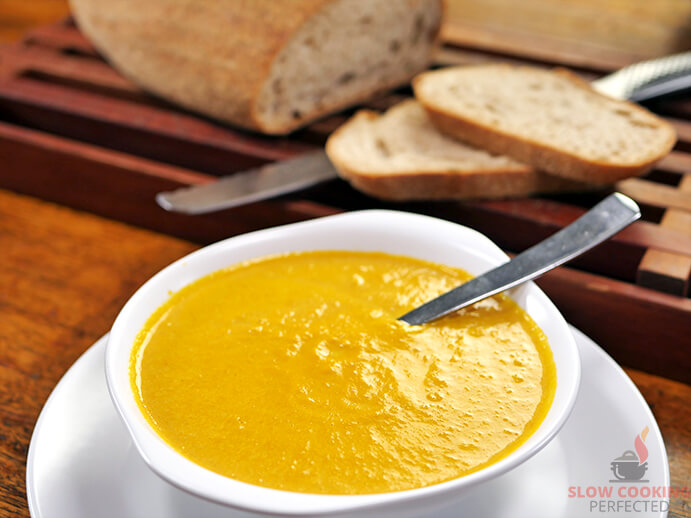 Assuming you use vegetable stock and don't add the cream, then you will have a fantastic vegetarian soup. It's perfect if you're catering for people with some strict dietary requirements.
If you have altered the recipe and would like to share your changes, then please don't hesitate to leave a comment at the bottom of this page.
Leftovers & Dessert
Soups make for the best leftovers and can typically be kept for about three days in the fridge. They're also pretty good frozen, so if you want to keep them for later, then freezing is perfect.
Many desserts are delicious after a hearty soup like this one. The dessert I highly recommend trying is an apple cobbler that tastes and looks amazing.
Be sure to check out the video below that shows you how to make a carrot and ginger soup in the slow cooker. Alternatively, the full written recipe is right underneath the video.
Slow Cooker Carrot and Ginger Soup Recipe
Ingredients
1 kg (2.2 lb) carrots, roughly chopped
2 onions, chopped
1 Tbsp garlic, crushed
50 g (1.8 oz) ginger, peeled & sliced
1 l (1.1 qt) chicken stock
250 ml (8.5 fl oz) cream
Instructions
Add all the ingredients except for the cream into the slow cooker.
Cook on low for 8 hours.
Puree the soup until it is smooth.
Stir in the cream.
Cook on high for 30 minutes or until hot.
Season to taste with salt and pepper.
Serve & Enjoy.
Recipe Tips
The cream can be replaced with coconut cream instead. Alternatively, you can just leave it out completely.
If the soup is too thin for you, then you can thicken it using cornstarch. Mix a tablespoon or two of cornstarch with water and then pour it into the slow cooker. Heat for roughly half an hour to thicken.
You can make this soup vegetarian-friendly by replacing the chicken stock with vegetable stock and replacing the cream with coconut cream.
For a bit of meat in the soup, I recommend some shredded chicken. Roughly about two cups should be more than enough.
Note: I use a 5.5L (6 Quart) slow cooker for all the recipes that I have on this website unless specified. If you have a smaller or larger slow cooker, then you might need to adjust the ingredients.
Nutrition Information
Serving Size: 426g (15 oz)
Servings Per Recipe: 6
Calories Per Serving: 236
Amount Per Serving
Saturated Fat: 5.8g
Trans Fat: 0g
Dietary Fiber: 6g
Sugars: 14g
Cholesterol: 33mg
Sodium: 378mg
Protein: 8g
The information above is an estimate generated by an online nutrition calculator.
More Soups Worth Trying
There are so many different kinds of soup that you can make in the slow cooker. Below are just a couple of my personal recommendations for what you should try next.
I highly recommend trying the broccoli cheese soup as it's packed with flavor and looks fantastic. It's the perfect comfort food that's great all year round. Much like this soup, bread is excellent dipped into it.
For something a little healthier, I recommend giving the tasty chicken soup a go. It's packed with bits of vegetables, shredded chicken, and some delicious herbs. It's a must-try if you want a delicious soup that's also healthy.
That's all I have to say about this slow cooker carrot and ginger soup, so I really hope that you like it as much as I do. If you have some feedback, tips, or anything else, then please don't hesitate to leave a comment below.