If you're looking for a great tasting slow cooker mac and cheese recipe, then you don't need to look any further as this one fits that description perfectly.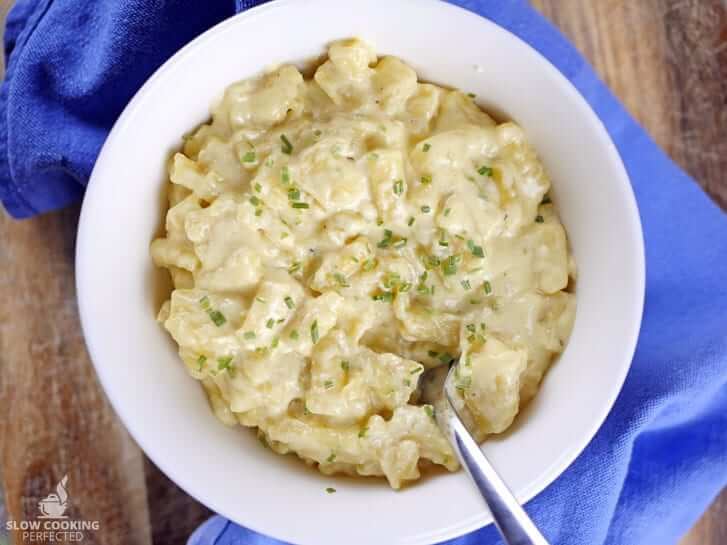 This recipe cooks to be just like the one over the stove. It's creamy, cheesy, and one of the best comfort foods that you can eat. I love to sprinkle chives over the top for that extra bit of flavor.
One of the best things about this recipe is that you only need a few simple ingredients that you're likely to already have in your fridge and cupboards. If you don't have evaporated milk, then this can be swapped out for cream, sour cream or something similar.
Variations on Mac n Cheese
In this recipe, I use mozzarella and cheddar cheese, but there is a wide range of other cheese that will work just fine.
For example, I have seen some recipes use fontina, cream cheese, mozzarella, and so much more. It just comes down to personal preference and what's readily available for sale near you.
You're able to change the flavor of this dish by adding some extras at the end of cooking. Just a few great examples that you can add are crispy bacon, chives, shredded chicken, paprika, or even some scallions.
Perfect for Feeding a Crowd
One of the biggest positives of making mac and cheese in a slow cooker is how many people you're able to feed on a single batch.
Just a single serving of this recipe will feed roughly six people, but the recipe can easily be doubled or tripled.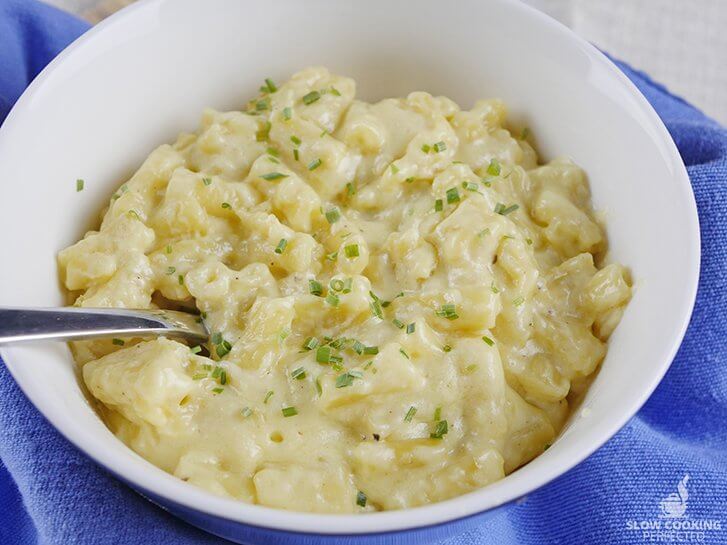 Even better is that you can set the slow cooker to warm, so it's kept nice and hot while you eat. It's great if you want to go back for seconds or thirds.
Possible Difficulties
One downside that I have found with making mac and cheese in the slow cooker is that it can be hit and miss even with using the same recipe. It doesn't take much for the cheese to go lumpy or for the pasta to start sticking together and becoming clumpy.
A common issue is that there is still a fair bit of fluid left. If this is the case, first make sure your pasta is cooked. If it is, then drain off some of the fluid then move onto adding cheeses.
More often than not, one and a half hours isn't long enough as the slow cooker is cooking slower than mine did, so you may need to extend the cooking time.
It's certainly one of the more difficult slow cooker recipes to get right. I had several goes attempting to get this recipe perfectly cheesy and also having the pasta cooked perfectly.
Leftover Mac n Cheese
Any leftovers are worth keeping as mac n cheese is super delicious even cold. I love having it as a quick and easy lunch the next day. Just make sure you store it in an airtight container in the fridge.
You can also try to spice up the leftovers a little. For example, you can heat it with some tomatoes and jalapenos. Another suggestion is to have a grilled mac and cheese sandwich, which sounds delicious.
If you want to see a nice & quick video on how to make this delicious dish, then be sure to check it out below. Alternatively, the full recipe is right underneath the video.
Slow Cooker Mac and Cheese Recipe
Ingredients
1 & ½ cups macaroni (uncooked)
3 cups milk
1 cup evaporated milk
2 Tbsp butter
1 tsp mustard
1 tsp salt
1/4 tsp pepper
1 cup cheddar cheese, shredded
1 cup mozzarella cheese, shredded
Instructions
Add the macaroni, milk, evaporated milk, butter, mustard, salt and pepper into the slow cooker.
Cook on low for 1 to 1 & 1/2 hours or until the pasta is cooked. Mixing halfway through will help stop the pasta from sticking together.
Add the shredded cheese and mix until well combined.
Serve & Enjoy
Recipe Tips
I used just regular milk in this recipe, but you can use low fat if you would prefer.
It's crucial that you make sure you also cook on low as cooking on high will increase the chance for the milk to curdle or burn.
As I mentioned above, some crispy bits of bacon will go amazingly on top of this mac n cheese once it has finished cooking. I also love to sprinkle some fresh chives over the top of the finished dish.
If you want this dish to be a bit less saucy, then you can leave out about one cup of the regular milk. You might want to keep an eye on it so that you can make sure the cheesy sauce doesn't go too thick.
You don't have to mix this dish halfway through, but it will help ensure that the pasta doesn't stick together. This method will help improve the texture and taste of the finished dish.
I have never found that cream, milk, or cheese-based meals reheat very well. They often split and aren't as enjoyable so because of this I wouldn't recommend keeping any of the leftovers unless you don't mind it cold or mixing it with other ingredients.
Note: I use a 5.5L (6 Quart) slow cooker for all the recipes that I have on this website unless specified. If you have a smaller or larger slow cooker, then you might need to adjust the ingredients.
Nutrition Information
Serving Size: 227g (8 oz)
Servings Per Recipe: 6
Calories Per Serving: 321
Amount Per Serving
Saturated Fat: 10.4g
Trans Fat: 0g
Total Carbohydrate: 26.6g
Dietary Fiber: 0.8g
Sugars: 10.4g
Cholesterol: 55mg
Sodium: 663mg
Protein: 15.8g
The information above is an estimate generated by an online nutrition calculator.
More Slow Recipes
While slow cooker mac and cheese is incredible, you may not feel like something so cheesy and a little unhealthy.
Instead, you may want to try out the tomato sauce slow cooker meatballs. This recipe is a delicious pasta dish that features some hearty meatballs cooked in a rich tomato sauce. It's the perfect dish for any pasta lover.
Another pasta dish that you might like is the creamy chicken carbonara that's incredibly delicious. It has fantastic crispy bacon and chicken that's just packed full of flavor. It's the perfect creamy pasta that you can get cooking hours ahead of when you need it.
I hope that you enjoy this slow cooker mac and cheese as much as I did! If you have a variation, feedback or had any trouble with this recipe, then please be sure to leave a comment below.