This hearty slow cooker potato soup is a delicious recipe that's perfect on a cold winter's day.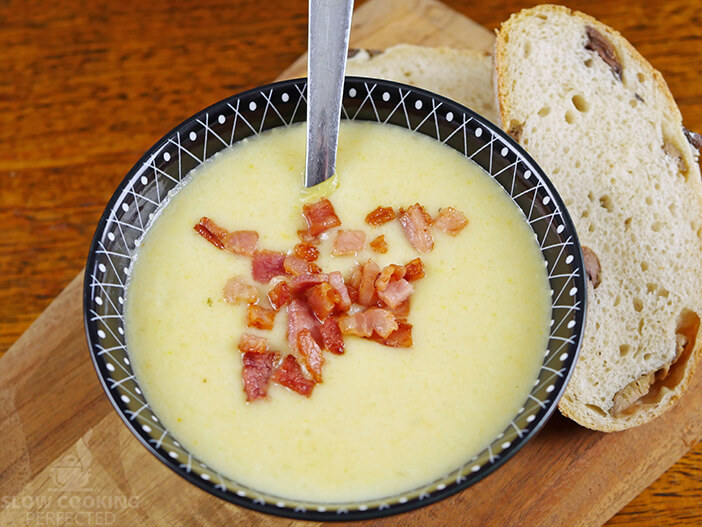 For such a simple soup, you will find it incredibly rewarding. It looks and tastes great, and is certainly a dish I like to cook often.
It's so easy to overindulge with this cheesy creamy potato soup as it's just so delicious. I love dipping some fresh bread into the soup as it's so incredibly addictive.
Changes you can make to the Soup
Some other extra ingredients go great with this soup. For example, I love to have some crispy bacon and a little bit of extra cheese with the soup. You should give it a try, it's amazing.
You can tinker with the cheese to get different flavors. You can replace some of the cheddar cheese with blue cheese to get a radically different flavor profile.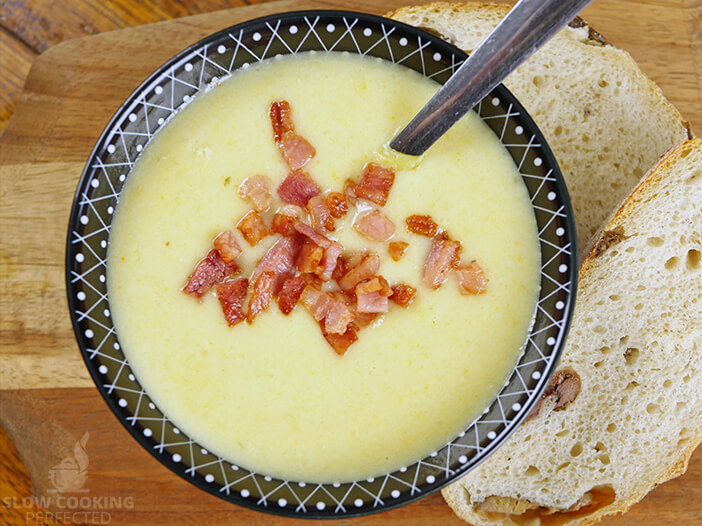 The sour cream can be replaced with just regular cream. You will get a slightly different texture and flavor, but it will still taste great. It's the perfect alteration if you don't like sour cream.
As I mentioned in the cooking tips further down the page, you don't have to blitz all the soup. If you like chunky soup, then blitz roughly a quarter of it, so the liquid is slightly thickened.
What Goes with Potato Soup
As I mentioned earlier, there is plenty of different side dishes that go great with potato soup. My favorite is dipping a freshly baked bread into the soup.
Salad is always an excellent accompaniment to go with a slow cooker soup. There are so many different types so feel free to experiment, most will match nicely with the soup.
Something like breadsticks or even puff pastry cheese sticks will also dip nicely into this soup. I highly recommend giving it a go as they typically taste delicious.
If you're looking for a dessert to have after the soup, then I highly recommend the rice pudding. It's the perfect complimentary comfort food.
How Long Does Potato Soup Last
The leftovers should keep in the fridge for at least three days and possibly up to a week. However, I recommend freezing it if you don't plan on using it within a couple of days.
Leftovers are definitely worth keeping as they make for a great easy lunch the next day. Simply keep covered and store in the fridge until you require it.
I have put together a video that will take you through all the steps on how to make potato soup in the slow cooker. Also, be sure to follow us on social to keep up to date on all our latest slow cooker recipes.
Slow Cooker Potato Soup Recipe
Ingredients
1 kg (2.2 lb) potatoes, peeled and chopped
1 leek, chopped
1 carrot, chopped
2 celery stalks, chopped
1 Tbsp garlic, crushed
2 tsp chives
½ cup white wine
1 l (1.1 qt) chicken stock
1 cup sour cream
1 cup cheddar cheese, shredded
Instructions
Add the potatoes, leek, carrot, celery, garlic, chives, white wine and chicken stock to the slow cooker.
Cook on low for 6 hours.
Blitz the soup until it's nice and smooth.
Add the sour cream, cheese, and mix well.
Season to taste.
Cook on high for 15 minutes or until nice and hot.
Serve & Enjoy
Recipe Tips
If you prefer a chunky potato soup, then remove and blitz one-third of the mixture. Add this back into the rest of the soup to help thicken it.
The soup should be nice and thick by the time you're ready to serve. If it is too thick then add some more liquid. Alternative, if it is too thin, then thicken it using some cornstarch and water.
There are many different varieties of potato. For this recipe, I used Yukon golds, but you can use any type. The soup might not be as nice with some varieties.
Use a stick blender to blitz the soup in the slow cooker. It's a lot easier than having to transfer it to a food processor then back to the slow cooker.
The sour cream can be replaced with just plain Greek yogurt or even heavy cream. For the best result, I highly recommend sticking to the sour cream.
Note: I use a 5.5L (6 Quart) slow cooker for all the recipes that I have on this website unless specified. If you have a smaller or larger slow cooker, then you might need to adjust the ingredients.
Nutrition Information
Serving Size: 443g (15.6 oz)
Servings Per Recipe: 6
Calories Per Serving: 333
Amount Per Serving
Saturated Fat: 6.8g
Trans Fat: 0.2g
Dietary Fiber: 5g
Sugars: 5g
Cholesterol: 37mg
Sodium: 414mg
Protein: 14g
The information above is an estimate generated by an online nutrition calculator.
More Tasty Recipes Worth Trying
There are many other soups that you need to try cooking in the slow cooker. For example, an absolute favorite of mine is the corn chowder. Much like this soup, it's creamy and the perfect comfort food.
Alternatively, if you feel like something less soupy, then the cheesy potatoes are worth trying. They have delicious amounts of crispy bacon and look as good as it tastes. I highly recommend trying it.
I hope that you enjoy this slow cooker potato soup recipe as much as I did. If you have any feedback, tips, or anything else, then please don't hesitate to leave a comment below.