This hearty slow cooker chicken noodle soup is a must-try. The soup is loaded with vegetables, shredded chicken, herbs, and lots of noodles.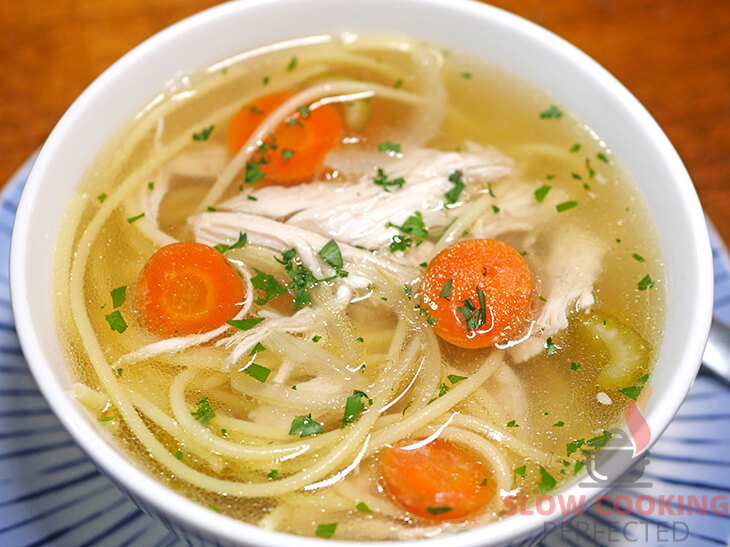 You will be delighted how good this soup tastes when you give it a try. Even on the first bite, you are greeted with loads of flavor from the chicken broth, vegetables, shredded chicken, and the lovely tender noodles. I find this soup is incredibly fulfilling, so it is great for feeding a crowd.
A single batch of this soup should feed six to eight people. I highly recommend that you make some extra side dishes to ensure that you can feed as many people as possible. Alternatively, you can easily double or triple the recipe, but you may need a bigger slow cooker.
The leftovers are great as an easy and quick lunch the next day. The soup should last at least three days in the refrigerator or three months in the freezer.
For a simpler version of this soup, you should take a look at our chicken soup recipe. It is remarkably similar but lacks noodles and uses a few different ingredients.
Chicken Noodle Soup Side Dish Ideas
There are loads of different dishes that will work nicely with the soup. Below are a few ideas that I absolutely love and highly recommend giving a try.
Garlic bread is always a great option as a side dish. It is super easy to make at home, or you can buy some from the supermarket. Either option will work great alongside this soup.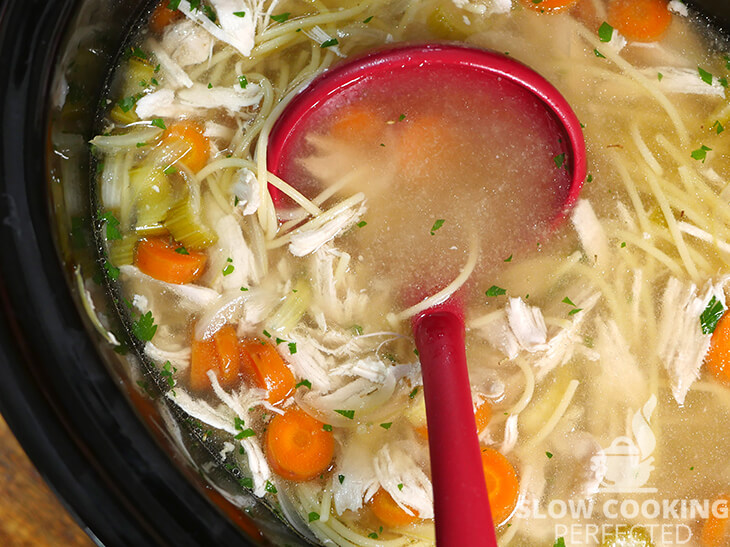 I love to make homemade cornbread to dip into the soup. The best part is how easy it is to make, and it is completely gluten-free. I highly recommend giving it a try if you love cornbread.
Salads are great as a side dish to the soup. I love to make something simple such as a salad consisting of lettuce, tomatoes, red onion, and cucumber. However, other heavier salads will also work great.
Type of Noodles to Use
There are a few different types of noodles that you can use in this soup. If you do not have any of the types listed below, then feel free to experiment with what you do have.
Egg noodles are the most popular to use in this soup. There are dozens of different egg noodle varieties, but almost any type will work fine in this soup. I typically buy egg noodle from the supermarket that does not specify the exact type it is.
Soba is an excellent light, healthy noodle. They are made from buckwheat and typically are long and thin. I highly recommend giving it a try if you want a lighter noodle soup.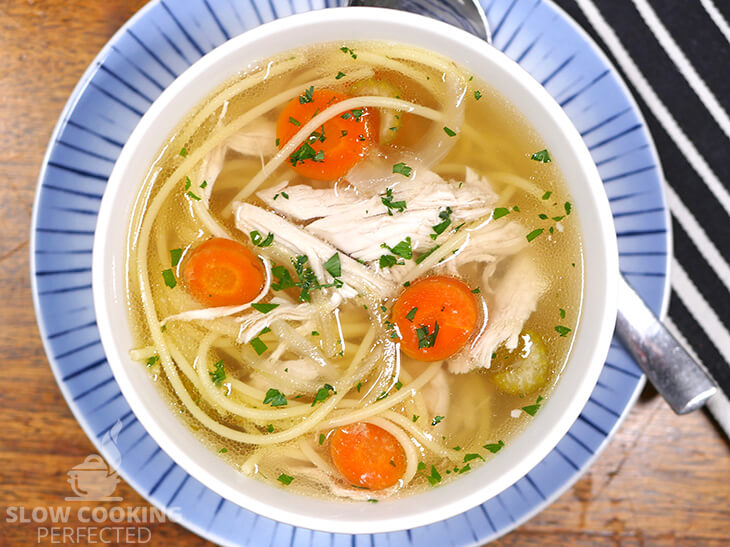 Pasta is an excellent alternative to noodles and is super easy to get right. Personally, I would pick something long like linguine or something similar. With that said, shorter pasta such as bow ties or spirals will also work very nicely.
You can use gluten-free pasta or noodle if you need to feed people who are sensitive to gluten. Changing the type of noodle should not impact the final result very much.
Lastly, you can use rice instead of pasta or noodles. Much like the Jambalaya, I recommend that you add the rice for the last hour and cook on the highest setting. The time it takes to cook may vary depending on your slow cooker.
The recipe below will take you through all the steps to making this slow cooker chicken noodle soup.
Slow Cooker Chicken Noodle Soup Recipe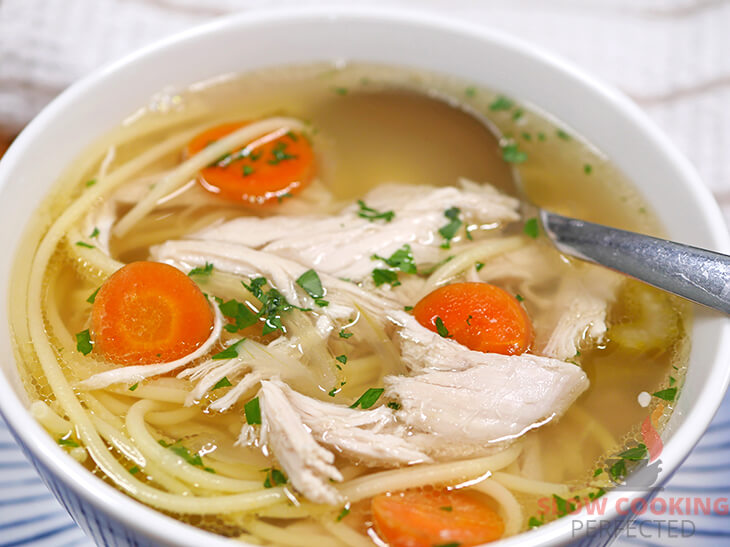 Ingredients
1 kg (2.2 lb) chicken pieces
1 onion, sliced
2 tsp garlic, crushed
2 celery stalks, sliced
2 carrots, sliced
2 bay leaves
½ tsp thyme
½ tsp rosemary
2 l (2.1 qt) chicken stock
1 Tbsp fresh parsley, roughly chopped
170 g (6 oz) egg noodles or pasta, par-cooked
Instructions
Add all the ingredients into the slow cooker except for the parsley and noodles.
Cook on low for 8 hours.
Skim the foam and fat off the top of the liquid. Remove and discard the bay leaves.
Remove the chicken and shred using two forks.
Add the shredded chicken back into the slow cooker along with the egg noodles and parsley.
Cook on high for 15 minutes or until the egg noodles are fully cooked.
Season to taste with salt and pepper.
Serve & Enjoy.
Recipe Tips
Typically for this soup, I will use boneless chicken as it is much easier to shred. However, for a bit more flavor, I highly recommend using chicken drumsticks or something similar. Make sure you remove the bones at step four.
The cooking time will heavily depend on the noodle or pasta you use. If you want to reduce the chances of some undercooked noodles, simply parboil before adding it to the slow cooker.
To make this soup gluten-free, simply replace the egg noodles with some gluten-free linguine pasta.
Note: I use a 5.5L (6 Quart) slow cooker for all the recipes that I have on this website unless specified. If you have a smaller or larger slow cooker, then you might need to adjust the ingredients.
Nutrition Information
Serving Size: 365g (12.9 oz)
Servings Per Recipe: 6
Calories Per Serving: 356
Amount Per Serving
Saturated Fat: 2g
Trans Fat: 0g
Dietary Fiber: 1g
Sugars: 3g
Cholesterol: 137mg
Sodium: 366mg
Protein: 42g
The information above is an estimate generated by an online nutrition calculator.
More Slow Cooker Soup Recipes
Below are some of my favorite slow cooker soups that I highly recommend giving a try.
One soup that I reckon you will love is the corn chowder. It is loaded with vegetables, bacon and is deliciously creamy. I rarely end up with leftovers whenever I make this soup.
Another recipe that I highly recommend giving a try is chicken and corn soup. It has loads of shredded chicken, creamed corn, and ribbons of egg. I love serving it with some Asian-styled side dishes such as prawn crackers.
I hope that you enjoy this slow cooker chicken noodle soup as much as I did. If you have any feedback, then please do not hesitate to leave a comment below.