This slow cooker jambalaya is an amazingly easy dish that's packed with delicious chorizo sausage and chunky pieces of chicken.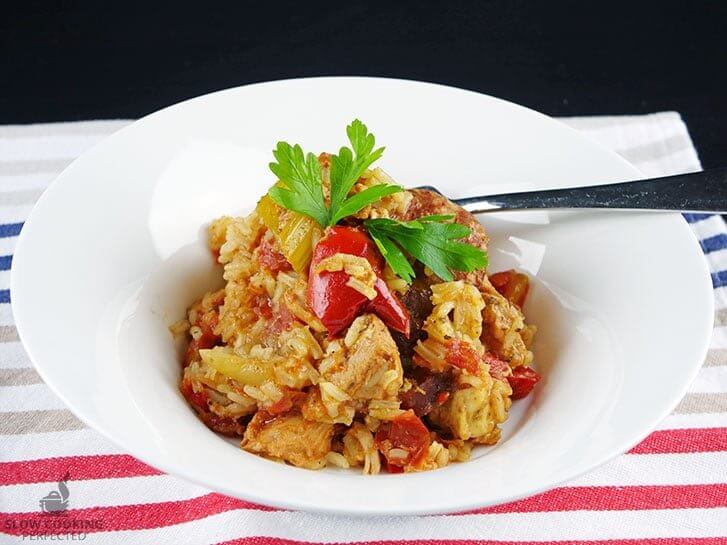 Jambalaya is a southern dish that originated out of Louisiana in the United States of America. It has influences of Spanish, West African, and French cuisines. It is a very popular dish that can now be found in restaurants all around the world.
One of the best things about cooking a jambalaya in the slow cooker is that you only need to use the one pot. Just dump in all the ingredients except for the rice, and you're all good to go. The only downside is don't expect it to have as beautiful of a texture as the pan-fried version.
By the time you're ready to serve, the rice will be soft, the chicken will be tender, and the flavors will be so good that you can smell them. It's a delicious meal that I highly recommend that you give a try.
Side Dishes to Serve with Jambalaya
You will find that this dish is perfect just on its own, but if you're looking for a side dish to go with it, then something like oven-baked garlic bread works perfectly.
If you have the time, then some homemade cornbread is also an excellent side dish. You will need to bake it in an oven, but it's certainly worth it.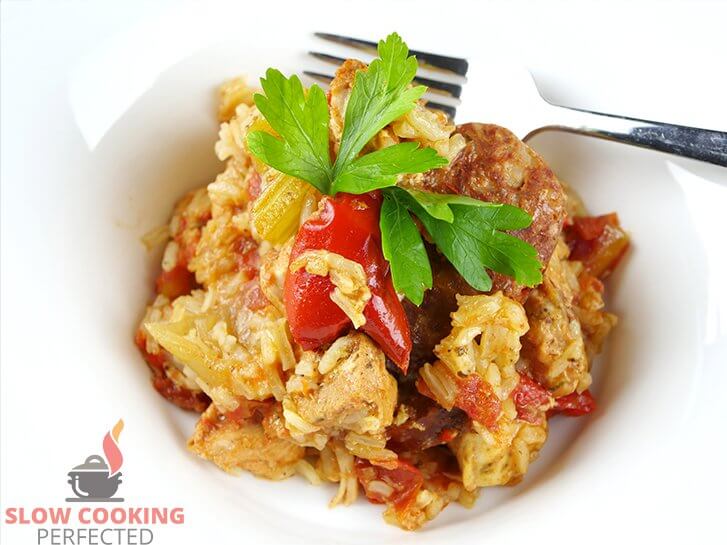 Collard greens are the perfect side dish but can be quite hard to make in a country where you can't get your hands on some collar green leaves.
Corn on the cob is perfect alongside this chicken and chorizo jambalaya. The corn is best boiled in some water then served with some butter. Alternatively, you can always try making some creamed corn.
There are plenty more dishes that go great with a Jambalaya, so be sure to share any that you think you will be great.
Tips & Tweaks
Below are just some tips and tweaks that you can make to this recipe. Of course, there are always more things that you can do, but below are just a couple of recommendations.
As I mentioned in the cooking tips further down this page, you can add some seafood to this jambalaya. However, make sure you only add it towards the end of cooking to help stop it from overcooking.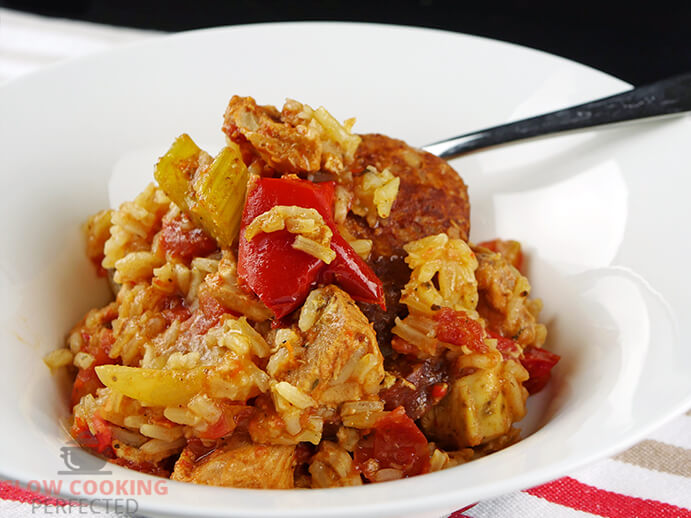 The type of chicken that you use in this recipe isn't hugely important. Feel free to replace the chicken breast with thigh if that's what you prefer.
I recommend sticking to long grain rice or Basmati rice for the best results. You can try using others, but the cooking time and outcome might vary massively from rice to rice.
If you have some improvements that you would love to share, then please don't hesitate to share them with us by leaving a comment at the bottom of this page.
Leftovers
The leftovers for this dish will reheat just fine, but I would only keep them in the fridge as rice doesn't tend to freeze very well.
Whenever you heat the leftovers, make sure you do it in the microwave or over the stove. The leftovers will last up to about three to four days covered in the fridge.
If you love to see how to cook a meal, then be sure to check out the video below. The video will take you through all the steps on how to make jambalaya in the slow cooker and show you what the final dish should look like. You can find all my slow cooker video recipes over on YouTube.
Slow Cooker Jambalaya Recipe
Ingredients
2 chicken breasts, cubed
100 g (3.5 oz) chorizo sausage, sliced
1 onion, chopped
2 tsp garlic, crushed
2 stalks celery, chopped
1 large red bell pepper, sliced
400 g (14.1 oz) crushed tomatoes
1 Tbsp cajun spice
1 cup chicken stock
1 cup long grain rice
Instructions
Add all the ingredients except the long grain rice to the slow cooker and mix.
Cook on low for 6-8 hours.
Increase the heat to high and add the rice. Cook for 30-45 minutes.
Season with salt & pepper.
Serve & Enjoy.
Recipe Tips
Depending on the slow cooker you're using, you may find your high heat is slightly different from mine. This heat difference means the rice can cook faster or slower, be sure to keep an eye on it to prevent overcooking or undercooking the rice.
You can add some shrimp to this jambalaya, make sure you add them at the same time as the rice. This method will stop help prevent the shrimp from overcooking.
If you're a bit wary about cooking rice in the slow cooker, then you can always cook it in a rice cooker and mix it into the jambalaya at the end of cooking.
Note: I use a 5.5L (6 Quart) slow cooker for all the recipes that I have on this website unless specified. If you have a smaller or larger slow cooker, then you might need to adjust the ingredients.
Nutrition Information
Serving Size: 281g (9.9 oz)
Servings Per Recipe: 6
Calories Per Serving: 372
Saturated Fat: 3.3g
Trans Fat: 0g
Total Carbohydrate: 33.8g
Dietary Fiber: 3.3g
Sugars: 5.8g
Cholesterol: 88mg
Sodium: 484mg
Protein: 31.8g
The information above is an estimate generated by an online nutrition calculator.
More Delicious Slow Cooker Recipes
There are so many different recipes that I can highly recommend, below are just a couple that I think you should try if you like this recipe.
If you feel like something that doesn't need rice, then a spicy gumbo might interest you. Much like this dish it has chicken and chorizo, you can even add some shrimp if you want to.
You might also be interested in making the salsa chicken as it's delicious, just like this recipe. It has only four ingredients, and the result is chicken loaded with salsa and cheese. It's so delicious.
If you have cooked up this slow cooker jambalaya and would love to share your thoughts, then please don't hesitate to leave a comment below.