This delicious slow cooker gumbo is perfect for anyone who loves a tasty stew. It requires a little bit of prep work, but it is worth it as the result is so delicious.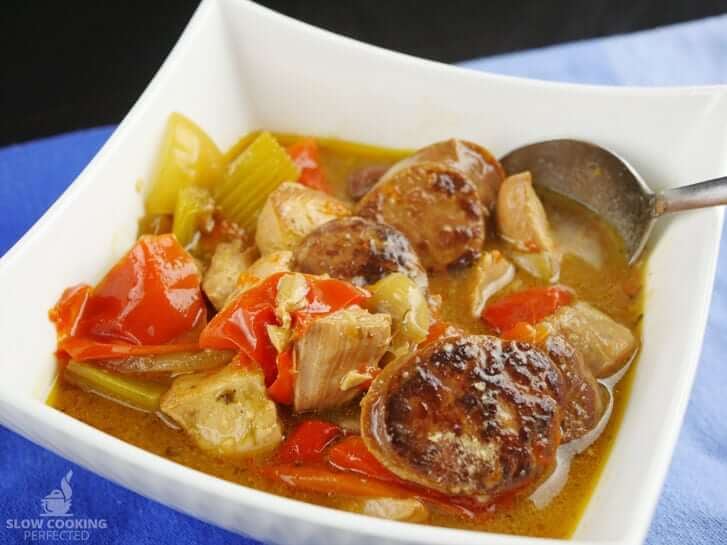 When you go to eat this tasty gumbo, you will be greeted with a flavor-packed stock that's loaded with vegetables and meat. It has bell peppers, celery, onion, chicken, chorizo sausages, and a lovely range of herbs and spices.
This stew is extremely popular in Louisiana but is also in restaurants and kitchens around the world. This recipe tries to be as authentic as possible and is a great way to get a sample of Southern cuisine.
For this delicious slow cooker recipe, I will be using chicken and chorizo sausage as the main ingredients; however, if you love prawns, then you can add these as well.
What to Serve with Gumbo
This stew will feed about four people without any changes. If you need to cook for more, you can also try doubling the recipe or making some side dishes.
Some long-grain white rice is a common accompaniment to have alongside the gumbo and is excellent for feeding more people.
Either some garlic bread or cornbread is also commonly served alongside this delicious stew. I prefer cornbread, but it involves a little more preparation than garlic bread.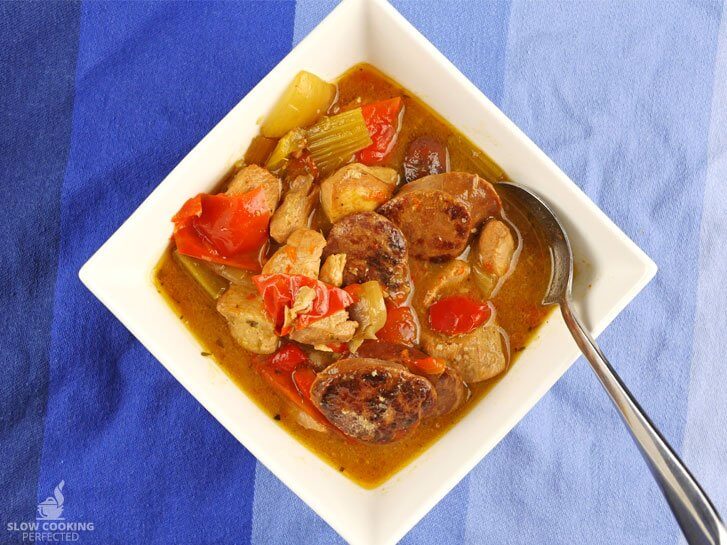 A classic potato salad is a great side dish but will require spending a bit more time in the kitchen. A Cajun potato salad often contains potatoes, mayonnaise, mustard, pickle relish, Cajun seasoning, and paprika.
Be sure to share any suggestions on what to have with the gumbo in the comments section at the bottom of this page.
Tweaking the Recipe
Much like any recipe, you can make some changes to the ingredients to make it more to your liking.
Prawns or shrimp are a common ingredient for gumbo, but for this particular recipe, I didn't add them. If you want to add some, then roughly a cup should be more than enough. Add the seafood about thirty minutes before you go to serve. Adding them too early will leave you with overcooked seafood.
Gumbo often contains okra, but it can be hard to find in Australia, so in this recipe, I have left it out and opted for a more traditional roux. If you want to add okra, then be sure to check out the cooking tips for more information.
You're able to change the combination of meat and seafood to whatever you like. You can try making a gumbo that uses something like duck meat, rabbit, or even beef. In terms of seafood, you can use oysters, crab meat, or even fish.
If you have any suggestions on how to tweak this recipe, then be sure to let us know. We love to hear of ways to improve a recipe.
Perfecting the Gumbo
Gumbo is pretty easy to make in the slow cooker, but there are some things you will need to be aware of.
Depending on how long you fry the roux, will determine the thickness of the gumbo.
If the roux is dark, then the liquid will be thin. A light roux will result in a much thicker liquid. Change this depending on what you would prefer. If you still find it too thin at the end, then you might need to thicken the stew using cornstarch.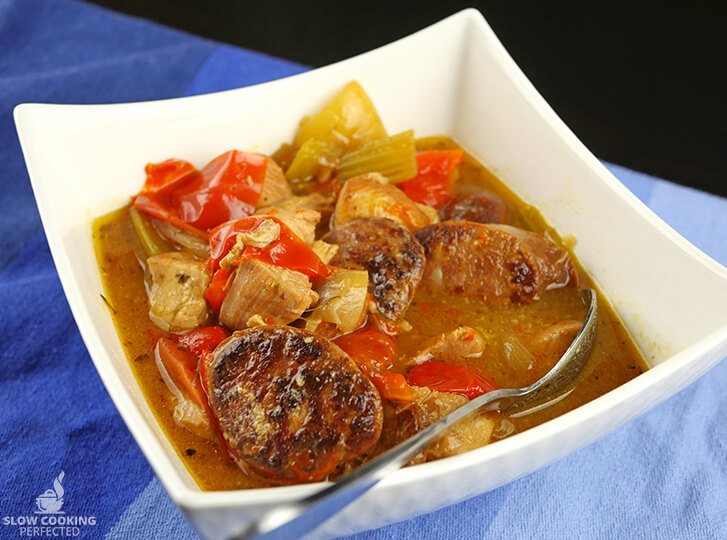 If you're adding seafood, then it's highly important that you add it towards the end of cooking. Adding it too early will leave you with overcooked seafood that isn't very nice.
The process of making gumbo varies from person to person as everyone has their way of cooking it. If you have a particular method that you would like to share, then please be sure to leave a comment at the bottom of this page.
If you love seeing how to do things, then the video below will take you through everything on how to make gumbo in a slow cooker. If you love the video, then you can stay up to date on all my latest videos over on YouTube.
Slow Cooker Gumbo Recipe
Ingredients
2 chicken breasts, cubed
2 chorizo sausages, sliced
2 Tbsp unsalted butter
2 Tbsp plain flour
2 cups chicken stock
1 onion, cut into chunks
2 tsp garlic, crushed
2 celery sticks, roughly chopped
2 red bell peppers, chopped
2 tsp cajun seasoning
1 tsp thyme
2 bay leaves
Instructions
In a frypan, fry off the chorizo and chicken until slightly browned. Transfer to a slow cooker leaving the excess oil in the frypan.
In the same frypan, add the butter and once melted, add the plain flour. Cook this until it starts to go a dark brown color.
Stir in the chicken stock and simmer for 5 minutes.
In the slow cooker, add the onion, garlic, celery, red bell pepper, Cajun seasoning, thyme, bay leaves, and the liquid from the frypan.
Cook on low for 8 hours.
Serve & Enjoy.
Recipe Tips
If you want to add shrimp or prawns, then these will need to be added at the very end. Add these when you only have about thirty minutes left. Personally, I would add about one to two cups, depending on how much you like them.
Supposing you're a fan of okra, then you can add this to the slow cooker. I would add about sixteen ounces of sliced okra and add it at the same time as the rest of the vegetables.
You're able to make Cajun seasoning at home using some everyday spices and herbs. It's also great if you prefer to make everything from scratch.
Cook this on high for four hours if you need it to be ready sooner.
Note: I use a 5.5L (6 Quart) slow cooker for all the recipes that I have on this website unless specified. If you have a smaller or larger slow cooker, then you might need to adjust the ingredients.
Nutrition Information
Serving Size: 409g (14.4 oz)
Servings Per Recipe: 4
Calories Per Serving: 626
Saturated Fat: 15.3g
Trans Fat: 0g
Total Carbohydrate: 12.4g
Dietary Fiber: 1.8g
Sugars: 4.6g
Cholesterol: 182mg
Sodium: 1337mg
Protein: 53.1g
The information above is an estimate generated by an online nutrition calculator.
More Delicious Recipes
There are so many more slow cooker recipes that you can make, and below are a couple of my favorites.
If you love a tasty stew, then you should also check out the hearty beef goulash, it has tender pieces of beef in a rich sauce. It's incredible and well worth checking out.
A southern-inspired dish that you should also try is the slow cooker jambalaya. Much like this dish, it's packed with flavor and looks absolutely incredible.
I hope that this slow cooker gumbo comes out to be just as delicious for you as it did for me. If you have any feedback, tips, or anything else that you would like to share, then please don't hesitate to leave a comment below.