This incredible slow cooker chicken and broccoli recipe will certainly impress. It is loaded with flavor and can easily feed a hungry family.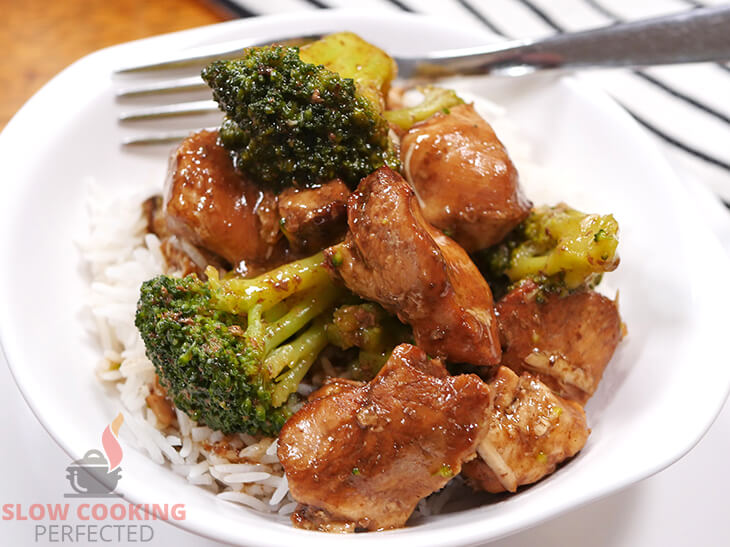 When you take a bite of this dish, you will be greeted with strong flavors from the oyster sauce, soy sauce, and brown sugar. The chicken will be deliciously tender, and the broccoli should still have a bit of crunch. It is a delicious slow cooker dish that will easily impress the family.
This delicious dish should easily feed four people but can be doubled or tripled to feed more. I do highly recommend that you serve this dish with a side of steamed rice or something similar.
If you prefer the flavors of beef, be sure to check out our beef and broccoli recipe. It is very similar to this recipe but heavily focuses on beef's strong flavors rather than chicken.
This dish's leftovers are well worth keeping as they make for a deliciously easy lunch or dinner. Any leftovers should last in the fridge for about three days or in the freezer for three months.
Chicken and Broccoli Serving Ideas
Noodles work great with this recipe, so I highly recommend giving them a try. Most types of noodles will work very nicely with the flavors of this dish. For example, udon noodle, rice noodle, or even soba noodle will be a good choice.
Another side dish that is super easy to make is steamed rice. I recommend cooking the rice in a rice cooker and not a slow cooker. Cauliflower rice is an excellent alternative to regular rice if you want something healthier.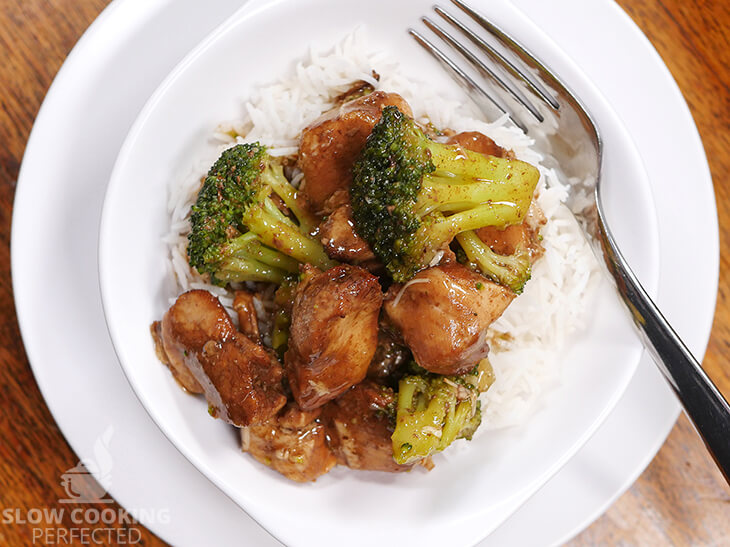 Pasta is an excellent alternative to the ideas above. Simply cook the pasta as per the packet instructions and mix it with the chicken and broccoli. It is a simple change, but certainly delicious.
A strange but delicious alternative is to make some mashed potatoes or mashed cauliflower to go with the recipe. It is my least favorite out of the three options but will probably be delicious.
Adjusting the Recipe
There are loads of ways to tweak this recipe so that it is more to your liking. Below are just a couple of ideas on what you can do.
Do not be afraid to add some more vegetables to the sauce. For example, mushrooms, cauliflower, or even green beans will work nicely. However, I think the broccoli is more than enough.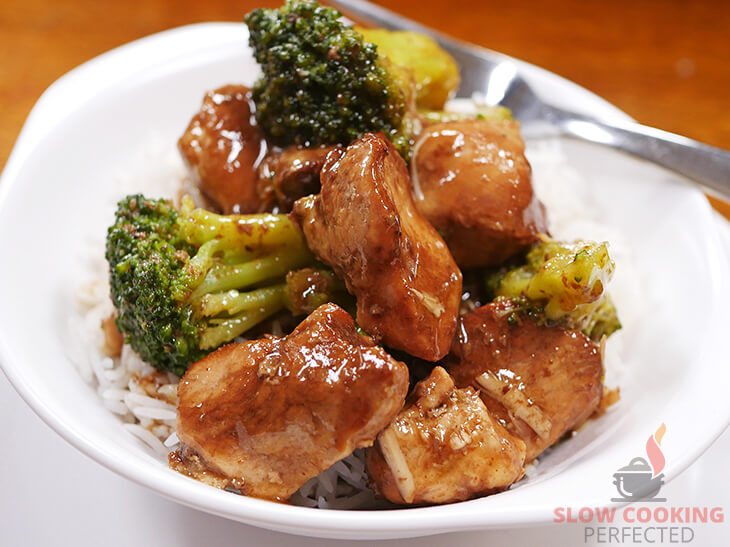 For a bit of crunch, you can add some nuts to the dish before you go to serve. Cashews, peanuts, or even water chestnuts will work nicely with the flavors of this dish.
You can try tinkering with the sauce ingredients to make it more to your liking. For example, you can swap the oyster sauce for hoisin sauce. You can also try replacing the soy with light soy sauce. Lastly, the brown sugar can be swapped for honey. These changes will all have an impact on flavor.
The recipe below will take you through all the steps to making chicken and broccoli in the slow cooker.
Slow Cooker Chicken and Broccoli Recipe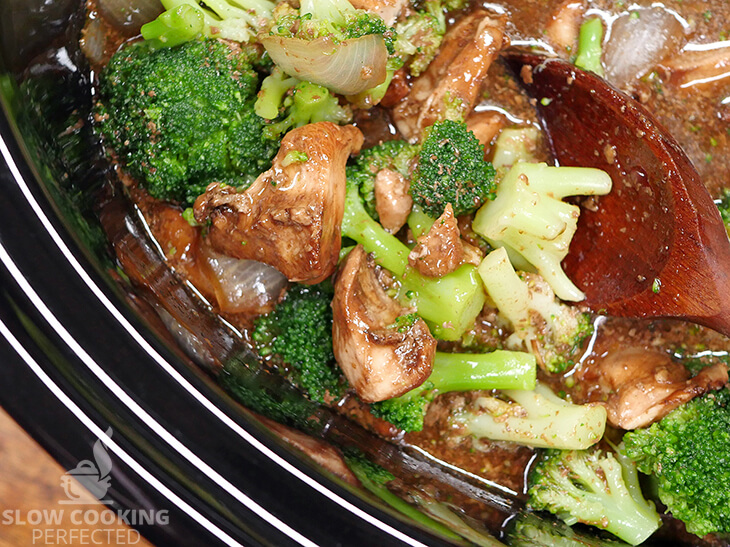 Ingredients
750 g (1.7 lb) chicken breast, cut into chunks
2 onions, quartered
3 tsp garlic, crushed
2 tsp ginger, minced
250 ml (8.5 fl oz) chicken stock
½ cup soy sauce
¼ cup brown sugar
¼ cup oyster sauce
1 Tbsp sesame oil
500 g (1.1 lb) broccoli florets, room temperature
Thickener
2 Tbsp cornstarch
3 Tbsp water
Instructions
In a slow cooker, add the chicken, onion, garlic, ginger, chicken stock, soy sauce, brown sugar, oyster sauce, and sesame oil.
Cook on low for 4-6 hours.
Mix the cornstarch with the water. Stir the cornstarch mixture into the slow cooker.
Add the broccoli.
Cook on high for roughly 30 minutes or until thickened and the broccoli is hot.
Serve & Enjoy.
Recipe Tips
Make sure the broccoli goes in towards the end as it will quickly overcook. The recommended thirty minutes should be long enough.
Fresh or frozen broccoli will both work great, so use whatever is available to use. If you frozen broccoli, make sure you defrost it first.
Oyster sauce can be replaced with hoisin sauce.
Sesame seeds are an excellent garnish.
Double-check the ingredients on the soy sauce and oyster sauce to ensure this dish ends up gluten-free. Both of these ingredients have gluten-free variations available.
Note: I use a 5.5L (6 Quart) slow cooker for all the recipes that I have on this website unless specified. If you have a smaller or larger slow cooker, then you might need to adjust the ingredients.
Nutrition Information
Serving Size: 347g (12.2 oz)
Servings Per Recipe: 6
Calories Per Serving: 362
Amount Per Serving
Saturated Fat: 3.8g
Trans Fat: 0.1g
Dietary Fiber: 3g
Sugars: 13g
Cholesterol: 81mg
Sodium: 1841mg
Protein: 33g
The information above is an estimate generated by an online nutrition calculator.
More Slow Cooker Chicken Recipes
There are loads of chicken dishes that you can make in a slow cooker. Below are two recipes that I highly recommend you try.
The Mongolian chicken dish is loaded with flavor thanks to the great ingredients we use in the sauce. The sauce has garlic, ginger, soy, hoisin sauce, and some brown sugar. It is a delicious combination that I reckon you will love.
If you like this recipe, then I reckon you will love the slow-cooked teriyaki chicken. It is simple but loaded with flavor. I highly recommend serving the chicken with some freshly steamed rice and some lovely green vegetables.
I love slow-cooked chicken and broccoli, and I hope that you will too. If you have some feedback, then please do not hesitate to leave a comment below.