This slow cooker sesame chicken is a flavor-packed dish that will please even the fussiest of eaters. It's super easy to prepare and will easily feed a family of four.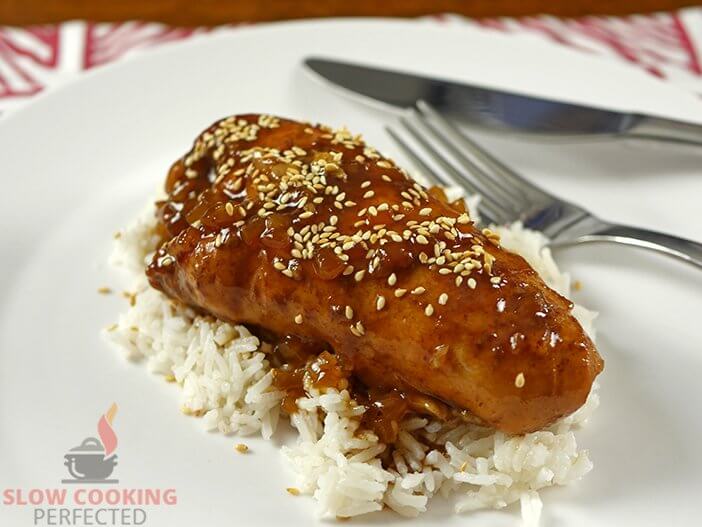 Sesame chicken is quite a sweet dish thanks to the honey and ketchup. Some soy sauce, rice vinegar, sesame oil, onion, and garlic are included to add even more flavor to this tasty dish.
I mention some other delicious slow cooker chicken recipes further down the page. We have so many different recipes, such as general tso's chicken. It's very similar to this recipe but is slightly more spicy and less sweet. I highly recommend that you check it out.
What to Serve with Sesame Chicken
There are so many different side dishes that you can have with this sesame chicken.
I love having this chicken with just some regular rice. I recommend cooking the rice either over the stove or in a rice cooker.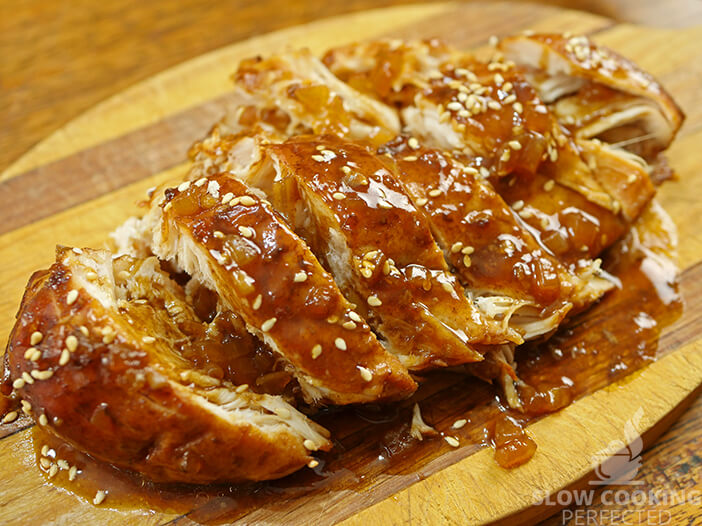 There are other dishes that go great with this dish, such as couscous, noodles, or even mashed potato. Each of them is relatively easy and taste absolutely delicious.
If you have some suggestions on what to have with sesame chicken, then we would love to hear them. Simply leave a comment at the bottom of this page.
What to do with Leftover Chicken
Any leftover chicken can be kept in the fridge for a few days. Alternatively, you can freeze the chicken and use it later. It should last roughly four months in the freezer.
You can shred the meat and use it in something like a salad, sandwich, or even a stir fry. There are quite a few options when it comes to leftover chicken meat.
Tweaking the Recipe
You might be tempted to adjust the recipe in one way or another. I will just quickly go through some of the most popular changes people make to this recipe.
The cut of chicken that you use can easily be swapped for something else. For example, chicken thigh, drumsticks, and other cuts will work just fine in the slow cooker.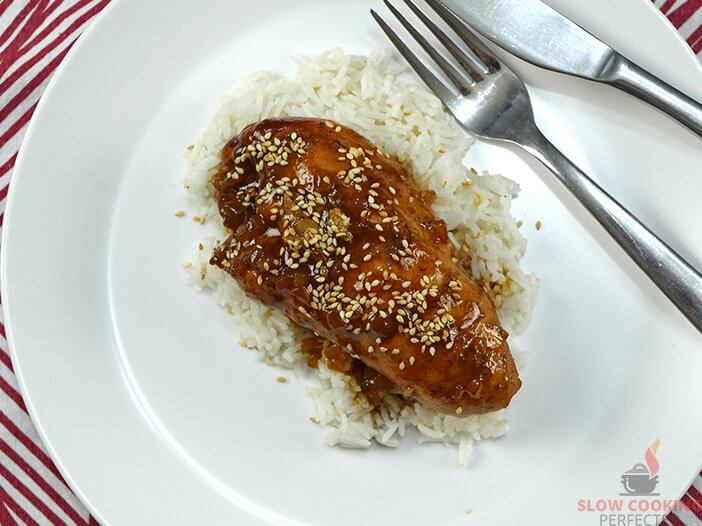 You can also try adjusting some of the quantities in the recipe, such as using more honey for a sweeter sauce or adding a bit of chili for some spice.
There are a few more tips for perfecting this chicken dish, I mention these just below the recipe. It's worth checking out if you want to make some adjustments to the ingredients or method.
Right below is both the video and recipe for this tasty sesame chicken dish. If you try the recipe, then be sure to let us know what you think in the comments section at the bottom of this page.
Slow Cooker Sesame Chicken Recipe
Ingredients
Instructions
In a slow cooker, add the chicken breasts, onion, garlic, honey, soy sauce, ketchup, rice vinegar, and  sesame oil.
Cook on low for 6-8 hours.
Remove the chicken from the slow cooker and put it to the side.
Combine the cornstarch and water to form a paste. Mix into the sauce in the slow cooker.
Add the chicken back into the slow cooker and cook on high for 30 minutes.
Slice the chicken and serve with the sauce.
Sprinkle sesame seeds over the top of the chicken.
Serve & Enjoy.
Recipe Tips
To ensure that this recipe is gluten-free, make sure you pick a gluten-free variety of soy sauce, ketchup, and cornstarch.
Chicken breasts can easily be replaced with chicken thigh or a different cut of meat. Chicken thigh is a little more tolerant of overcooking, so if you're worried about dry chicken, then consider using thigh.
Ketchup can be swapped for tomato paste or sauce. It will alter the flavor slightly but still be super delicious.
The cornstarch mixture is essential if you want a nice and thick sauce. If you don't want to use cornstarch, consider using arrowroot instead.
Vegetables can be added with the chicken, but keep in mind these will take on the flavor of the sauce. This can lead to everything tasting very similar.
You can replace rice vinegar with a different vinegar such as apple cider vinegar, white wine vinegar, or even lemon juice. Keep in mind any replacement will likely impact the final flavor of the dish.
Note: I use a 5.5L (6 Quart) slow cooker for all the recipes that I have on this website unless specified. If you have a smaller or larger slow cooker, then you might need to adjust the ingredients.
Nutrition Information
Serving Size: 4g (0.1 oz)
Servings Per Recipe: 391
Calories Per Serving: 670
Amount Per Serving
Saturated Fat: 7.5g
Trans Fat: 0.3g
Dietary Fiber: 1g
Sugars: 40g
Cholesterol: 160mg
Sodium: 1305mg
Protein: 55g
The information above is an estimate generated by an online nutrition calculator.
More Slow Cooker Chicken Recipes
I love a tasty chicken dish in the slow cooker, and there are so many more that you can do. Another meal I enjoy cooking is honey soy chicken. It combines two flavors that we all know and love for an incredibly addictive sauce and super tender chicken.
Something a little different but still incredibly tasty is the chicken cordon bleu recipe. It's got shredded ham, copious amounts of cheese, and some delicious bread crumbs. Indeed, a hearty chicken recipe worth trying.
I hope that you enjoy this slow cooker sesame chicken as much as I did. If you have any feedback regarding the recipe or have a variation that you want to share, then please don't hesitate to leave a comment below.