This creamy cheesy slow cooker chicken cordon bleu is an absolute delight.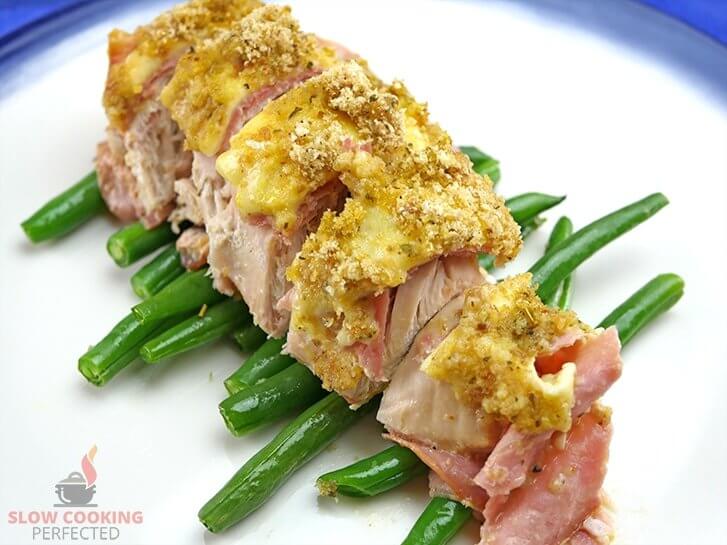 This dish has a delicious creamy sauce, swiss cheese, ham, and a tasty bread stuffing topping. If you love a good chicken recipe, then you totally need to give this recipe a try.
You are likely to find this slow cooker recipe on the web quite a bit, as it is quite popular. After cooking this dish, you will see why this is the case. This variation features a creamy sauce that matches the chicken perfectly.
I am usually able to get roughly six serves out of this recipe. Typically, I aim for roughly one chicken breast per person along with a few extra side dishes. You can easily double or triple the recipe if required.
The leftovers of this slow cooker chicken cordon bleu are great the next day for a nice easy lunch or dinner. Simply reheat in the microwave or a hot oven. This dish should last for two to three days in the fridge or much longer if you are freezing it.
Perfecting the Recipe
I should mention that this recipe does cook to be quite a bit different from the version that you would cook over the stove. However, it is undoubtedly a great tasting dish and very easy to get right.
The slices of ham can cause the chicken to go slightly pink. If you are worried, use a meat thermometer to check the internal temperature of the chicken. If it is over 74°C (165°F), then you are fine to eat, if it is under, then cook it for longer. It is always important not to use frozen chicken in the slow cooker.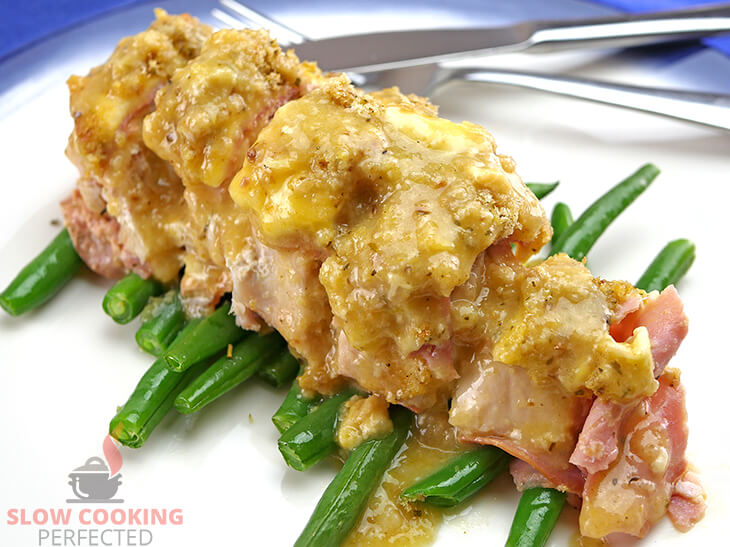 Feel free to pick your favorite cut of chicken. Typically, this dish is made with chicken breast, so I made use of that. However, chicken thigh will also work just as well, so do not hesitate to swap it if you want to.
Chicken Cordon Bleu Serving Ideas
If you are looking for something to go with this dish, below are a few great ideas.
You should try a side of roasted vegetables, baby potatoes, or even steamed green beans. Some creamy mashed potatoes are an excellent addition as well.
An excellent side dish for chicken cordon bleu is some steamed rice. I recommend cooking it in a rice cooker for the best result. Some creamy coconut rice is an excellent alternative if you like eating something a little different.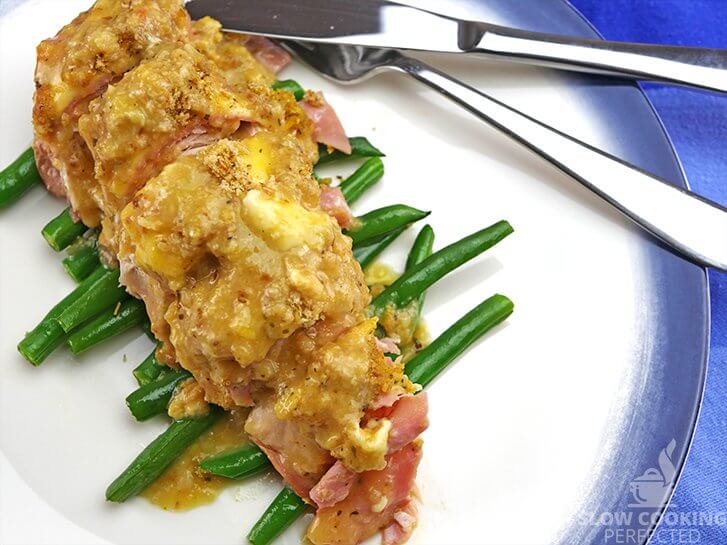 Another side dish that I love to serve with this chicken is some cheesy cauliflower. It is super easy to make and can be ready to eat within just a few short minutes. I highly recommend giving it a try.
If you love to see all the steps to making chicken cordon blue in the slow cooker, then be sure to check out the video below. It is short, snappy, and straight to the point. Alternatively, you can find the full written recipe right underneath the video.
Slow Cooker Chicken Cordon Bleu Recipe
Ingredients
420 g (14.8 oz) can cream of chicken soup
½ cup milk
½ tsp garlic, crushed
1 kg (2.2 lb) chicken breasts
250 g (8.8 oz) ham slices
200 g (7.1 oz) Swiss cheese slices
200 g (7.1 oz) dry bread stuffing
60 g (2.1 oz) unsalted butter, cubed
Instructions
In a jug, combine the milk, cream of chicken, and garlic.
Pour 1/4 of the cream of chicken mixture into the slow cooker.
Layer half of the ham over the top of the cream of chicken.
Add the chicken breasts.
Top with the remaining ham and the swiss cheese.
Pour the rest of the cream of chicken mixture over the top.
Top with the stuffing mix and scatter the butter over the top.
Cook on low for 6 hours.
Serve & Enjoy.
Recipe Tips
If you are unable to get your hands on some dry bread stuffing, then you can use breadcrumbs instead. For the best results, I would look at using something like panko breadcrumbs.
Swiss cheese is ideal for this recipe but can be swapped for another cheese if required. Something like cheddar will be an ample replacement.
Turn the slow cooker to the high setting if you need this dish fast. It should be ready within three hours.
Note: I use a 5.5L (6 Quart) slow cooker for all the recipes that I have on this website unless specified. If you have a smaller or larger slow cooker, then you might need to adjust the ingredients.
Nutrition Information
Serving Size: 376g (13.3 oz)
Servings Per Recipe: 6
Calories Per Serving: 616
Amount Per Serving
Saturated Fat: 13.5g
Trans Fat: 0.3g
Dietary Fiber: 1g
Sugars: 4g
Cholesterol: 196mg
Sodium: 1352mg
Protein: 59g
The information above is an estimate generated by an online nutrition calculator.
More Slow Cooker Recipes
If you are looking for more tasty slow cooker chicken dishes, then you will be surprised by just how many there are.
The chicken parmesan is another cheesy slow cooker dish that I reckon you will love. It features some lovely crumbed chicken breasts with a flavor-packed tomato sauce and a generous amount of cheese.
If you love creamy sauces, you should check out the chicken stroganoff recipe for the slow cooker. It tastes as good as it looks.
I hope that you enjoy this slow cooker chicken cordon bleu recipe and that the instructions are easy to follow. If you have some feedback, then please do not hesitate to leave a comment below.