This slow cooker chicken stroganoff is the perfect meal for feeding a crowd. It is also super easy to make and perfect for anyone with a busy lifestyle.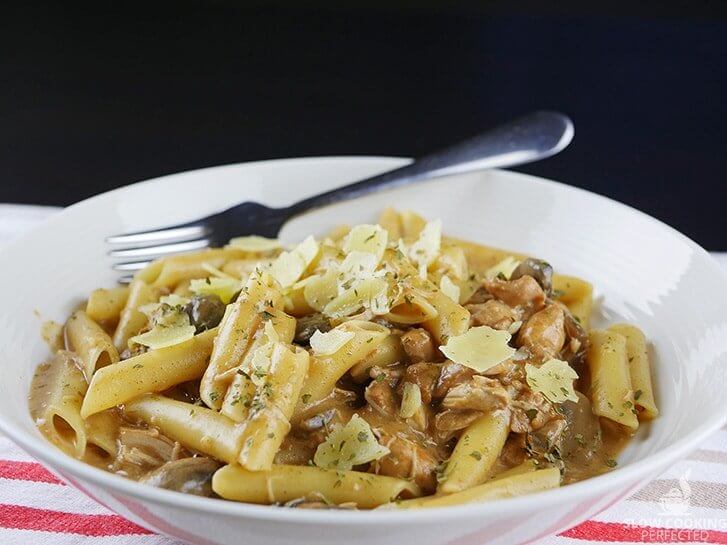 When you take a bite of this pasta dish, you will be greeted with a delicious range of flavors thanks to the paprika, Worcestershire sauce, and sour cream. The chicken will also be tender and blends perfectly with the creamy sauce.
A single batch of this pasta sauce should be enough to feed roughly six to eight people. However, I highly recommend that you make some side dishes to go with the sauce. I suggest pasta, but there is a lot of options.
The leftovers of this stroganoff are great the next day, so make sure you keep them in the fridge. If you store the leftovers in the fridge, they should last for roughly three days. Unfortunately, due to the creamy sauce, I cannot guarantee freezing the sauce will be a good idea.
Perfecting the Recipe
You can cook the pasta in the slow cooker or separately. I recommend cooking it separately to avoid ending up with a super thick sauce. The pasta will often clump together in the slow cooker.
Unlike beef, chicken does not cope with extended amounts of time in the slow cooker. If you leave it cooking for too long, the chicken will become overcooked and you will end up with dry chicken.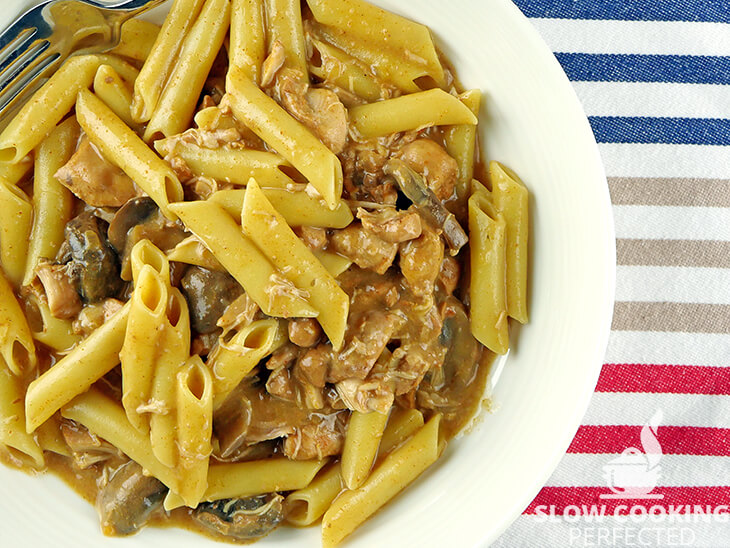 The list of ingredients may look like a lot for a slow cooker meal, but it is worth it. You get a much nicer dish without the need for canned soups.
You will need to thicken the sauce towards the end of cooking since it will be a bit on the runny side. A thicker sauce is easily achieved using a cornstarch and water mix.
Chicken Stroganoff Serving Ideas
Below are some ideas on how you can serve this delicious chicken stroganoff. If you have any ideas, be sure to leave a comment at the bottom of this page.
I love to serve stroganoff with some freshly cooked pasta. Almost any type of pasta will work nicely, so pick your favorite type, for example, penne, linguine, fettuccine, or even macaroni. There are so many options to pick from.
This hearty dish always goes excellent with crunchy garlic bread or just some freshly baked bread. If you want something healthier, then a tasty side salad is still an excellent choice.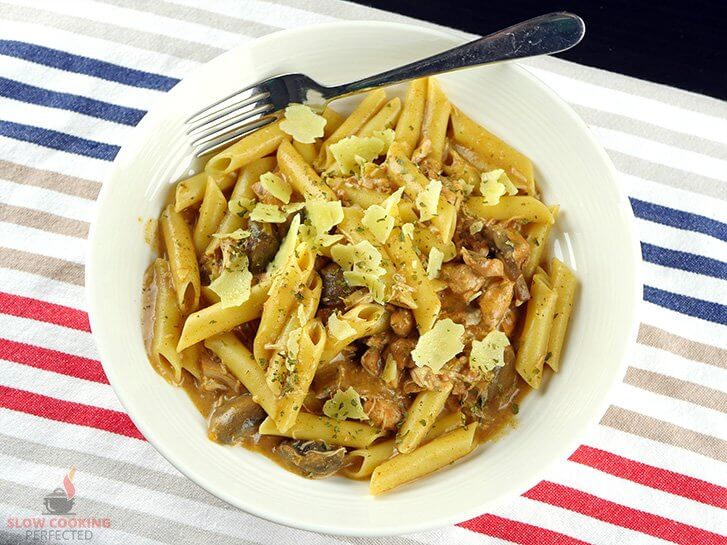 Another easy side dish is some steamed rice cooked in a rice cooker. If you want to be a little healthier, you can try making some cauliflower rice instead. Both options are excellent.
There are lots more options when it comes to side dishes. The stroganoff sauce will also go great with mashed potatoes, noodles, or even vegetable pasta. Feel free to get a little creative.
If you want to see how to make this creamy chicken stroganoff in the slow cooker, then be sure to check out the video below. Alternatively, there is a full written recipe below the video.
Slow Cooker Chicken Stroganoff Recipe
Ingredients
500 g (1.1 lb) chicken thigh, cut into cubes
1 onion, diced
2 tsp garlic, crushed
50 g (1.8 oz) mushrooms, sliced
1 Tbsp sweet paprika
1 Tbsp tomato paste
1 Tbsp Worcestershire sauce
1 cup chicken stock
4 Tbsp sour cream
2 Tbsp cornstarch
Instructions
In a slow cooker, add the chicken, onion, garlic, mushrooms, paprika, tomato paste, Worcestershire sauce, and the chicken stock.
Cook on low for 6-8 hours.
Lastly, combine the sour cream and cornstarch. Once combined, stir into the stroganoff sauce.
Cook on high for a further 15 minutes or until thickened.
Season with salt and pepper.
Serve & Enjoy.
Recipe Tips
Chicken breasts can be used instead of chicken thighs. Both will work fine, it just comes down to personal preference.
You can reduce the cooking time by half by turning the slow cooker to the high setting. However, I recommend cooking on the low setting if possible.
Cooking the pasta in the slow cooker will require you not to add the cornstarch. The starch from the pasta will thicken the sauce up more than enough.
You can add some green vegetables if you wish to do so, just make sure this is done towards the end of cooking since most greens will only need fifteen to thirty minutes of cooking.
Note: I use a 5.5L (6 Quart) slow cooker for all the recipes that I have on this website unless specified. If you have a smaller or larger slow cooker, then you might need to adjust the ingredients.
Nutrition Information
Serving Size: 362g (12.8 oz)
Servings Per Recipe: 6
Calories Per Serving: 222
Amount Per Serving
Saturated Fat: 2.8g
Trans Fat: 0g
Dietary Fiber: 1.8g
Sugars: 3.3g
Cholesterol: 78mg
Sodium: 240mg
Protein: 27.7g
The information above is an estimate generated by an online nutrition calculator.
More Slow Cooker Recipes
Below are a couple more pasta sauce recipes that you can cook in the slow cooker.
If chicken is not taking your fancy, then the creamy beef stroganoff is the perfect alternative to this dish. It is very similar to this recipe but instead has amazing tender pieces of beef.
Another creamy pasta sauce that I reckon you will love is the chicken carbonara. The sauce is not traditional but instead inspired by the original recipe. I highly recommend giving it a try if you love delicious creamy sauces.
I hope you enjoy this slow cooker chicken stroganoff recipe and that you do not run into any issues while making it. If you have a variation, tips, improvements, or anything else, then please do not hesitate to leave a comment below.