This incredible slow cooker beef stroganoff is packed full of flavor and has amazing tender pieces of beef that just melt in your mouth.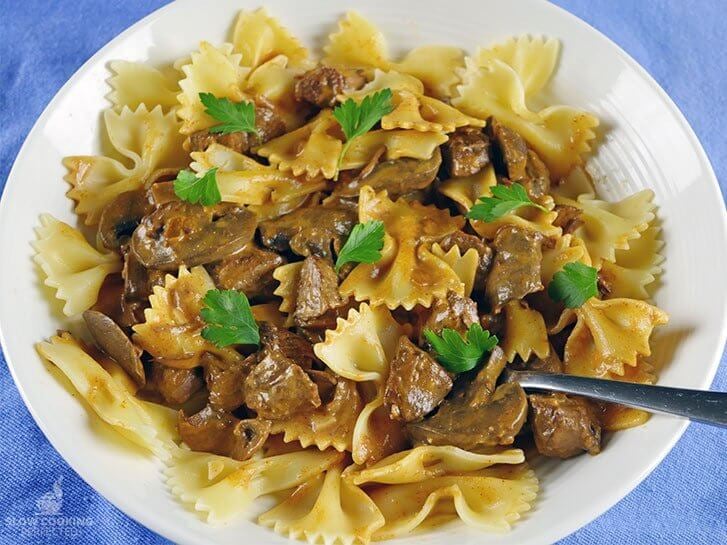 By the time this dish is ready to eat the beef will be incredibly tender, and the sauce will be creamy. It will have those lovely rich flavors that you expect from a good stroganoff such as paprika, tomato, and sour cream.
It's incredibly easy to prepare, so it's a great dish to get ready and cooking in the morning quickly. The best part is that it will be ready in time for whenever you go to sit down for dinner.
The Best Cut of Beef for Slow Cooking
For the best results, it's important that you use a cheaper cut of meat such as rump, blade, or brisket. You will be able to find these cuts at most supermarkets or butchers.
The low-quality choice of meat is perfect because we're cooking the beef for a very long time. Using a tender cut such as beef tenderloin is not only expensive but will fall apart not long into cooking.
Ultimately the cut of beef you choose to use is up to you. I like to keep costs down, so I always opt for the cheapest cut of beef.
What to Serve with Beef Stroganoff
Stroganoff is traditionally served with just pasta however modern adaptations make use of a variety of other dishes. You will find that this dish goes great with rice, pasta, polenta, or even some potato mash.
I prefer to have the beef stroganoff with rice or pasta because it's easier to cook up than something like mashed potatoes. It just comes down to how much time you have and personal preference.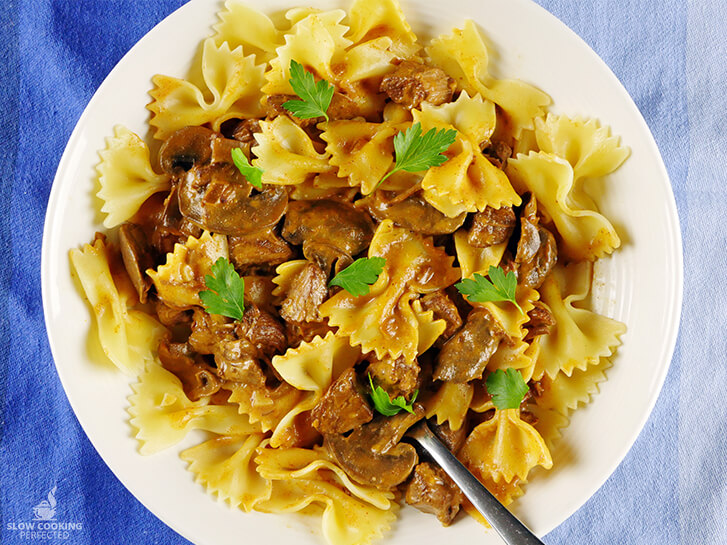 Typically I find this dish is fine with just some pasta, but if you want a side dish, then something like blanched broccoli and steamed greens are perfect. A nice simple green salad also works pretty well as a side dish.
Leftover Stroganoff
This dish reheats surprisingly well so if you find yourself needing a quick and easy lunch, then the leftovers of this dish work perfectly well.
There isn't much else that you can do with leftover stroganoff except for heating it back up. I recommend that you store it in the fridge and not freeze it. It should last for a few days in the refrigerator.
If you want to see how to do this delicious beef stroganoff recipe in the slow cooker, then be sure to check out the video below. It will take you through everything there is to preparing and cooking this tasty dinner dish.
Slow Cooker Beef Stroganoff Recipe
Ingredients
500 g (1.1 lb) chuck or rump beef, cut into cubes
1 Tbsp sweet paprika
1 onion, diced
2 tsp garlic, crushed
500 g (1.1 lb) mushrooms, halved
2 Tbsp tomato paste
1 Tbsp Worcestershire sauce
1 cup beef stock
Thickener
4 Tbsp sour cream
2 Tbsp cornstarch
Instructions
In a bowl, coat the beef with paprika and a pinch of salt & pepper.
In a frypan over high heat, quickly sear the meat, so it's slightly browned.
Once that's done, add to a slow cooker, the beef, onion, garlic, mushrooms, tomato paste, Worcestershire sauce, and the beef stock.
Cook on low for 8 hours.
Lastly, combine the sour cream and the cornstarch. Once combined, add this to the slow cooker and stir in. Allow to cook for a further 15 minutes.
Season with salt & pepper.
Serve & Enjoy
Recipe Tips
If you don't have any beef stock around, then this can be replaced with water instead. You may find that you will need to add a bit more seasoning at the end of cooking.
Adding the sour cream at the end will help stop the sauce from splitting throughout the super-long cook time.
The sour cream and cornstarch mixture should be enough to thicken the sauce to the right consistency. If you feel like it needs more, then just mix some more cornstarch with water or sour cream. Adding powdered cornstarch straight into the sauce may cause it to go lumpy.
If you prefer a heavier creamier stroganoff, then you can add some cream cheese into the mix as well. I would only add about 100g (4 oz) at the same time as the sour cream. It just comes down to personal preference.
Should you find that you're running low on time, you can skip frying the beef. Just add straight into the slow cooker, you may notice the beef will not be as tender and flavorsome.
Turn the slow cooker to high and reduce the cooking time to just four hours if you need it sooner rather than later.
Note: I use a 5.5L (6 Quart) slow cooker for all the recipes that I have on this website unless specified. If you have a smaller or larger slow cooker, then you might need to adjust the ingredients.
Nutrition Information
Serving Size: 243g (8.6 oz)
Servings Per Recipe: 6
Calories Per Serving: 218
Saturated Fat: 3.1g
Trans Fat: 0g
Dietary Fiber: 2g
Sugars: 3.2g
Cholesterol: 78mg
Sodium: 226mg
Protein: 29.3g
The information above is an estimate generated by an online nutrition calculator.
Other Beef Recipes to Try
If you are looking for other amazing beef dishes to do in the slow cooker, then you should check out the delicious beef goulash. Much like this dish, the result will leave you with amazingly tender pieces of beef. A goulash, however, is more like a stew than a pasta dish.
A variation on this recipe is to use chicken instead. Do not worry about it tasting similar, as the chicken adds a whole different flavor profile. It is a delicious variation, especially if you are not a huge fan of beef.
If you have anything that you would like to share about this slow cooker beef stroganoff recipe such as variations, feedback or anything else, then please don't hesitate to leave a comment below.