This slow cooker honey mustard chicken is a delicious dinner dish that can be quickly prepared. It takes four to six hours to cook, and the result is absolutely fantastic.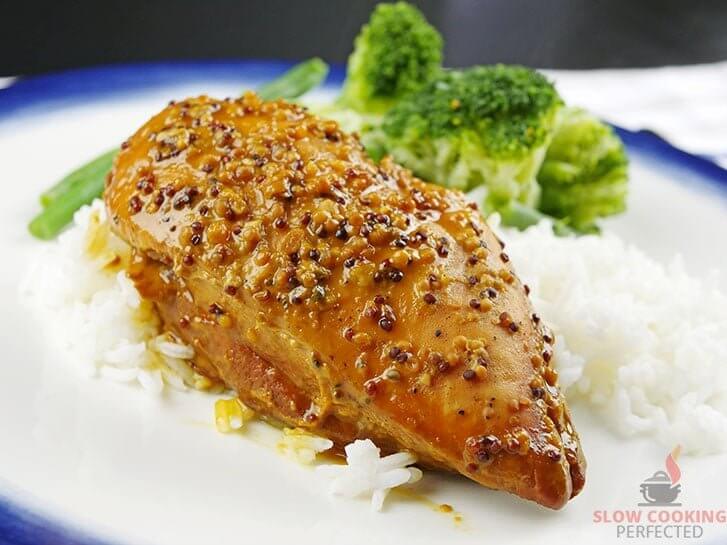 The chicken cooks to be loaded with the delicious flavors of the honey and mustard sauce. The sauce is a delightful blend of mustards, honey, tabasco, and a touch of garlic. It is a meal that will have you going back for seconds.
You will get four serves out of a single batch of this recipe, so if you need to feed more, then you will need to double or triple the recipe. Some extra side dishes will help feed more people.
Make sure you keep the leftovers as they will reheat nicely. Just store in an airtight container in the fridge and then heat in a frypan or microwave.
Tweaking the Recipe
Below are some ideas on how you can tweak the recipe so that it is more to your liking.
Shredding the chicken is an excellent option if you want to coat the chicken with as much sauce as possible. It is the perfect tweak if you are looking to use this for sandwich meat.
More garlic will please anyone who loves a good kick of garlic in their food. Do not be afraid to double the amount that is specified in the recipe.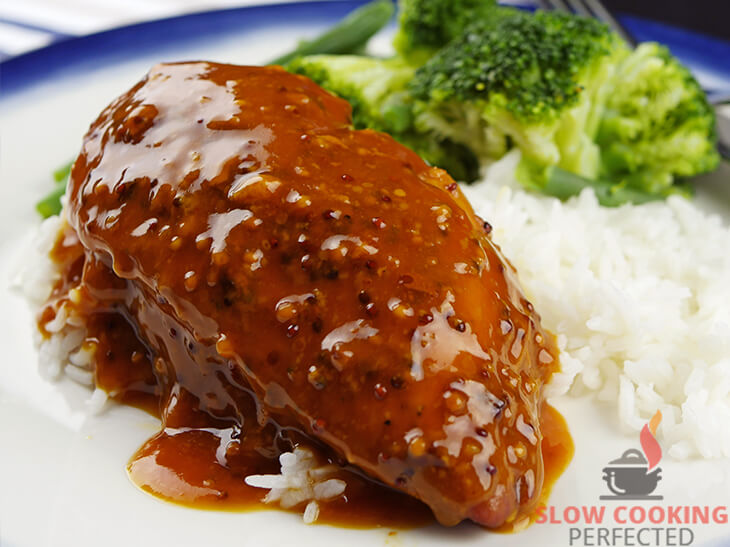 Chicken thigh is an excellent alternative to chicken breast. You could also use chicken wings or drumsticks if that is what you want to use. Each cut of chicken has its own pros and cons, I prefer boneless chicken thigh or breast.
If you do not have the time to cook this in the slow cooker, you can always bake the honey mustard chicken. You can work out the correct timings by using a conversion chart for slow cooker times.
What to Serve with Honey Mustard Chicken
As you can tell in the photos, I served the chicken with some steamed rice and blanched green vegetables. It is certainly a delicious combination. I recommend cooking the rice in a rice cooker for the best results.
Mashed Potatoes is an excellent alternative to steamed rice. I like to make mashed potatoes in the slow cooker whenever I need to cook for a crowd. Alternatively, the stovetop method will also work perfectly.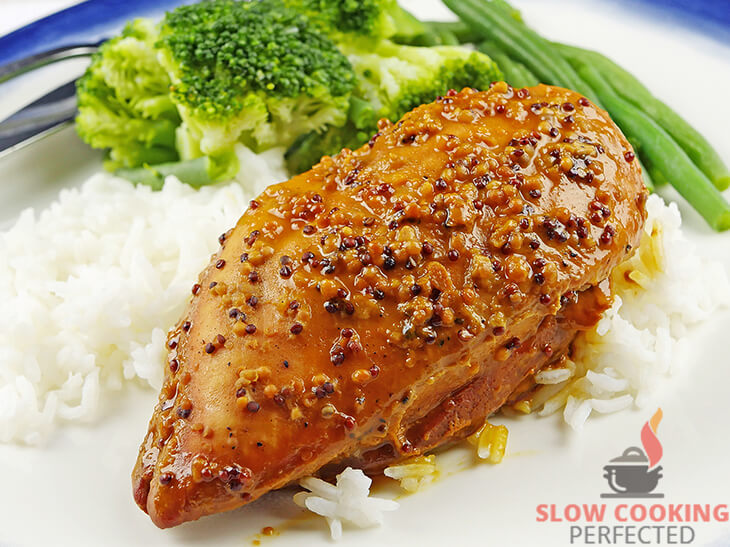 A combination that I love is some steak fries and a simple green salad. If you want something other than steak fries, you could do some cheesy potatoes or some herby baby potatoes. Both options are excellent.
My last idea is to serve the chicken alongside some delicious fried rice. I love to do classic fried rice with some scrambled eggs, ham, baby corn, and a range of other ingredients. Feel free to experiment a little.
If you want to see how to make honey mustard chicken in the slow cooker, then be sure to check out the video below. Alternatively, there is a full written recipe immediately beneath the video.
Slow Cooker Honey Mustard Chicken Recipe
Ingredients
4 chicken breasts
1 tsp tabasco
1 tsp garlic, crushed
½ cup honey
¼ cup whole-grain mustard
¼ cup Dijon mustard
Thickener
2 Tbsp water
2 Tbsp cornstarch
Instructions
In a jug, mix together the tabasco, garlic, honey, Dijon and whole-grain mustard.
In a slow cooker, add the chicken breasts and pour the honey mustard sauce over the top.
Cook for 4-6 hours on low.
In a small bowl, mix the cornstarch and water until it forms a paste.
Remove the chicken breasts and stir in the cornstarch mixture.
Return the chicken breasts to the slow cooker. Cook on high for 15-30 minutes or until the sauce has thickened.
Serve & Enjoy.
Recipe Tips
As I mentioned above, you can shred the chicken instead. Shredded chicken is perfect if you want to use it as sandwich meat, with nachos, in tacos, and much more.
The whole-grain mustard can be replaced with Dijon mustard or something similar.
Thickening the sauce is optional, but you may find that it is a little too runny without a thickener.
Note: I use a 5.5L (6 Quart) slow cooker for all the recipes that I have on this website unless specified. If you have a smaller or larger slow cooker, then you might need to adjust the ingredients.
Nutrition Information
Serving Size: 329g (11.6 oz)
Servings Per Recipe: 4
Calories Per Serving: 641
Saturated Fat: 5.1g
Trans Fat: 0g
Total Carbohydrate: 40.6g
Dietary Fiber: 0.7g
Sugars: 34.9g
Cholesterol: 223mg
Sodium: 470mg
Protein: 73.2g
The information above is an estimate generated by an online nutrition calculator.
More Slow Cooker Recipes
There are a ton of other slow cooker chicken dishes that you should try.
Something like the honey garlic chicken recipe might interest you if you are a fan of this dish. There are just so many dishes that you can easily adapt to the slow cooker.
If you love this dish, then I reckon you will also love the sesame chicken. It has an incredible sauce made up of soy sauce, honey, ketchup, rice vinegar, and more. I highly recommend giving it a try.
I hope that this slow cooker honey mustard chicken cooks to be as lovely as it did for me. If you have a variation, tips, feedback, or something else that you would like to say, then please do not hesitate to leave a comment below.