If you're after a slow cooker tomato chutney that tastes as good as it looks, then this is the recipe for you.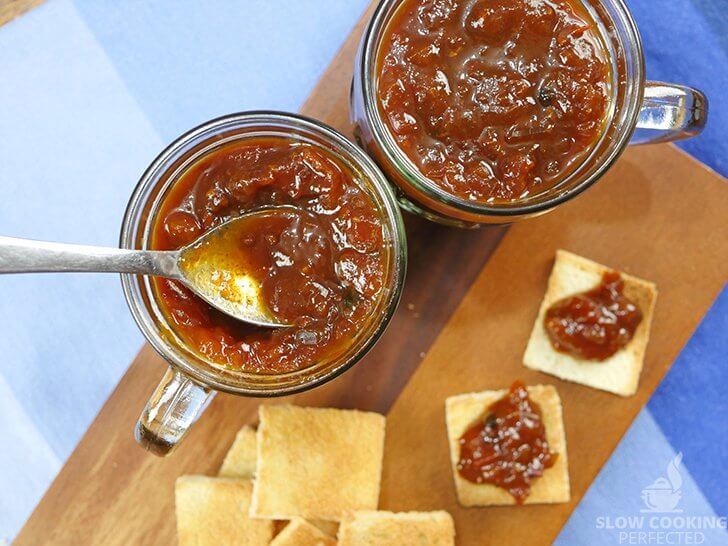 This chutney has some incredibly rich flavors. There is a sweetness that comes from the brown sugar and apples. You get a tartness from the tomatoes and the two types of vinegar. Finally, a bit of spice that comes from the curry powder, cayenne pepper, and the peppercorns. Combined, it's an amazing tomato relish.
The best part of making sauces at home is that you can alter the ingredients so that it's personalized for your taste buds. For example, if you love more spice, then add more cayenne pepper. Alternatively, if you like it sweet, then add more sugar.
You will get roughly sixty serves out of a single batch of this recipe. I assume that a single-serve is only sixty grams or two ounces. If you require more, then you can easily double or triple the recipe.
What to Serve with Tomato Chutney
There are quite a few things that you can serve with this delicious condiment. I mention just a couple of ideas right below.
I love having this tomato chutney with some good beef sausages and delicious mashed potato on the side. It's also great with a whole range of other foods such as roast beef, cheeses, deli meats, pizzas, and so much more.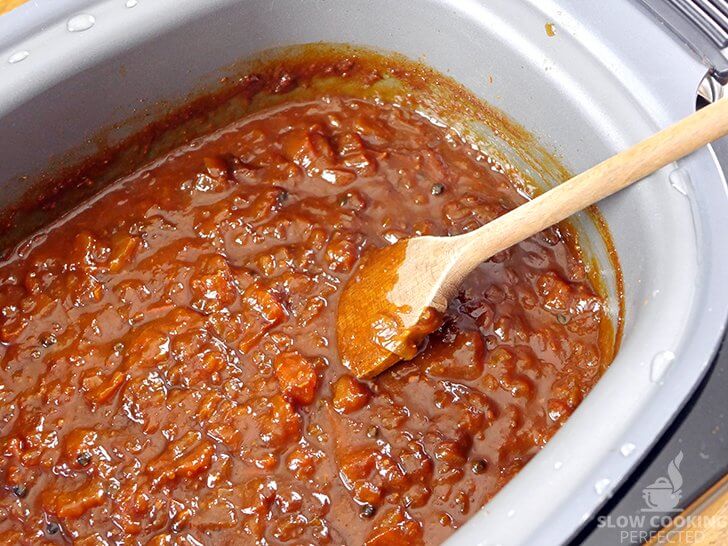 Chutney is also an awesome condiment to have on the table ready to serve with a delicious beef roast. You could also make some side dishes in the slow cooker to go with the roast, such as herby baby potatoes.
If you have any suggestions on what to serve with this delicious relish, then be sure to leave a comment at the bottom of this page.
Storing the Chutney
This chutney will keep for a few weeks covered and stored in the fridge. If you want it to last longer, then you will need to look at storing the chutney correctly.
To store the chutney correctly, you will need to look at storing it in a jar and sealing it. It's quite an involved process, but it will help the chutney last for quite some time.
Videos are great for showing how to make a recipe. Therefore, I have included one below that shows you how to make tomato chutney in the slow cooker. If you like the video, then be sure to subscribe to our YouTube to stay up to date.
Slow Cooker Tomato Relish Recipe
Ingredients
Relish
2 kg (4.4 lb) tomatoes, chopped
2 green apples, peeled, chopped
2 onions, diced
2 Tbsp garlic, minced
½ cup malt vinegar
½ cup apple cider vinegar
500 g (1.1 lb) brown sugar
1 Tbsp mustard powder
1 Tbsp curry powder
1 tsp cayenne pepper
2 tsp whole black peppercorns
2 tsp salt
Thickener
1 Tbsp cornstarch
2 Tbsp water
Instructions
Add all the ingredients into a slow cooker except for the cornstarch and water.
Cook on low for 8 hours.
For the next 4 hours, set the slow cooker to high and leave the lid slightly askew to allow the liquid to reduce.
The liquid should be reduced after 4 hours. To thicken it slightly, mix the cornstarch with water to form a paste. Mix the cornstarch paste into the slow cooker.
Cook for 15 more minutes or until thickened.
Allow to cool before storing in sterile glass jars or something similar.
Recipe Tips
Some raisins can be added to the chutney. I recommend adding 150g (5.3 oz) at the same time as all the other ingredients.
If you don't like even the tiniest bit of heat in your food, then I recommend dropping the cayenne pepper and the black peppercorns. Replace the peppercorns for a bit of ground pepper.
Leaving out the cornstarch will leave the chutney a bit runny, so I recommend that you do add it.
Any type of apple will do just fine, but for the best results, I recommend a green variety such as granny smith.
You can leave the tomato skins on, or you can remove them. Removing the skins involves a fair bit of work but will leave you with skinless tomato chutney. To remove the skins, cut a cross at the top of the tomatoes and blanch in boiling water. Immediately place in some ice-cold water, and the skins should peel off easily.
Note: I use a 5.5L (6 Quart) slow cooker for all the recipes that I have on this website unless specified. If you have a smaller or larger slow cooker, then you might need to adjust the ingredients.
Nutrition Information
Serving Size: 60g (2.1 oz)
Servings Per Recipe: 60
Calories Per Serving: 0.1
Amount Per Serving
Saturated Fat: 0g
Trans Fat: 0g
Dietary Fiber: 1g
Sugars: 10g
Cholesterol: 0mg
Sodium: 83mg
Protein: 0g
The information above is an estimate generated by an online nutrition calculator.
More Slow Cooker Recipes
There are plenty of slow cooker sauces that you can prepare and cook. It's a great way of making a sauce as the long cooking time allows for all the flavors to develop.
A sauce I recommend making in the slow cooker is some applesauce. It goes great on some bread or with some roast pork. I totally recommend trying it out if you love some great applesauce.
The BBQ sauce is another sauce that I highly recommend making in the slow cooker. You can control the flavors and ingredients used in the sauce. It's also gluten-free, so perfect if you can't eat anything with gluten in it.
I hope that you enjoy this slow cooker tomato chutney as much as I did. If you have variations, tips, or just some feedback, then please don't hesitate to leave a comment below.