Back to Recipe
Print Recipe
Slow Cooker Tomato Relish Recipe
---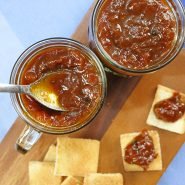 Prep time: 15 Minutes
Cook time: 12 Hours & 30 Minutes
Total time: 12 Hours & 45 Minutes
Serves: 60
Ingredients
Relish
2 kg (4.4 lb) tomatoes, chopped
2 green apples, peeled, chopped
2 onions, diced
2 Tbsp garlic, minced
½ cup malt vinegar
½ cup apple cider vinegar
500 g (1.1 lb) brown sugar
1 Tbsp mustard powder
1 Tbsp curry powder
1 tsp cayenne pepper
2 tsp whole black peppercorns
2 tsp salt
Thickener
1 Tbsp cornstarch
2 Tbsp water
---
Instructions
Add all the ingredients into a slow cooker except for the cornstarch and water.
Cook on low for 8 hours.
For the next 4 hours, set the slow cooker to high and leave the lid slightly askew to allow the liquid to reduce.
The liquid should be reduced after 4 hours. To thicken it slightly, mix the cornstarch with water to form a paste. Mix the cornstarch paste into the slow cooker.
Cook for 15 more minutes or until thickened.
Allow to cool before storing in sterile glass jars or something similar.
---
Recipe Tips
Some raisins can be added to the chutney. I recommend adding 150g (5.3 oz) at the same time as all the other ingredients.
If you don't like even the tiniest bit of heat in your food, then I recommend dropping the cayenne pepper and the black peppercorns. Replace the peppercorns for a bit of ground pepper.
Leaving out the cornstarch will leave the chutney a bit runny, so I recommend that you do add it.
Any type of apple will do just fine, but for the best results, I recommend a green variety such as granny smith.
You can leave the tomato skins on, or you can remove them. Removing the skins involves a fair bit of work but will leave you with skinless tomato chutney. To remove the skins, cut a cross at the top of the tomatoes and blanch in boiling water. Immediately place in some ice-cold water, and the skins should peel off easily.
Did you make this recipe?
We want to see! Tag
@slowcookingperfected
on Instagram or use the hashtag
#slowcookingperfected
so we can find you!
---