This chicken pate is yet another great condiment that you can cook in the slow cooker.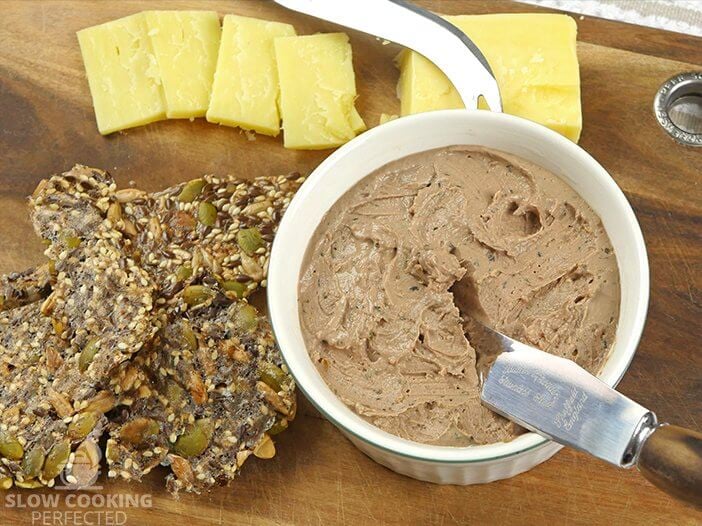 By the time this pate is ready, it will have a lovely chicken flavor backed by a hint of citrus. It is perfect spread across some fresh bread or as part of a platter. Personally, I love to have it on some toast for breakfast.
Using a slow cooker will give you a much more vibrant and tastier final product than doing this recipe over the stove. The long cooking time helps all the flavors to develop and become more concentrated.
One thing you need to be aware of is how much pate this recipe will make. Typically, we share ours with friends and family. If you are just cooking for yourself, then you may want to quarter the recipe.
You should find that the chicken liver pate will keep for a couple of weeks in the refrigerator. It is essential to keep it tightly wrapped to avoid having it spoiling faster than usual.
Serving Ideas for Chicken Pate
This pate is perfect as part of a party platter consisting of some cheeses, chutney, deli goods, and some nice crackers. Below are some other dishes that will go great with this pate.
If you are doing a platter, then I suggest that you take a look at some of the delicious dips you can make. For example, the buffalo chicken dip is loaded with flavor and is well worth checking out.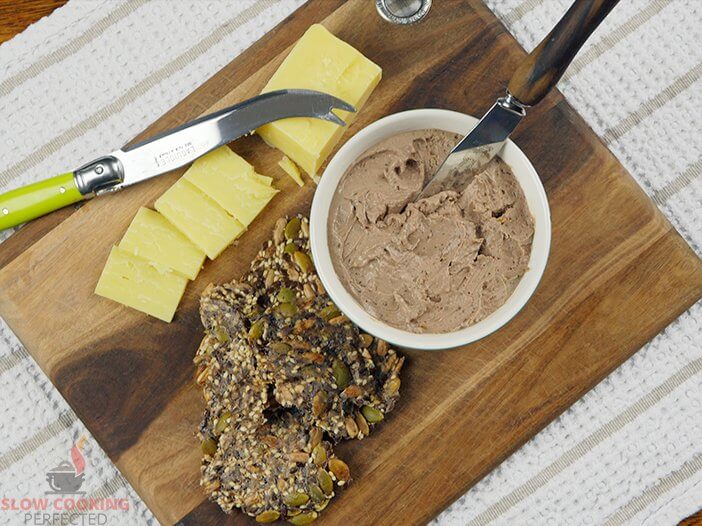 Another cheesy dish that will go very nicely as an accompaniment to this pate is baked brie. You will need to bake it in the oven, but it is certainly worth it.
As I mentioned earlier, I love to have this chicken pate on some bread. Personally, I think it is best if the bread is toasted. However, fresh bread will also work very nicely.
You can check out the video on how to make this delicious chicken pate in the slow cooker right below. Alternatively, you can find the full written recipe right underneath the video.
Slow Cooker Chicken Pate Recipe
Ingredients
1 onion, diced
1 Tbsp garlic, crushed
1.5 kg (3.3 lb) chicken livers
2 Tbsp thyme
2 Tbsp dill
1 Tbsp orange rind
½ cup orange juice
½ cup tawny port wine
400 g (14.1 oz) unsalted butter, cubed
Instructions
In a slow cooker, add the onion, garlic, chicken livers, thyme, dill, orange rind, orange juice, and port wine. Stir to combine.
Cook on low for 6 hours.
Turn to high and leave the lid slightly ajar for 1 hour.
Transfer the contents of the slow cooker to a food processor. Blend, while gradually adding the butter. Blend until smooth.
Season with salt and pepper.
Add to ramekins leaving a 2cm (0.7 in) gap, allow to cool.
Seal the ramekins with a layer of melted butter or by using some plastic wrap.
Place into a refrigerator.
Serve & enjoy.
Recipe Tips
I do not suggest altering the recipe too much as it might have an impact on the result. For example, if you add too many liquids, then the pate will never set properly.
Once you have finished blending the pate mixture, you will notice it is quite runny. Do not stress as once it starts to cool, it will thicken quite a bit.
Chicken livers are typically available at your local butcher. You may need to ask if you cannot see them on display.
You can use other types of liver. For example, duck liver is a pretty good substitute for chicken liver.
If you do not have port wine, then you can substitute it with another sweet wine. Such as a late-harvest Riesling, Chardonnay, or a dessert white wine.
Leaving the lid slightly ajar is not super important, but it helps reduce the liquid slightly.
Note: I use a 5.5L (6 Quart) slow cooker for all the recipes that I have on this website unless specified. If you have a smaller or larger slow cooker, then you might need to adjust the ingredients.
Nutrition Information
Serving Size: 38g (1.3 oz)
Servings Per Recipe: 60
Calories Per Serving: 67
Amount Per Serving
Saturated Fat: 2.7g
Trans Fat: 0g
Dietary Fiber: 0g
Sugars: 0g
Cholesterol: 93mg
Sodium: 20mg
Protein: 5g
The information above is an estimate generated by an online nutrition calculator.
More Slow Cooker Condiment Recipes
There are so many different condiments and sauces that you can do in the slow cooker. If you are looking for more to do, then be sure to check out all our condiment recipes.
One I highly suggest trying is the tomato chutney. It has all the flavors that are in a good chutney, including a bunch of spices. I love keeping some chutney in the fridge as it is great to go with some cheese, pate, and crackers.
I have also got to recommend the slow-cooked BBQ sauce. The sauce turns out amazingly good after a few hours of cooking, and the best thing is it is completely homemade.
I hope that you like this slow cooker chicken liver pate as much as I do. If you have some feedback, then please don't hesitate to leave a comment below.