You need to try this slow cooker buffalo chicken dip as it's so incredibly delicious. Even better is that it's so easy to make.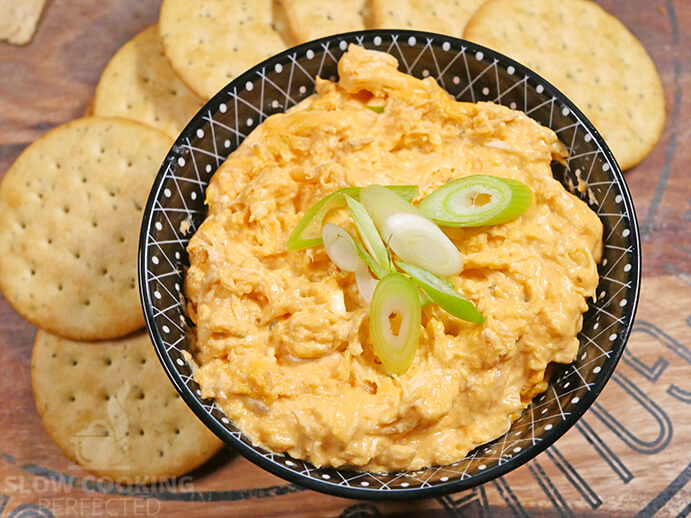 This dip is an absolute classic and a must-have for a regular game day or the day of the Super Bowl. You can leave the slow cooker on the warm setting to keep the dip nice and cheesy. It's the perfect hot dip to make for your next party.
One of the best things about this recipe is how easy it is to quickly make. It helps takes the stress out of preparing lots of food, perfect if you're cooking for a crowd.
You can also make some shredded buffalo chicken in the slow cooker. It's perfect if you want some delicious chicken to use in your next sandwich or if you want a tasty topping on pizza.
Foods for Dipping
There are plenty of different foods that you can use to dip into this classic dip.
For example, tortilla chips or corn chips work perfectly. You can also use carrot sticks, savory biscuits, celery sticks, and so much more. Basically, if you can dip it, it will be delicious.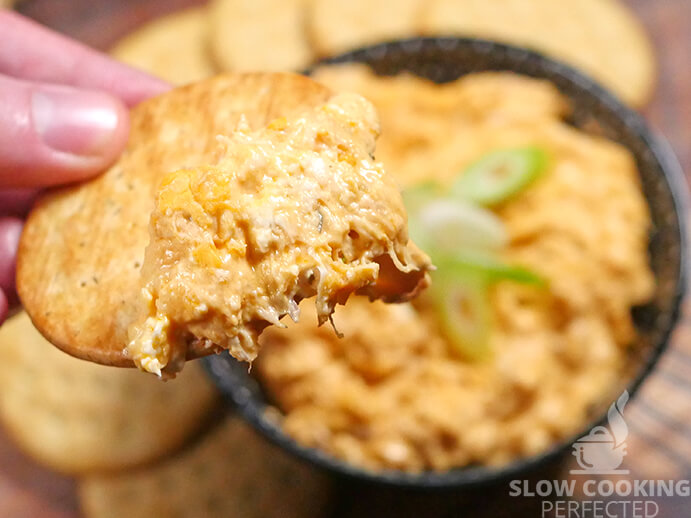 Not so much for dipping, but you can add this tasty dip over your next hot dog for a cheesy buffalo chicken hot dog. It's an absolutely delicious combination that I highly recommend that you try.
Variations to Try
There are a few changes that you can make to this tasty dip that might make it more appealing to yourself and your friends and family. I will list just a few changes that you can make.
You can replace roughly a quarter to a half of the cheddar cheese with some blue cheese or sprinkle some over the top. This addition will bring a whole new range of amazing flavors. I only suggest doing this if you're a fan of blue cheese.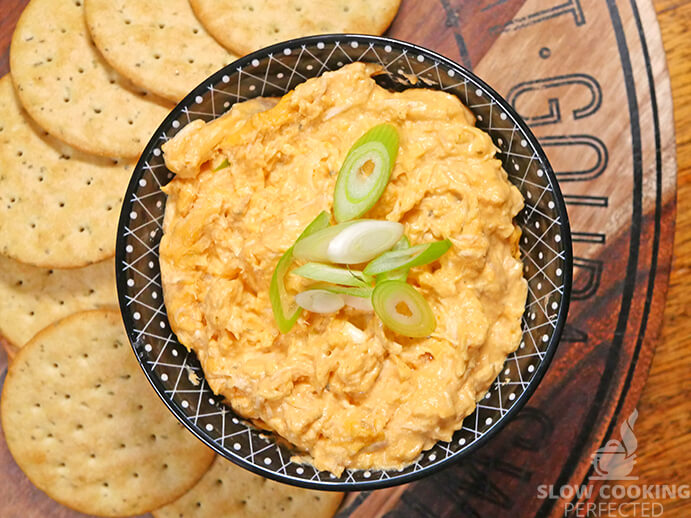 I use shredded rotisserie chicken in this dip, but you can use canned chicken instead. If you decide to use canned, make sure you get it without flavorings as they will not mix well with the flavors of the dip.
Another ingredient that you can try adding is some crispy bacon. The bacon will add not only a different flavor but also a different texture. I haven't tried it, but it certainly sounds like it will be a winner.
If you alter any of the other buffalo chicken dip ingredients, then be sure to let us know if they work any better. I love hearing your creations and unique spins on these recipes.
Buffalo Chicken Dip Leftovers
There are plenty of options for any leftovers of this delicious dip, so don't throw it out.
A couple of food recommendations I have seen include using it on burgers or mixing it in with mac n cheese. One that sounds delicious is stuffing the mixture into jalapenos.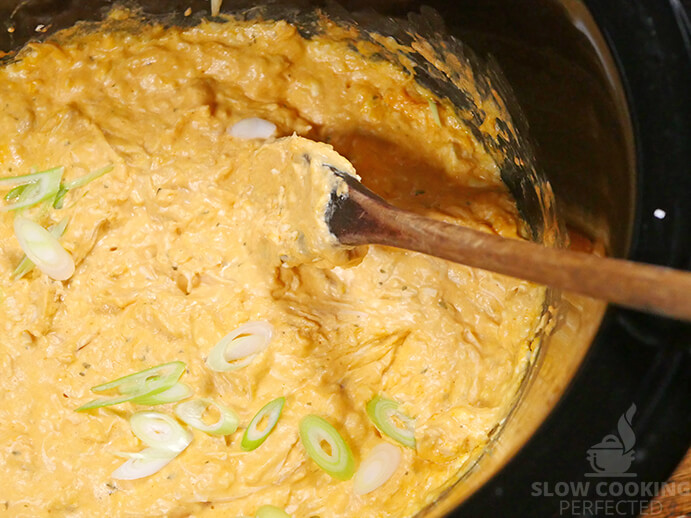 You can also use the leftover chicken as a topping on some nachos or even on a pizza. The cheese will become incredibly melty and delicious.
If you're ready to make this buffalo chicken dip in the slow cooker, then be sure to check out the video below. There is also a very handy written recipe right underneath the video, and it's perfect if video isn't your thing.
Slow Cooker Buffalo Chicken Dip Recipe
Ingredients
225 g (7.9 oz) cream cheese
225 g (7.9 oz) cheddar cheese, grated
2 cups cooked chicken, shredded
2 tsp garlic, crushed
½ cup ranch dressing
½ cup buffalo wing sauce
Optional
Instructions
In a slow cooker, add all the ingredients except for the scallions and stir to combine.
Cook on low for 2 hours, stir every 30 minutes for the best results.
Season to taste with salt and pepper.
Sprinkle with sliced scallions.
Serve & Enjoy.
Recipe Tips
If you love blue cheese, then you can easily alter this recipe. Replace half of the cheddar cheese with your favorite blue cheese. It's a different taste but perfect if you're a fan of blue cheese.
There are also other cheeses that you can use instead of cheddar cheese. Feel free to experiment with different combinations. Let us know if you come up with something great.
You can make your own ranch dressing if you don't have any. It's super easy and just uses ingredients that you typically have in your cupboards.
If you don't have any cooked chicken, then you can always cook some in the slow cooker. I highly recommend the taco chicken for the best flavors.
Double or triple this recipe if you need to feed a lot of people. Just keep in mind that you might need a bigger crock-pot or slow cooker.
You can use raw chicken in this recipe, but you will need to extend the cooking time by four hours. You will also need to shred the chicken and mix it back through the cheese.
Note: I use a 5.5L (6 Quart) slow cooker for all the recipes that I have on this website unless specified. If you have a smaller or larger slow cooker, then you might need to adjust the ingredients.
Nutrition Information
Serving Size: 129g (4.6 oz)
Servings Per Recipe: 6
Calories Per Serving: 360
Amount Per Serving
Saturated Fat: 12.3g
Trans Fat: 0.4g
Dietary Fiber: 0g
Sugars: 8g
Cholesterol: 90mg
Sodium: 621mg
Protein: 18g
The information above is an estimate generated by an online nutrition calculator.
Other Delicious Recipes
Another incredibly addictive chicken recipe that you need to try is the crack chicken dip. It's got a delicious blend of cream cheese, bacon, cheese, and ranch dressing.
If you're looking for more dips, then you have got to try the chili con queso dip. It's cheesy, spicy and perfect to have alongside this dip. Especially if you need to feed a crowd.
That's all I have to say about this slow cooker buffalo chicken dip. If you have any thoughts, tips or anything else then please don't hesitate to leave a comment below.