This slow cooker cheese and bacon dip is a hearty and delicious warm dip. It's perfect for events, parties, and much so more.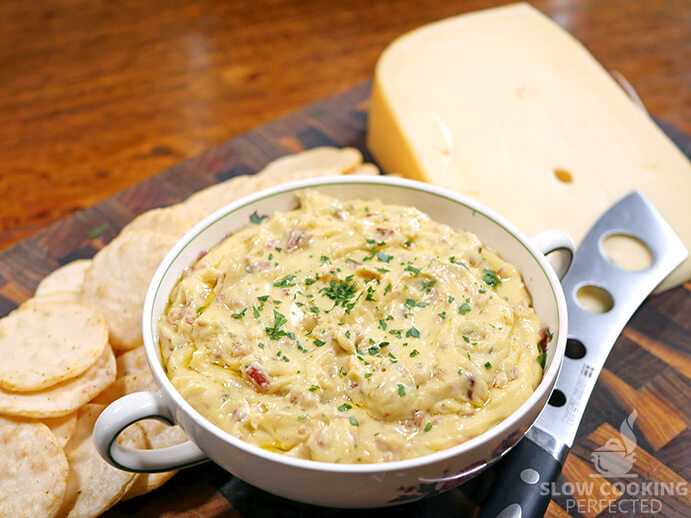 Cheese and bacon are two of my favorite ingredients, so this dip appeals to me straight away. It's a must-have at any party or event.
This dip has strong flavors from the bacon and French onion soup mix. It's also very cheesy, so it's very satisfying when you go to dip your favorite food into the cheesy bacon mixture.
Making this dip in a slow cooker is perfect as you can keep it warm over a longer period. Perfect if you're having a bit of a party and want the dip to remain edible for quite some time. This dip will harden as it cools, so keeping it warm is a must.
Foods to Dip into this Cheesy Bacon Dip
This dip will go great with most types of food that are great for dipping. I will quickly just go through just some of the more popular foods.
Some store-bought or homemade tortilla chips are perfect for this cheesy dip. Alternatively, some savory crackers such as Ritz are also fantastic. These both aren't the healthiest choices, but they complement this dip perfectly.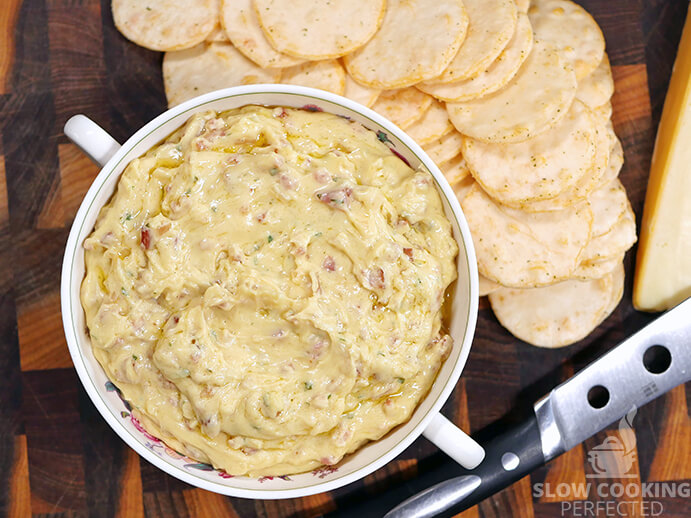 For some healthier options, you can try cutting some carrots or celery into sticks.
The dip is packed with flavor, so it doesn't matter what you have with it as it won't be easily overpowered. Healthy is always better, but crackers and chips are a great combination with dips like this.
If you want even more cheese, then you can try making fried cheese rolls. They're perfect for dipping and pretty easy to quickly make.
If you have any of your own suggestions, then be sure to let us know.
What to do with any Leftovers
Sometimes it's hard to think of what to do with leftover dip especially when it's a warm one like this dip.
The easiest and best way to enjoy the leftover dip is to reheat and eat. You may find the dip will become a bit oily from the bacon and the cream, so simply drain the oil off.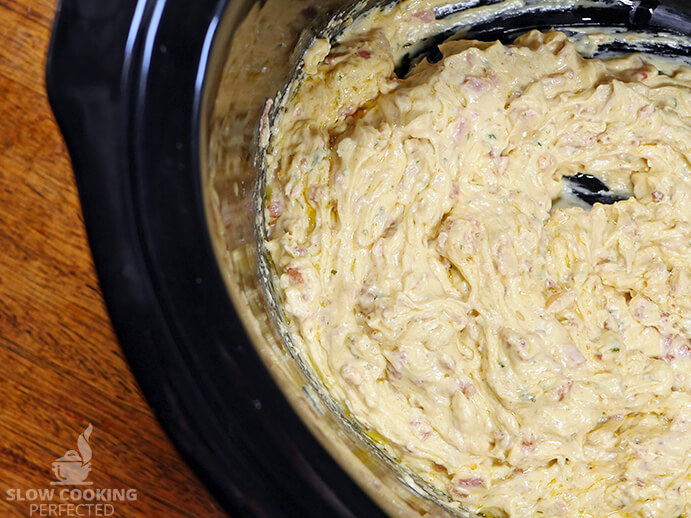 Alternatively, you can mix the cheesy bacon dip into another recipe. For example, it is excellent when mixed in with some mac and cheese. It's also a great way to add more flavor to another dish quickly.
Below you can find both the written recipe and an excellent short video that takes you through the process of making this dip.
Slow Cooker Cheese and Bacon Dip Recipe
Ingredients
250 g (8.8 oz) cream cheese
250 g (8.8 oz) cheddar cheese, shredded
250 ml (8.5 fl oz) cream
30 g (1.1 oz) French onion soup mix
200 g (7.1 oz) crispy bacon, diced
1 Tbsp parsley, chopped
Instructions
Add all ingredients to a slow cooker.
Cook on low for 2 hours and stir every 30 minutes for the best results.
Season with salt & pepper.
Serve & Enjoy.
Recipe Tips
To ensure that this is gluten-free check the ingredients of the French onion soup mix.
You don't have to add the French onion soup mix, but I do find that it adds a lot more flavor. The same can also be said about the parsley.
The cream can be replaced with some sour cream instead. Both will work just as well.
You may find that this dip will produce a fair bit of oil. Simply skim it off the top as it cooks.
Changing the cheddar cheese is a great way to alter the flavor of this dip quickly.
I highly recommend that you ensure the bacon is crispy before adding it to the slow cooker. Also, try to ensure there is little to no oil left on the bacon. Patting it down is great for removing excess oil.
Note: I use a 5.5L (6 Quart) slow cooker for all the recipes that I have on this website unless specified. If you have a smaller or larger slow cooker, then you might need to adjust the ingredients.
Nutrition Information
Serving Size: 163g (5.7 oz)
Servings Per Recipe: 6
Calories Per Serving: 466
Amount Per Serving
Saturated Fat: 18g
Trans Fat: 0.1g
Dietary Fiber: 0g
Sugars: 6g
Cholesterol: 112mg
Sodium: 1760mg
Protein: 22g
The information above is an estimate generated by an online nutrition calculator.
More Dips Worth Making
There are plenty more dips that you can make in the slow cooker. More dips are perfect if you need to feed a large crowd and have multiple slow cookers. Here are some of my favorites that you need to try.
The buffalo chicken dip is hugely popular party food and is so easy to make. It's rich, cheesy, and packed full of flavor. It's so hard to stop eating this so be prepared to loosen the belt.
One of my favorites is the chili con queso dip cooked in the slow cooker. It's a creamy and cheesy dip that's packed with flavor from the ground beef and tomato salsa. It has a slight bit of spice thanks to the salsa and jalapeno peppers.
I certainly could eat this slow cooker cheese and bacon dip again, so I can highly recommend that you give it a try. If you have some feedback, tips, or anything else, then please don't hesitate to leave a comment below.