These slow cooker ham and cheese sandwiches are an absolute delight.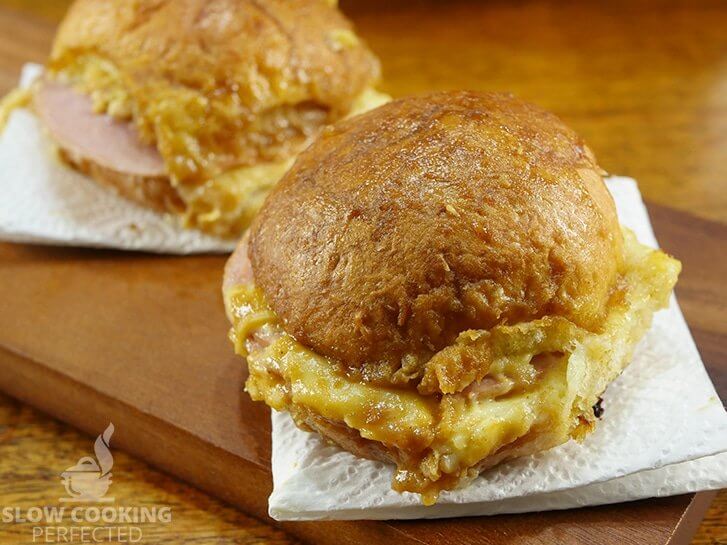 The sandwiches are full of gooey cheese, delicious smoked ham, and a rich mustard sauce. All these flavors will have you going back for seconds.
The sauce is made of a delicious combination of ingredients such as Dijon mustard, brown sugar, onion powder, and a generous amount of melted butter.
This recipe is yet another great easy slow cooker dish that you can do with minimal effort. It's the perfect party dish where people can grab themselves a warm cheesy sandwich right out of the slow cooker.
Personalizing these Sandwiches
There are many tweaks that you can do to this recipe, such as changing the ham for some chicken loaf. You could even try using some slow-cooked meats such as crack chicken or pulled pork.
You can also try using a different type of cheese such as provolone, cheddar, or even mozzarella. By the way, if you love cheese, try the cheesy bacon potatoes.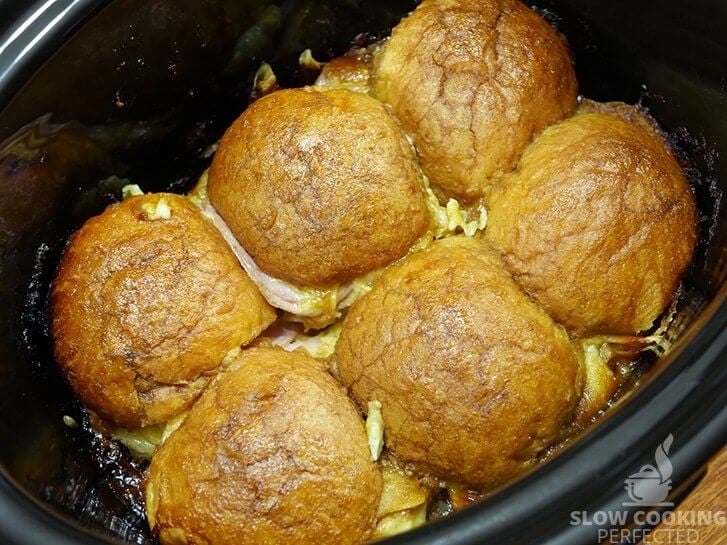 I am a huge fan of brioche rolls, so I reckon they will be an excellent bread to use instead of the regular bread rolls. A brioche roll will give you a sweeter and tastier sandwich.
There are just so many different combinations to try. So, if you have any suggestions, then be sure to leave a comment at the bottom of this page.
Storing the Leftovers
You can keep any leftover sandwiches in the fridge for later. They should last about three days in the refrigerator before needing to be discarded.
I recommend heating the leftover slow cooker ham and cheese sandwiches under a broiler or in a sandwich press. Microwaving the sandwiches will make them quite soggy, so I don't recommend it.
If you're interested, you can check out the video for making sandwiches in the slow cooker right below. Alternatively, you will be able to find the full recipe right underneath the video.
Slow Cooker Ham & Cheese Sandwiches Recipe
Ingredients
6 bread rolls
250 g (8.8 oz) ham, sliced
250 g (8.8 oz) cheese slices
115 g (4.1 oz) unsalted butter, melted
3 Tbsp Worcestershire sauce
2 Tbsp Dijon mustard
2 Tbsp brown sugar
½ tsp onion powder
Instructions
Cut the bread rolls in half and place the bottom halves in the slow cooker.
Add a layer of cheese slices on top of the bread rolls. Next, layer the ham across the cheese then finish off with another layer of cheese.
Place the top halves of the bread rolls on top of each of the bottom halves.
In a bowl, mix the melted butter, Worcestershire sauce, Dijon mustard, brown sugar, and the onion powder together.
Evenly pour the liquid over the top of the sandwiches.
Cook on high for 1 to 2 hours or until the cheese is melted.
Serve & Enjoy.
Recipe Tips
If you want the sandwiches a little crispier, then you can place them in a broiler for a couple of minutes. This method will get the top nice and crisp.
You can keep these sandwiches warm by setting the slow cooker to the warm setting. Perfect if you don't think all the sandwiches will get eaten straight away.
The cheese that you use is entirely up to you. I prefer cheddar cheese, but other types such as Swiss or provolone will work just as well.
If you have some leftover sloppy joes, you can use this instead of the ham. It will make quite a delicious sandwich.
Note: I use a 5.5L (6 Quart) slow cooker for all the recipes that I have on this website unless specified. If you have a smaller or larger slow cooker, then you might need to adjust the ingredients.
Nutrition Information
Serving Size: 165g (5.8 oz)
Servings Per Recipe: 6
Calories Per Serving: 514
Amount Per Serving
Saturated Fat: 18.9g
Trans Fat: 0.6g
Dietary Fiber: 2g
Sugars: 10g
Cholesterol: 103mg
Sodium: 860mg
Protein: 23g
The information above is an estimate generated by an online nutrition calculator.
More Slow Cooker Recipes
There are tons of other meals that you can do in the slow cooker, such as sausage and peppers. These sausages go great in a bread roll on their own or with a bit of cheese. Certainly, worth a try if you love slow-cooked food.
For something a little less savory, you can always try making a french toast casserole or a bread pudding in the slow cooker. There are plenty of options when it comes to bread dishes in the slow cooker.
I hope that this slow cooker ham and cheese sandwiches work out for you as well as they did for me. If you have any thoughts, tips, or anything else, then please don't hesitate to leave a comment below.