These slow cooker ham hocks are deliciously tender, and the peanut sauce brings the entire dish together.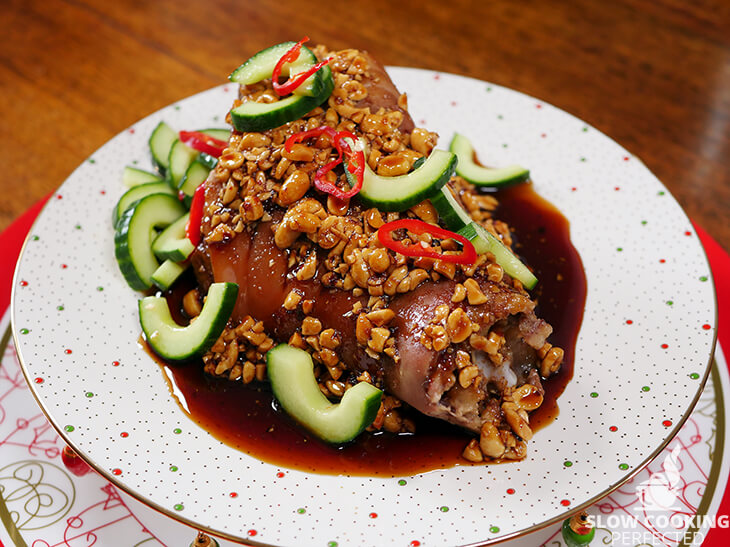 The meat on the ham hocks will be so tender that it will melt in your mouth and have you going back for seconds. The peanut sauce is rich in flavor and matches the pork perfectly. It's a match made in heaven that I highly recommend that you try.
I garnish the ham hocks with a bit of cucumber and chili. They both help balance the flavors of the caramel peanut sauce and ham hocks. I highly recommend trying the same garnish for the best result.
These ham hocks are the perfect meal for your Christmas dinner or lunch. A single batch of this recipe should feed roughly four to six people, but you can easily double the recipe or do some side dishes to feed more.
Side Dishes to have with the Ham Hocks
There are plenty of different side dishes that go great with ham hocks and peanut sauce. Below are just a couple of my suggestions.
A light green salad is excellent alongside this delicious dish. You can experiment with different salads, but I keep to a classic combination of baby spinach, feta, cherry tomatoes, cucumber, and a balsamic dressing.
Some creamy mashed potatoes are super delicious with the ham hock and peanut sauce over the top. It's a match made in heaven, and I highly recommend doing it if you have the time.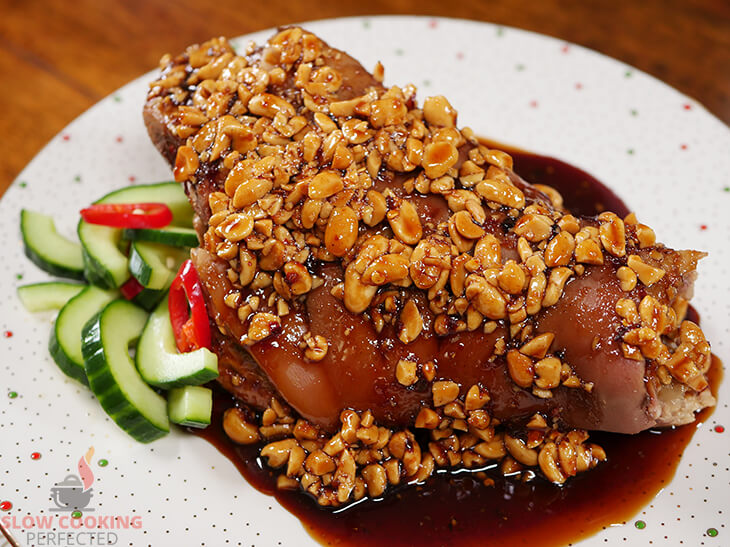 For something a little unhealthier, chips, or even sweet potato fries will work nicely as a side dish. You can also do a salad to go with the chips and ham hocks.
Some steamed rice goes nicely with this dish. However, for something a little healthier, then you can make some cauliflower rice instead.
There is no doubt that there are lots more side dishes that will go great with these ham hocks. If you have a side dish that you think goes nicely with this dish, then be sure to let us know.
Tweaking the Recipe
I love this recipe as it is, but you might be interested in adjusting the ingredients to make it more to your liking. Below are just a couple of suggestions on what you can do to alter the recipe.
You can experiment a little with the type of nuts that you use in the sauce. I use peanuts as I believe it will give you the best tasting sauce. However, you can try using almonds, walnuts, or even hazelnuts. Even a combination of nuts might work nicely.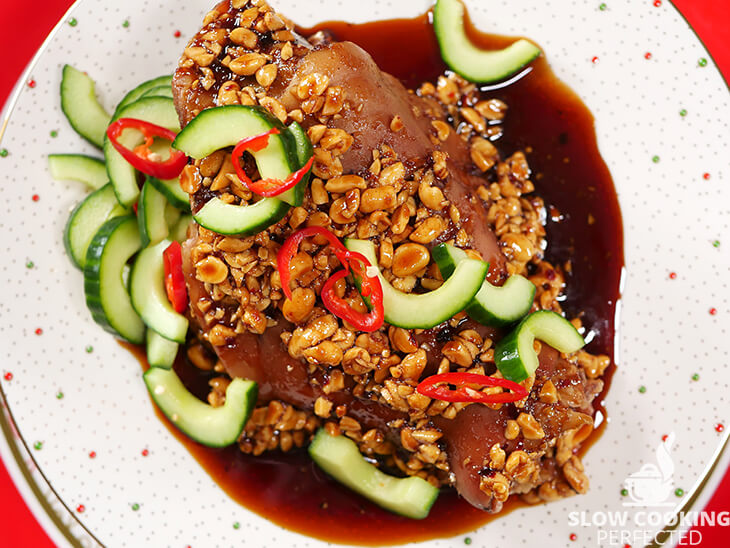 You're able to change the cut of meat that you use in this recipe. I highly recommend using ham hocks for the best result, but other cuts such as pork belly or pork chops will work fine. Feel free to experiment a little.
There are several ingredients that you can swap for fresh alternatives. For example, the chili flakes can be replaced with some sliced red chilies. The brown sugar can be swapped for palm sugar for a more authentic flavor.
If you stumble upon your own favorite tweak, then be sure to let us know. We love hearing the improvements people have made to the recipe.
Leftover Ham
There are many uses for the leftover ham, so be sure to keep the leftovers. You're able to store the ham in either the fridge or freezer. It should last for about three days in the refrigerator or six months in the freezer.
I love to shred the leftover ham and use it in another dish, such as on a pizza. There is so much that you can do, so feel free to experiment a little.
The video below will take you through all the steps on making delicious ham hocks with a peanut sauce in the slow cooker. If you prefer a written recipe, then you can find that immediately underneath the video.
Slow Cooker Ham Hocks with Peanut Sauce Recipe
Ingredients
Ham Hocks
3 tsp garlic, crushed
3 tsp ginger, minced
2 tsp chili flakes
120 ml (4.1 fl oz) fish sauce
1.5 l (1.6 qt) chicken stock
¼ tsp white pepper, ground
2 Tbsp kecap manis
1 Tbsp brown sugar
2 star anise
2 cardamom pods, crushed
1 cinnamon stick
2 kg (4.4 lb) ham hocks
Peanut Sauce
250 g (8.8 oz) brown sugar
2 Tbsp fish sauce
2 tsp ginger, minced
1 tsp chili flakes
½ tsp cinnamon, ground
125 g (4.4 oz) unsalted peanuts, chopped
Instructions
In a slow cooker, add the garlic, ginger, chili flakes, fish sauce, chicken stock, pepper, kecap manis, brown sugar, star anise, cardamom, and cinnamon. Stir to combine.
Add the ham hocks to the slow cooker and cook on low for 6 hours.
Remove the hocks from the slow cooker.
Peanut Sauce
In a pot over high heat, add the brown sugar and fish sauce. Bring to the boil and reduce to a simmer. Cook without stirring for roughly 5 minutes.
Add the ginger, chili flakes, cinnamon, peanuts, and 80ml (2.7 fl oz) of fluid from the slow cooker.
Cook for 5 minutes or until syrupy.
Pour over the ham hocks.
Serve & Enjoy.
Recipe Tips
The brown sugar can be replaced with palm sugar. Both are great, and I only recommend using palm sugar if you have some around.
You can swap the chili flakes for sliced red chilies. If you don't like chili at all, then you can leave it out entirely.
Frying the ham hocks after they have been slow-cooked is an option. By frying the hocks, you will crisp the outside while still maintaining a delicious tender inside.
The ham hocks can be replaced with another cut of pork. However, I recommend sticking to ham hocks for the best outcome.
You're able to reuse the stock mixture, so be sure to keep it. You can store it in the refrigerator for a few days or freeze it for months.
Note: I use a 5.5L (6 Quart) slow cooker for all the recipes that I have on this website unless specified. If you have a smaller or larger slow cooker, then you might need to adjust the ingredients.
Nutrition Information
Serving Size: 293g (10.3 oz)
Servings Per Recipe: 6
Calories Per Serving: 560
Amount Per Serving
Saturated Fat: 5.8g
Trans Fat: 0.1g
Dietary Fiber: 2g
Sugars: 42g
Cholesterol: 125mg
Sodium: 689mg
Protein: 45g
The information above is an estimate generated by an online nutrition calculator.
More Delicious Recipes to Try
There are so many recipes for the slow cooker that you need to try. Below are a couple of recipes that I highly recommend you try if you like this ham hock dish.
The split pea and ham soup is a delicious dish that you can make using some extra ham hocks. It's an absolute classic and will please anyone who is looking for a good tasting soup.
Another dish that I suggest making is satay beef. It has lovely flavors from the peanut, beef, and bell peppers. Again, it's a dish that I highly recommend that you make if you like this recipe.
I hope that you like the slow cooker ham hocks with peanut sauce as much as I did. If you have any feedback, tips, or anything else, then please don't hesitate to leave a comment below.