This slow cooker Thai peanut chicken tastes as good as it sounds. It is loaded with flavor thanks to the delicious curry paste, peanuts, and more.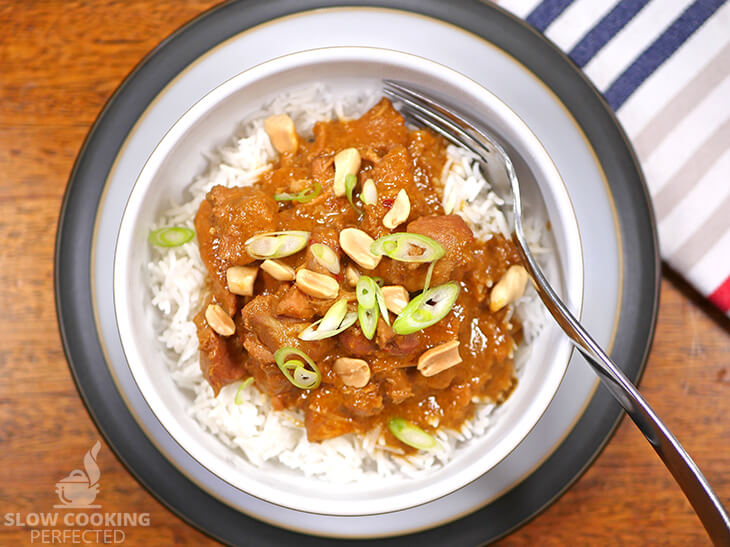 When you take a bite of this peanut chicken dish, you will be greeted with an amazing range of flavors from the peanuts, spices, and coconut cream. There is a bit of spice to this dish, so expect a bit of heat after the hit of flavors. This dish is always a huge hit when I make it for the family.
If you have tried out our peanut chicken curry, then you will be familiar with some of the flavors. However, this dish is a bit lighter and is less rich in peanut flavors. I love both recipes, so be sure to give them both a try.
This dish will make enough to feed roughly four to six people. I highly recommend that you serve it with some additional side dishes such as steamed rice or rice noodle.
Any leftovers of this dish will work nicely as an easy lunch the next day. I recommend keeping the leftovers in the fridge for a maximum of three days or three months in the freezer.
Serving Ideas for Thai Peanut Chicken
There are loads of different ways that you can serve this delicious dish. Below are just a couple of ideas of what you could do.
I love to serve Thai peanut chicken over the top of some freshly steamed rice. A good garnishing of scallions and peanuts helps take the dish to another level.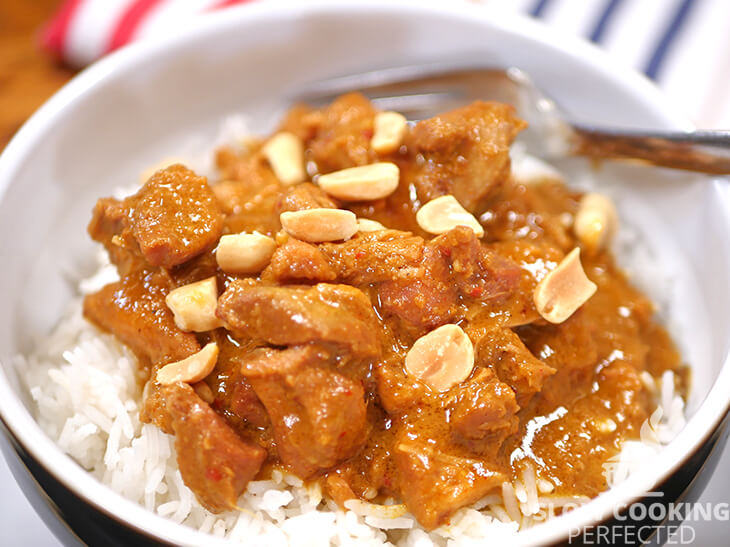 If rice is not your thing, then some noodles will go very nicely with this dish. The choice of noodles is entirely up to you. However, something like rice noodles will likely work best. My favorite is some rice vermicelli.
To be a little healthier, you can try making some cauliflower rice to go with this dish. It is the perfect alternative to regular rice and is super easy to make.
If you have any ideas that you want to share, please do not hesitate to leave a comment at the bottom of the page.
Adjusting the Recipe
There are a few ways that you can easily adjust this recipe so that it is more suited to your needs. Below are a couple of ideas on what you can do.
The soy sauce can be swapped for some fish sauce if you want some different flavors. You could also use a combination of both. However, I do not recommend adding too much of either sauce as it might make the dish very salty.
Depending on how many people you need to feed, you can halve or double the recipe. As I mentioned earlier, this recipe should make enough to feed six people.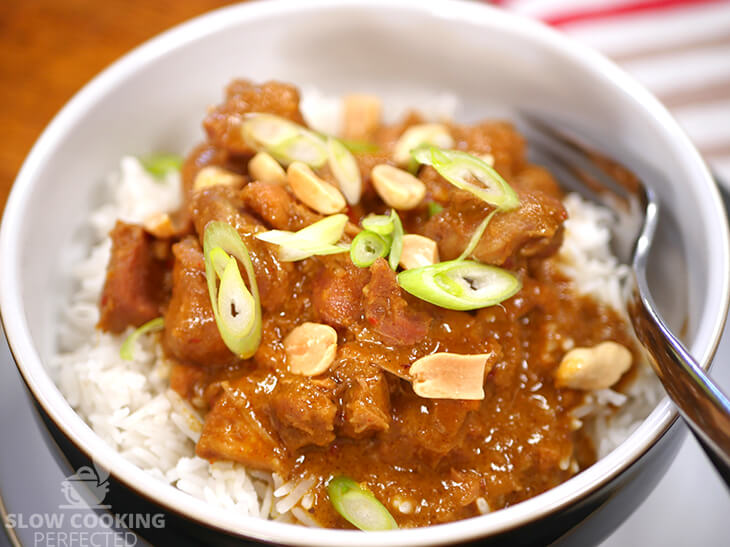 The cut of chicken you use is entirely up to you. I prefer chicken thigh, but most other cuts of chicken will work great. Even chicken drumsticks will work very nicely with the flavors of the Thai peanut sauce.
For a bit of extra flavor, you can add some different sauces to the dish. For example, a couple of tablespoons of cider vinegar or Worcestershire sauce greatly add more depth and flavor.
Below is a video that will take you through all the steps of making this Thai peanut chicken in the slow cooker. Alternatively, there is a full written recipe immediately beneath the video.
Slow Cooker Thai Peanut Chicken Recipe
Ingredients
1/2 cup peanut butter
2 Tbsp ginger, minced
1 Tbsp garlic, crushed
125 ml (4.2 fl oz) chicken stock
2 Tbsp soy sauce
4 Tbsp Thai red curry paste
1 tsp salt
2 Tbsp brown sugar
1 Tbsp lime juice
1 kg (2.2 lb) chicken thighs, cut into large chunks
400 ml (13.5 fl oz) unsweetened coconut cream
Garnish
Instructions
In a slow cooker, add the peanut butter, ginger, garlic, chicken stock, soy sauce, curry paste, salt, brown sugar, and lime juice. Stir until combined.
Add the chicken thigh to the slow cooker and submerge in the liquid.
Cook on low for 5 hours.
Gently stir in the coconut cream and cook on low for an additional 1 hour.
Serve & Enjoy.
Recipe Tips
I use chicken thigh in this recipe as I find it cooks great in the slow cooker. However, other cuts such as chicken breast will work just as well.
Use a mild curry paste if you do not want this dish too spicy.
Coconut cream is best added towards the end of cooking to help prevent it from splitting. If split cream does not bother you, then feel free to add it at the start.
You may want to reduce the amount of coconut cream if you prefer your curries thicker and with less sauce.
For more flavor, try adjusting the quantity of Thai red curry paste. Personally, I prefer four tablespoons, but more or less might be better suited for your needs.
Note: I use a 5.5L (6 Quart) slow cooker for all the recipes that I have on this website unless specified. If you have a smaller or larger slow cooker, then you might need to adjust the ingredients.
Nutrition Information
Serving Size: 298g (10.5 oz)
Servings Per Recipe: 6
Calories Per Serving: 776
Amount Per Serving
Saturated Fat: 30.3g
Trans Fat: 0.1g
Dietary Fiber: 6g
Sugars: 8g
Cholesterol: 164mg
Sodium: 643mg
Protein: 37g
The information above is an estimate generated by an online nutrition calculator.
More Chicken Recipes
Below are a few more delicious slow-cooked chicken recipes that you might love.
A chicken tikka masala curry works out great when slow-cooked for several hours. You get some fantastic curry flavors backed by some deliciously tender meat. Much like this recipe, it goes great with some steamed rice.
Another chicken dish that I have got to recommend is the sweet and sour chicken. It is loaded with vegetables such as bell peppers, carrots, pineapple, and more. The sweet and sour sauce strikes the perfect balance and is always a huge hit.
I hope that you enjoy slow cooked Thai peanut chicken as much as I do. If you have any feedback, then please do not hesitate to leave a comment below.