This slow cooker French toast casserole is the perfect breakfast that you can put on the night before and have it ready for when you wake up in the morning.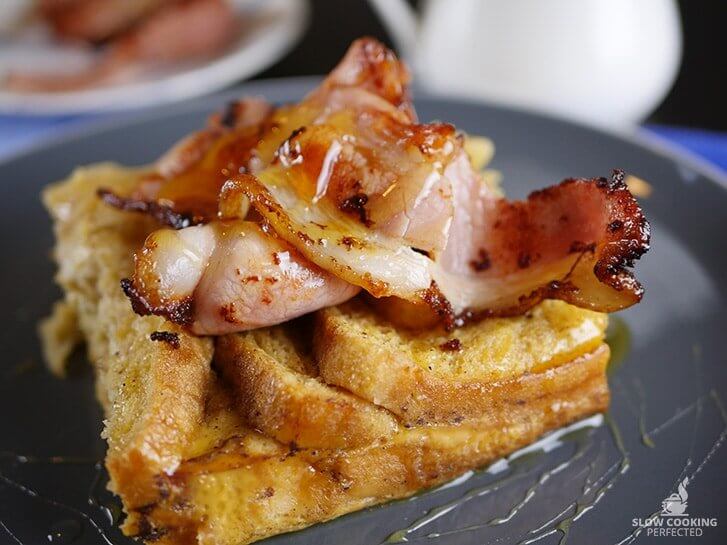 This casserole cooks to be everything that would expect from French Toast. It's slightly egg, spongy, and goes amazing with some bacon and maple syrup. I highly recommend that you give this recipe a try.
One of the main reasons I love making a casserole rather than the more traditional French toast recipe is that I can easily feed a crowd. A single batch of this delicious casserole should feed up to four people.
I find that this casserole is great if you want a cooked breakfast but have very limited time in the morning. I can quickly get it prepared and cooking the night before.
Helpful Hints
If you're looking to have this for dinner or as a dessert rather than breakfast, then you can prepare it the night before and place it in the fridge. The extra time will give the bread time to absorb the milk mixture. You may find you need to drop the cooking time a bit by a couple of hours.
Assuming you have the time, then I recommend cooking up some bacon to go with this casserole. They're a match made in heaven. To go one step further, you can top it all off with some maple syrup, and you're in for a treat.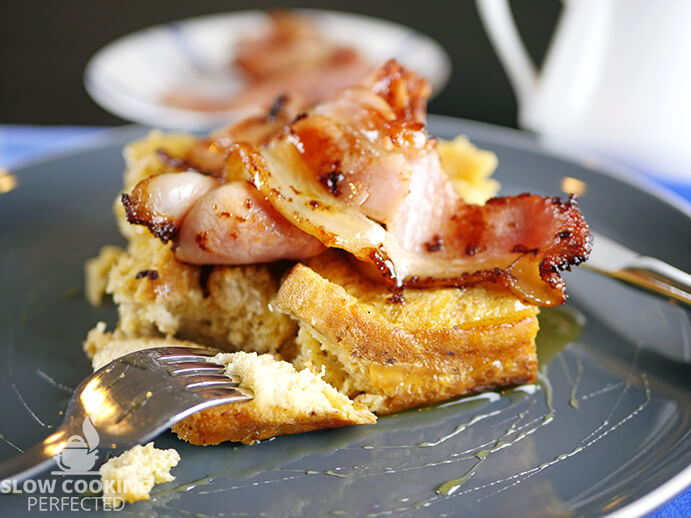 Much like the bread pudding, this dish is a great way to use up any stale bread you might have. You will actually find that older and more stale bread will absorb the egg mixture a lot easier as well resulting in a better-tasting french toast.
For more cooking tips, be sure to check out the recipe further down the page.
What do do with French Toast Leftovers
Any leftovers of this casserole are well worth keeping so don't be throwing them out. Simply store in the fridge or freezer until needed. It should last in the fridge for a few days.
I love quickly frying the leftovers for a quick and easy breakfast or dessert. I tend to have a drizzle of honey to help sweeten the casserole.
If you want to see how to prepare this slow cooker recipe, then be sure to check out the video below. It goes through everything you need to know for preparing and cooking this dish just right.
Slow Cooker French Toast Casserole Recipe
Adblock removing the video? Support us by going ad-free or whitelist us in your ad-blocker.
Ingredients
12 slices of bread
8 eggs
2 cups milk
1 Tbsp white sugar
1 tsp vanilla bean paste
1 tsp cinnamon, ground
½ tsp nutmeg, ground
Butter for greasing
Instructions
In a bowl, whisk together the eggs, milk, white sugar, vanilla, cinnamon, and nutmeg.
Grease the slow cooker with some butter.
Layer the bread in the slow cooker.
Pour the milk mixture over the bread, and the bread should be almost completely covered.
Cook for 6-8 hours on low.
Serve & enjoy
Recipe Tips
If the French toast is still looking very runny towards the end, then I recommend removing the lid. This method will help excess moisture evaporate and thicken up the casserole.
Using cream instead of milk will result in a richer and heavier meal. This choice just comes down to personal preference. Personally, I prefer it with cream, but you also add to the overall fat content of the dish.
You can do quite a few variations for making French toast in the slow cooker or crock-pot. One of my personal favorites is adding some chopped apple and spreading this between the layers of bread. This variation will result in soft chunks of apple throughout your French toast. Of course, you could just add about 1 cup of raisins to the egg mix instead.
Another variation is to use fruit bread instead of white bread. This change will give you a fruity casserole that has all those wonderful spices that are in fruit bread.
Note: I use a 5.5L (6 Quart) slow cooker for all the recipes that I have on this website unless specified. If you have a smaller or larger slow cooker, then you might need to adjust the ingredients.
Nutrition Information
Serving Size: 161g (5.7 oz)
Servings Per Recipe: 6
Calories Per Serving: 184
Saturated Fat: 3g
Trans Fat: 0g
Total Carbohydrate: 16.1g
Dietary Fiber: 0.7g
Sugars: 7g
Cholesterol: 225mg
Sodium: 243mg
Protein: 11.5g
The information above is an estimate generated by an online nutrition calculator.
More Recipes that are Worth Trying
If you just want some French toast fast, then the traditional method of just cooking it in the pan is the best way to get this done.
There are plenty of great slow cooker desserts and breakfasts that you can make. For a hearty casserole, I highly recommend trying the breakfast casserole, and it's packed with hashbrowns, tomato, bacon, and much more.
I hope that you have been able to follow this slow cooker French toast casserole recipe without any issues. If you have some variations or feedback that you would love to share, then please feel free to leave a comment below.