This slow cooker Salisbury steak recipe is a must-try. It features juicy beef patties with an incredible gravy that's packed with flavor.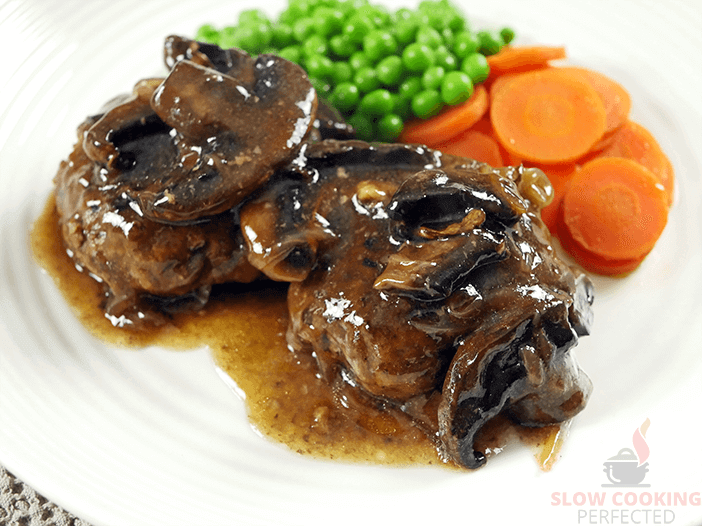 At the end of cooking, you will have some juicy Salisbury steaks. The gravy will be packed with flavor and have delicious bits of mushroom and onion throughout it. It's a dish that will please the family.
A little history on the Salisbury steak, it's a dish that originated in the United States and is considered a staple in American cuisine. Although not nearly as popular, you can find this meal at restaurants and supermarkets in other countries as well.
Traditionally Salisbury steak is made with ground beef and other ingredients. Lastly, it has a delicious gravy poured over the top of the patties. This slow cooker variation isn't much different.
A single batch of this recipe should feed roughly four to six people, but you might be able to feed more with a few side dishes.
Side Dishes That Go Great with Salisbury Steak
Many side dishes go great with Salisbury steak, so I have listed a couple of my favorites below.
As you can tell in the photos, I love having this dish with some delicious peas and carrots. It's a great way to liven up the plate and add even more nutrition.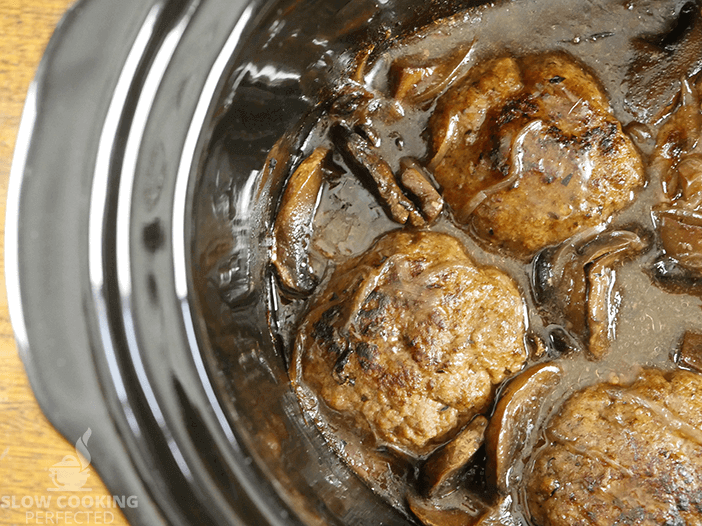 This dish also goes great with a side of mashed potatoes and some steamed snow peas. Alternatively, nothing beats a good side of fried chips or buttery baby potatoes.
Another way you can serve this dish is in a bread roll with the lovely gravy. It tastes as good as it sounds and will easily feed a few people.
Storing the Leftovers
The leftovers of this dish will heat the next day nicely, so it's perfect for a relaxed lunch or dinner. Make sure you store it in the fridge and heat in a frying pan, microwave, or oven. I don't recommend reheating food in a slow cooker.
I find that the leftovers will last for roughly three days in the fridge. Otherwise, they should last for about six months in the freezer.
If you would love to see how to make Salisbury steak in the slow cooker, then be sure to check out the awesome video I have prepared below. Alternatively, if written recipes are more your thing, then you can find one right under the video.
Slow Cooker Salisbury Steak Recipe
Ingredients
Beef Patties
500 g (1.1 lb) ground beef
1 egg
½ cup breadcrumbs
1 onion, minced
1 tsp garlic
2 tsp parsley, chopped
1 tsp salt
Sauce
Thickener
Instructions
In a large bowl, combine the ground beef, egg, breadcrumbs, onion, garlic, parsley and salt. It shouldn't be too wet or dry.
Form the beef mixture into four to six patties.
In a large frypan over high heat, brown the patties. Roughly 2-3 minutes on each side.
Add the onion, mushrooms, beef stock, Worcestershire sauce, and beef patties to the slow cooker.
Cook on low for 6 hours.
Remove the patties and place them to the side.
Mix the cornstarch and water until it forms a paste. Pour into the slow cooker and stir until mixed in. Season to taste.
Add the patties back into the slow cooker.
Cook on high for 30 minutes until hot and thickened.
Serve & Enjoy.
Recipe Tips
To make this recipe gluten-free, simply ensure you use gluten-free versions of breadcrumbs, Worcestershire sauce, and cornstarch.
You can use patties from the supermarket, but I highly recommend making them from scratch. They won't take too long to make, and they taste so much better.
I highly recommend that you brown your beef patties before placing them in the slow cooker. Browning the patties will help prevent them from falling apart and reduce the amount of oily liquid that will end up in your slow cooker.
The mushrooms aren't essential, so if you're not a fan, then simply leave them out of the recipe. You can try replacing them with other vegetables such as bell peppers.
To get the most out of slow cooking, be sure to follow our tips for the slow cooker or crock-pot.
Note: I use a 5.5L (6 Quart) slow cooker for all the recipes that I have on this website unless specified. If you have a smaller or larger slow cooker, then you might need to adjust the ingredients.
Nutrition Information
Serving Size: 254g (9 oz)
Servings Per Recipe: 6
Calories Per Serving: 218
Amount Per Serving
Saturated Fat: 3.8g
Trans Fat: 0.5g
Dietary Fiber: 1g
Sugars: 3g
Cholesterol: 157mg
Sodium: 659mg
Protein: 22g
The information above is an estimate generated by an online nutrition calculator.
More Slow Cooker Ground Beef Recipes
There are plenty of other ground beef slow cooker recipes that you need to try.
I think you should try the Swedish meatballs as they're super delicious. The dish features some delicious juicy meatballs in a creamy flavor-packed gravy. It's one of my favorite recipes and goes very nice with mashed potatoes.
If you feel like something a little different, then I highly recommend the stuffed peppers, they cook to be juicy and have so much flavor.
That's all I have for this Salisbury steak recipe for the slow cooker. If you have a variation, adjustments, or anything else that you would like to add, then please don't hesitate to leave a comment below.