Back to Recipe
Print Recipe
Slow Cooker Salisbury Steak Recipe
---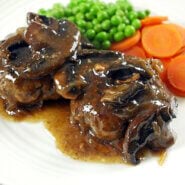 Prep time: 30 Minutes
Cook time: 6 Hours & 45 Minutes
Total time: 7 Hours & 15 Minutes
Serves: 6
Ingredients
Beef Patties
500 g (1.1 lb) ground beef
1 egg
½ cup breadcrumbs
1 onion, minced
1 tsp garlic
2 tsp parsley, chopped
1 tsp salt
Sauce
Thickener
---
Instructions
In a large bowl, combine the ground beef, egg, breadcrumbs, onion, garlic, parsley and salt. It shouldn't be too wet or dry.
Form the beef mixture into four to six patties.
In a large frypan over high heat, brown the patties. Roughly 2-3 minutes on each side.
Add the onion, mushrooms, beef stock, Worcestershire sauce, and beef patties to the slow cooker.
Cook on low for 6 hours.
Remove the patties and place them to the side.
Mix the cornstarch and water until it forms a paste. Pour into the slow cooker and stir until mixed in. Season to taste.
Add the patties back into the slow cooker.
Cook on high for 30 minutes until hot and thickened.
Serve & Enjoy.
---
Recipe Tips
To make this recipe gluten-free, simply ensure you use gluten-free versions of breadcrumbs, Worcestershire sauce, and cornstarch.
You can use patties from the supermarket, but I highly recommend making them from scratch. They won't take too long to make, and they taste so much better.
I highly recommend that you brown your beef patties before placing them in the slow cooker. Browning the patties will help prevent them from falling apart and reduce the amount of oily liquid that will end up in your slow cooker.
The mushrooms aren't essential, so if you're not a fan, then simply leave them out of the recipe. You can try replacing them with other vegetables such as bell peppers.
To get the most out of slow cooking, be sure to follow our tips for the slow cooker or crock-pot.
Did you make this recipe?
We want to see! Tag
@slowcookingperfected
on Instagram or use the hashtag
#slowcookingperfected
so we can find you!
---