Slow cooker stuffed peppers are a fantastic dish that you can prepare early in the day and have them ready for when you sit down for dinner.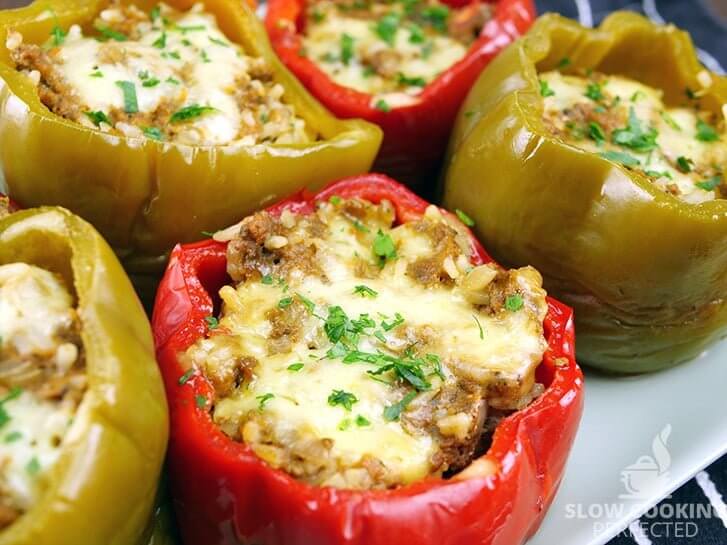 By the end of cooking, you will have a deliciously tender bell pepper that's loaded with a ground beef filling. The filling is packed with ingredients that have a ton of flavors such as herbs, sauces, onion, cheese, and more.
There are so many variations on stuffed peppers as it's effortless to change the recipe to suit your taste buds. Just make sure you don't add too many wet ingredients; otherwise, the filling will become sloppy.
You can cook these stuffed peppers in either some marinara sauce or in beef stock. Both will impart a unique flavor to your peppers. Personally, I prefer tomato-based sauce, so I tend to use marinara sauce.
How to Serve these Stuffed Peppers
These slow cooker stuffed peppers are great on their own and won't require any extras. Out of a single batch of this recipe, you will feed about four to six people. However, if you want to do a little extra to go with these peppers, then there are a few suggestions below.
Towards the end, I top the peppers with a bit of cheese. This addition of cheese not only makes it look appealing but also adds that lovely cheesy texture and flavor. I use cheddar cheese, but mozzarella or even parmesan will work great too.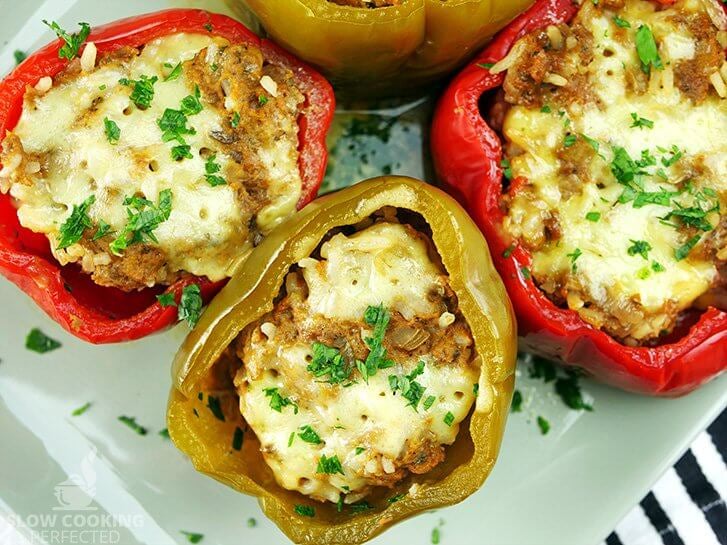 If you want some extra sides to go with these peppers, then something like rice, a salad, or even potato mash will go great with this dish. There are a lot of great options, but I prefer eating these without any accompaniments
Be sure to let us know if you have any ideas on what to serve with these stuffed peppers. We love hearing your ideas on what to do.
Perfecting this Recipe
Picking the best peppers for stuffing is a little more difficult than you might think. The ideal pepper will have firm sides with little to no blemishes and a flat bottom. If the bottom is pointy, then the peppers will just fall over. You don't need to be picky when it comes to the color of the bell pepper.
To get the best possible filling, you will need to taste and adjust the seasoning. To do this, simply cook a teaspoon of the beef mixture and taste it. Adjust the seasonings accordingly, and you will get one tasty recipe. However, I think it's perfect without any changes.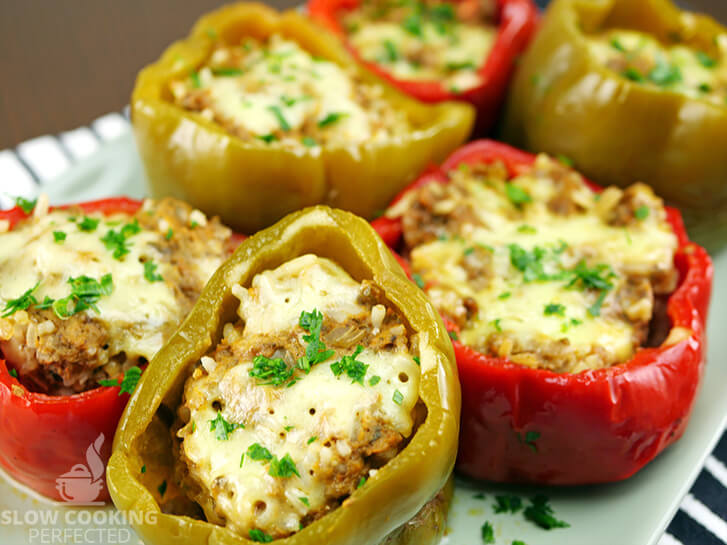 Try to find the best tasting marinara sauce as it will heavily impact the outcome of this dish. I prefer to make it myself, but there are plenty of brands that you're able to buy. A lot of pizza-style sauces will have lots of flavor from the additional herbs and seasonings.
What to do with Leftovers
I love eating leftovers the next day for lunch or dinner as they make for an incredibly easy meal. I simply reheat the stuffed peppers in the oven or microwave.
I haven't been able to test how these will reheat after freezing. Unfortunately, it's unlikely the leftovers will heat great due to the cheese and rice.
Leftovers kept in the fridge are still decent enough to enjoy once heated. Discard after a couple of days in the refrigerator.
The video below will take you through all the steps to making these stuffed peppers in the slow cooker. It's short, snappy, and won't chew up too much of your time. You can also subscribe to our channel here. Alternatively, you can find the full written recipe right underneath the video.
Slow Cooker Stuffed Peppers Recipe
Ingredients
Stuffing
500 g (1.1 lb) ground beef, lean
1 onion, finely diced
2 tsp garlic, crushed
2 Tbsp Worcestershire sauce
2 Tbsp tomato paste
2 tsp parsley, dried
1 tsp oregano, dried
½ cup cheddar cheese, shredded
1 cup cooked rice
1 tsp salt
¼ tsp pepper
Sauce
425 g (15 oz) marinara sauce
Instructions
Cut the tops off the bell peppers and remove the white membrane and seeds from inside.
In a bowl, mix the ground beef, onion, garlic, Worcestershire sauce, tomato paste, cheese, parsley, oregano, salt, pepper, and the cooked rice until combined.
Stuff the bell peppers with the mixture.
Add the stuffed peppers to a slow cooker.
Pour in the marinara sauce.
Cook on low for 8 hours or until the beef is cooked.
Serve & Enjoy.
Recipe Tips
It's important to use lean ground beef as you don't want too much fat in the slow cooker. If you can't get your hands on some lean ground beef, then brown and drain it before mixing with the other ingredients.
Using uncooked rice in the beef mixture will likely lead to the rice not cooking correctly. Uncooked rice will be hard and not appetizing at all.
When you pour in the marinara sauce, make sure you don't get any inside the bell peppers. It can make the insides very sloppy.
You can use a pasta sauce or beef stock as a replacement for the marinara sauce.
Reduce the cooking time by setting the slow cooker to high. On high, this dish should be ready within three to four hours.
Note: I use a 5.5L (6 Quart) slow cooker for all the recipes that I have on this website unless specified. If you have a smaller or larger slow cooker, then you might need to adjust the ingredients.
Nutrition Information
Serving Size: 346g (12.2 oz)
Servings Per Recipe: 6
Calories Per Serving: 431
Amount Per Serving
Saturated Fat: 11.7g
Trans Fat: 1.6g
Dietary Fiber: 5g
Sugars: 10g
Cholesterol: 75mg
Sodium: 1067mg
Protein: 18g
The information above is an estimate generated by an online nutrition calculator.
More Ground Beef Recipes
These tasty stuffed peppers are not the only ground beef dish you can do in the slow cooker. Right below, I go through a couple of other delicious meals that you can make using the slow cooker.
One of my favorite recipes is the meatballs in tomato sauce. At the end of cooking, you will have some hearty beef meatballs and a very tasty sauce. It's an incredible combination that I highly recommend you try.
Another dish that I love recommending is Salisbury steak. It is essentially ground beef patties cooked in a rich gravy sauce that's loaded with mushrooms. It's a dish that certainly will not disappoint.
I hope that you enjoy these slow cooker stuffed peppers as much as I did. If you have some tips, thoughts, or just anything else that you would like to say about this recipe, then feel free to leave a comment below.