This slow cooker dim sims dish is perfect if you feel like indulging a little. Unfortunately, these delicious dumplings are extremely hard to find outside of Australia.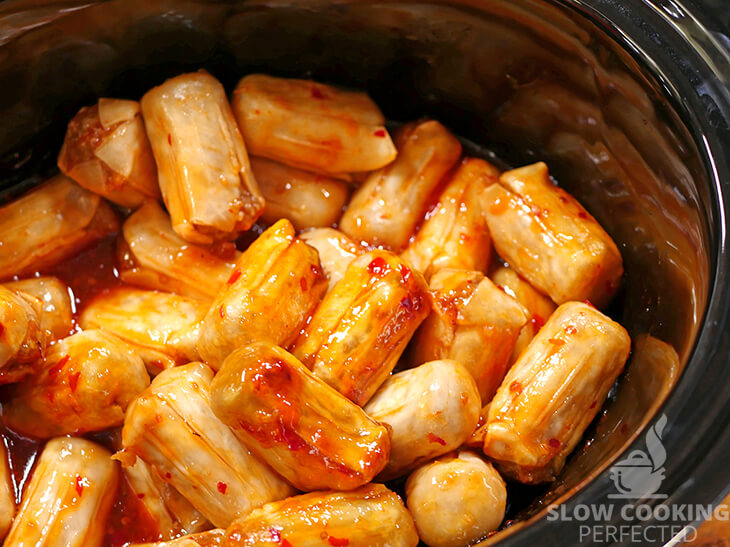 After a few hours of cooking, the dim sims will have a steamed texture and be coated in an incredible sweet chili glaze. It is a delicious combination that is a must-try if you love sweet chili sauce.
Dim sims are a hugely popular dumpling in Australia. They are inspired by the Chinese dim sum but are not the same thing. A dim sim is often filled with a variety of meat and vegetables such as cabbage, carrot, pork, and more. They are quite large and have thick doughy skin.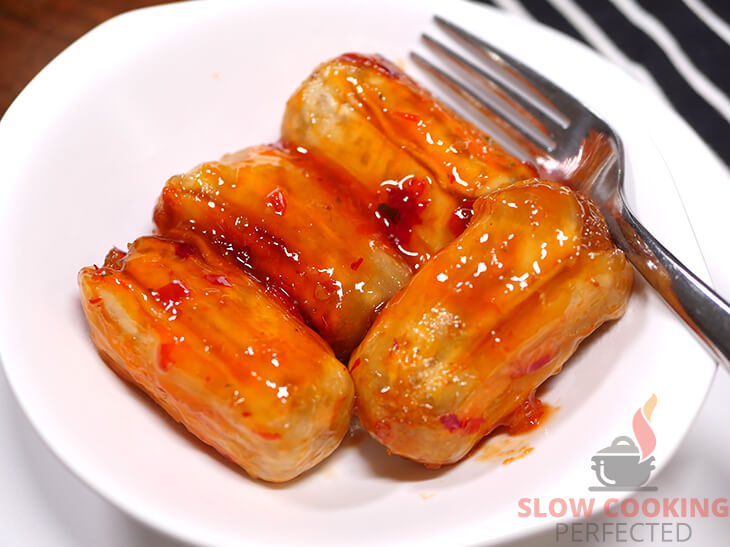 These delicious slow-cooked dim sims will feed roughly six people without the need for any extra side dishes. You can easily double the recipe or make some side dishes if you need to feed more people.
The leftovers are great as a quick and easy lunch the next day. Simply reheat in the microwave. The dim sims should last for a few days in the refrigerator.
Tweaking the Recipe
A delicious plum sauce can be used instead of sweet chili sauce. You can typically find a good plum sauce at your local supermarket. Most brands will work fine, but I have not personally tested any of them.
Honey and some BBQ sauce are a great combination that will work well as a replacement for sweet chili sauce. I would simply copy the quantities from our honey BBQ chicken. The quantities are half a cup of honey and a full cup of BBQ sauce. You can also add a bit of hot sauce for more flavor.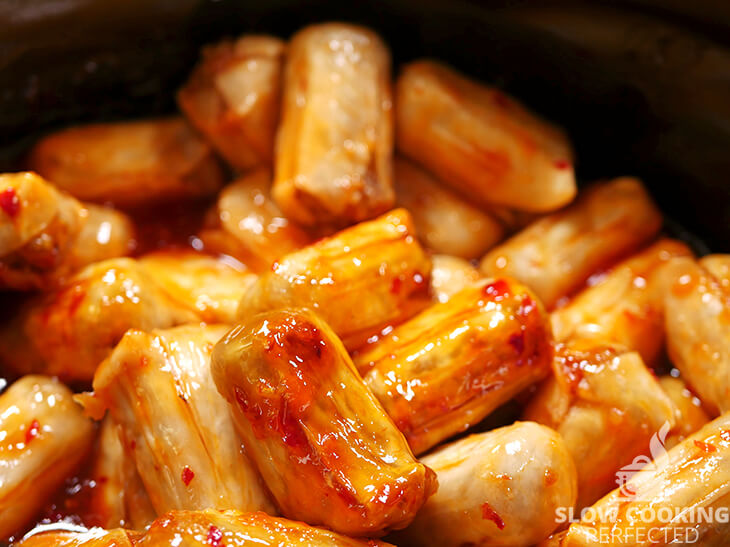 Some steamed rice is an excellent addition to this delicious dish. Using a rice cooker is the best and easiest way to get perfectly cooked rice. If you want to go one step further, some steamed greens will also work great with these dim sims.
The recipe below will take you through the couple of steps of cooking dim sims in the slow cooker.
Slow Cooker Dim Sims Recipe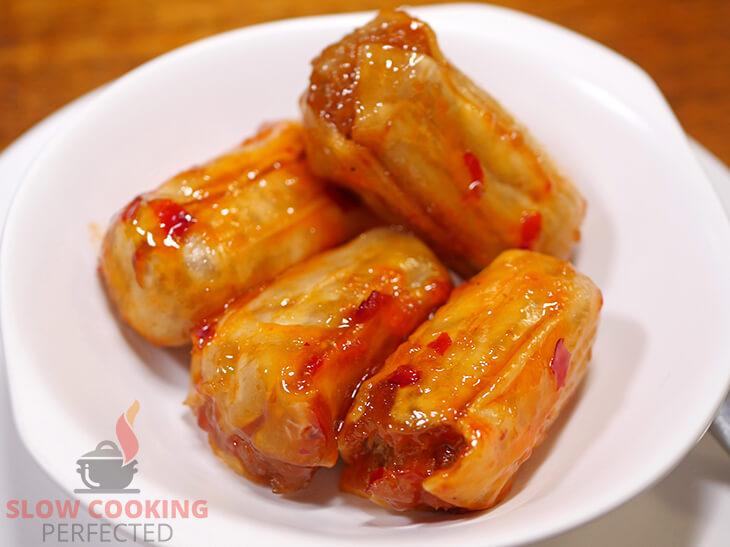 Ingredients
1.5 kg (3.3 lb) frozen dim sims
500 ml (16.9 fl oz) sweet chili sauce
Instructions
In a slow cooker, add the frozen dim sims and coat with the sweet chili sauce.
Cook on high for three hours.
Serve & Enjoy.
Recipe Tips
I like to use trident sweet chili sauce, but most brands will work great. Pick the brand that you like the most.
The brand of dim sim you use is entirely up to you. I made use of Marathon dim sims, but most brands will be fine.
If the sweet chili sauce you are using is super thick, you may want to add some water. Roughly half a cup of water should be more than enough.
Note: I use a 5.5L (6 Quart) slow cooker for all the recipes that I have on this website unless specified. If you have a smaller or larger slow cooker, then you might need to adjust the ingredients.
Nutrition Information
Serving Size: 333g (11.7 oz)
Servings Per Recipe: 6
Calories Per Serving: 608
Amount Per Serving
Saturated Fat: 8.8g
Trans Fat: 0g
Total Carbohydrate: 79.9g
Dietary Fiber: 10.1g
Sugars: 14.9g
Cholesterol: 0mg
Sodium: 2000mg
Protein: 21.5g
The information above is an estimate generated by an online nutrition calculator.
More Easy Slow Cooker Recipes
There are loads more delicious easy slow cooker recipes that you should give a try. Below are a couple of ideas that I reckon you will love.
Our delicious homemade BBQ meatballs is a recipe that I reckon you will love. To make the recipe even easier, you can use some frozen meatballs. The BBQ sauce is incredibly easy to make and only uses three simple ingredients.
The honey soy chicken is a fantastic blend of flavors that will leave you wanting more. Much like this dish, the chicken is super easy to make and will not take up too much of your time. It is highly worth giving a try.
I hope that you love this slow-cooked dim sims recipe as much as I do. If you have some feedback, then please do not hesitate to leave a comment below.