I absolutely love slow cooker chicken and gravy as it's incredibly delicious and so easy to quickly prepare.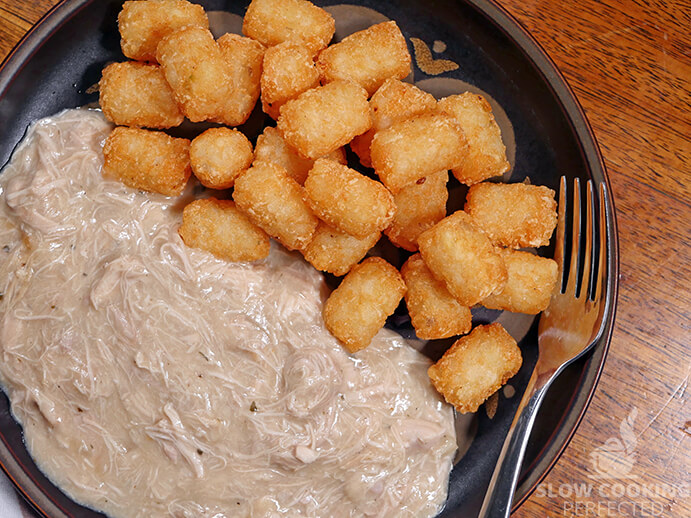 By the time you're finished with cooking, the gravy will be thick and packed full of flavor. The chicken will be incredibly moist and take on all the flavors of the lovely gravy.
I recommend having this dish with a side dish as it really helps takes it to the next level. I go through a few suggestions below, and if you want the recipe, it's just a little further down the page.
Side Dishes to have with Chicken and Gravy
There are so many different side dishes that you can whip up to go alongside your chicken and gravy. I will quickly go through some of my top choices.
Having this dish with a side of chips is as good as it sounds. You can dip the chips into the gravy or even better simply pour the chicken and gravy over the top of the chips. It's so good.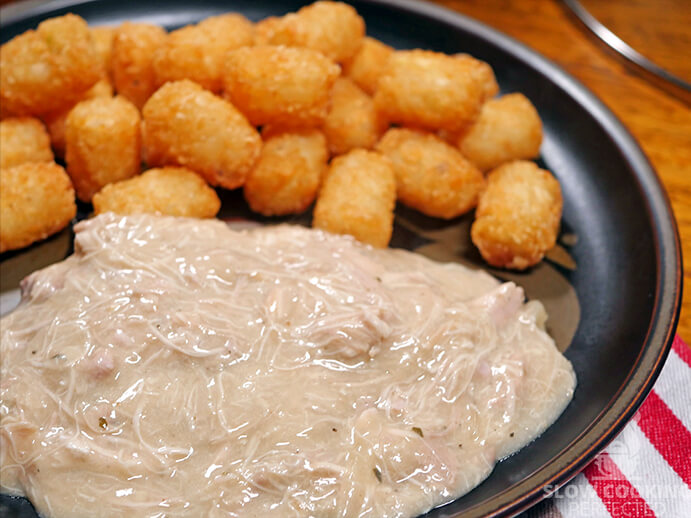 You can also make chicken and gravy rolls by simply using some quality fresh bread rolls. You can add some extra ingredients into the roll such as cheese and bacon for a little bit more flavor.
If you want to keep things simple, then just some rice and vegetables will work great. Alternatively, mashed potato is always a solid option alongside some cauliflower with cheese sauce.
Be sure to let us know if you have any combinations that work great. I always look forward to reading them.
Slight Variations
As with any slow cooker recipe, there are slight variations that you can make to this recipe.
I tried to steer clear of packet mixes for this recipe but feel free to use them. I would add about two packets of gravy mixture and leave out the cornstarch, garlic, and Worcestershire sauce.
Mushrooms are an excellent addition that will bring some new flavors and texture into the gravy. If you're a fan of mushrooms, then I highly recommend adding them.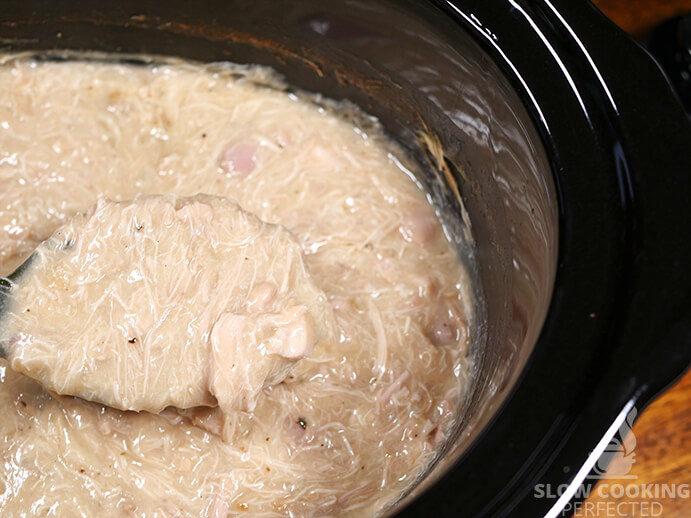 You don't have to shred the chicken, but for the best results, I recommend that you do. Shredding the chicken allows the gravy to cover the chicken thoroughly. It's so delicious and worth doing.
For more variations and cooking tips, be sure to check out our cooking tips section further down the page.
Awesome Tips for the Leftovers
If you somehow end up with leftovers, then they will keep for a few days in the fridge. You can also freeze the leftovers if you want them to last even longer.
The leftovers are great for lunch the next day and can be used in combination with other foods, for example, in a chicken and gravy roll. You could also store it in a Tupperware with some potato mash for a quick and easy meal.
You can find the full recipe right below, and there is also a video that's worth checking out. The video will take you through all the steps to making some delicious slow-cooked chicken and gravy.
Slow Cooker Chicken and Gravy Recipe
Ingredients
1 kg (2.2 lb) chicken thigh
1 onion, sliced
1 Tbsp garlic, crushed
1 Tbsp Worcestershire sauce
1 tsp thyme
2 & ½ cups chicken stock
½ cup dry white wine
1/3 cup cream
Thickener
5 Tbsp cornstarch
5 Tbsp water
Instructions
In a slow cooker, add all the ingredients except for the cream, cornstarch, and water.
Cook on low for 8 hours.
Shred the chicken in the slow cooker.
In a bowl, mix the cornstarch and water until it is smooth.
Pour the cream and cornstarch mixture into the chicken gravy and stir.
Cook on high for 30 minutes or until hot and thickened.
Season to taste with salt and pepper.
Serve & Enjoy.
Recipe Tips
To ensure that the gravy is gluten-free, make sure you use gluten-free cornstarch and gluten-free Worcestershire sauce.
You can use a different cut of chicken such as chicken breast. It mainly just comes down to personal preference. I find chicken thigh cooks a little better in the slow cooker.
If you're not a fan of wine, then you can simply swap it out for chicken stock. However, it does help add a fair bit of flavor.
Make sure you season the gravy otherwise you might find the gravy a bit bland.
You can adjust the cornstarch if you want a runnier or thicker gravy. The current amount will give you a pretty good consistency but feel free to tinker.
For the best results, use homemade chicken stock rather than the powder mixed with water.
Note: I use a 5.5L (6 Quart) slow cooker for all the recipes that I have on this website unless specified. If you have a smaller or larger slow cooker, then you might need to adjust the ingredients.
Nutrition Information
Serving Size: 313g (11 oz)
Servings Per Recipe: 6
Calories Per Serving: 506
Amount Per Serving
Saturated Fat: 12g
Trans Fat: 0.2g
Dietary Fiber: 0.4g
Sugars: 2g
Cholesterol: 191mg
Sodium: 458mg
Protein: 32g
The information above is an estimate generated by an online nutrition calculator.
More Recipes to Try
There are so many different chicken dishes that you can make in a slow cooker. This recipe is just one of many that we have.
The whole chicken recipe is a meal that I enjoy quite a bit. The seasoning mix adds a ton of flavor and gives the chicken a very tasty look. It is an excellent recipe that's worth a try if you love a good whole chicken.
If you're looking for a super addictive recipe, then you must check out the slow cooker crack chicken. It's a combination of ranch dressing, bacon, and cream cheese.
I hope that you enjoy this chicken and gravy recipe for the slow cooker. If you have some feedback, tips or anything else, then please don't hesitate to leave a comment below.