Back to Recipe
Print Recipe
Slow Cooker Pork Loin Roast
---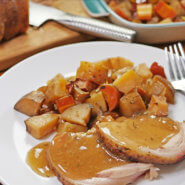 Prep time: 30 Minutes
Cook time: 6 Hours
Total time: 6 Hours & 30 Minutes
Serves: 6
Ingredients
1 kg (2.2 lb) pork boneless loin roast
4 carrots, chopped
4 potatoes, chopped
2 apples, cored & chopped
1 onion, chopped
1 Tbsp rosemary
½ cup chicken stock
Seasoning Mixture
1 tsp garlic powder
1 tsp cumin, ground
1 tsp oregano, dried
1 tsp coriander seeds, ground
1 tsp thyme, dried
1 tsp salt
½ tsp pepper
Thickener
2 Tbsp cornstarch
2 Tbsp water
---
Instructions
In a bowl, combine all the seasoning ingredients.
Rub the pork roast with the seasoning mixture.
In a fry pan over high heat, heat 2 Tbsp oil.
Quickly sear the roast until nicely browned on all sides.
In the slow cooker, place the pork in the middle. Next, surround the pork with the carrots, potatoes, apples, onion, and rosemary. Lastly, pour in the chicken stock.
Cook on low for 6 hours or until the pork is completely cooked.
Remove the pork and vegetables from the slow cooker and keep warm.
Transfer the liquid to a pot and heat over a stove.
Combine the cornstarch and water and pour it into the pot while stirring.
Cook on high heat for 5 minutes or until thick and gravy-like.
Serve & Enjoy.
---
Recipe Tips
If you want, you can skip browning the pork loin before you add it to the slow cooker. There are some positives to browning the meat, such as it helps seal in the moisture and flavor.
Assuming your roast is small enough, then you can just brown it in a pan. Otherwise, you might need to do it in the oven.
Adjust the cooking time depending on the size of your pork loin. I recommend roughly four to six hours on low or 2 hours on high for a piece of meat that is 1kg (2.2 lb).
You can leave the vegetables out of this recipe, but you really do end up missing out on a lot of flavors.
Did you make this recipe?
We want to see! Tag
@slowcookingperfected
on Instagram or use the hashtag
#slowcookingperfected
so we can find you!
---